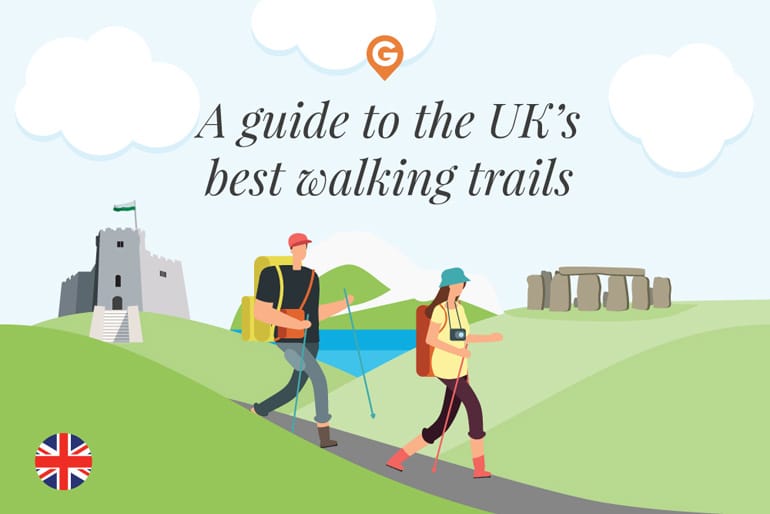 W e're blessed to have such a fantastic range of walking trails in the UK. With roughly 19,490 miles of coastline to explore, and ample routes crossing our bountiful countryside, there are so many beautiful trails to choose from. If you're thinking of taking a last minute break in the UK for your next holiday, and would like to explore some of the area on foot, this guide is for you.
"All of the trails attract a lot of walkers but the South Downs Way, Thames Path, Hadrian's Wall Path and Cotswold Way are perhaps the most popular," said the team at National Trails . "Walking a National Trail in one go is challenging, and many people prefer to walk the trails in sections, over days or weekends. You'll find a selection of shorter circular walks for each trail with maps and directions on our website ."
We asked the staff at National Trails to share their top tips for novice hikers: "Be prepared and plan ahead! You don't need to spend a fortune on the top walking gear but you do need appropriate footwear and depending on the weather, decent warm and/or waterproof clothing.
"You'll need a map and directions. If you're planning to use your mobile phone, consider whether the map will work if you don't have any data. You'll also need to think about battery life. A paper map is definitely worth having as a back-up. Think about food and drink. Depending on the location, you might not pass any shops or cafes, so it's a good idea to take some snacks and a bottle of water.
"Don't overdo it! If you're not used to walking or aren't as fit as you'd like to be, then start slowly. You should always let someone know where you're going and what time you expect to be back."
As long as you're prepared for a lengthy walk, or opt for a shorter route to suit your pace, you'll be ready to hit the UK's best walking trails. "Combine a vast range of amazing scenery with one of the best rights of way networks in the world, and you can see why walking is so popular in the UK," said the National Trails team. "With hundreds of paths crossing the country, there really is something for everyone. The National Trails are the top long distance walking, cycling and horse riding routes and pass through some of the most stunning and diverse landscapes in Britain."
Why choose a walking holiday?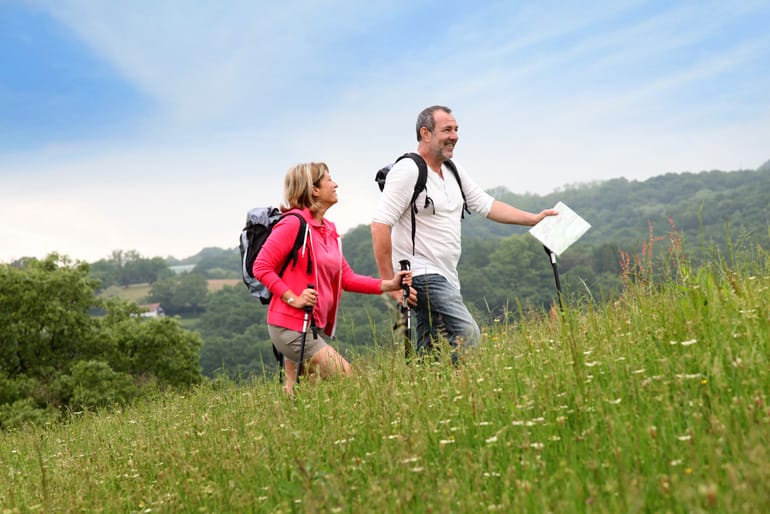 As well as being a fantastic way to explore new counties, walking has numerous health benefits. We spoke to Sophia Khan, media and PR officer at British walking charity, The Ramblers , to find out more: "We are incredibly lucky in the UK to have such beautiful and varied landscapes; rugged mountains, miles and miles of incredible coast and idyllic countryside. Walking is one of the best ways to see it all, explore our great outdoors and get a sense of the world around you. And not only that – heading out on a walk away from the stresses of everyday life is a great way to unwind, not to mention one of the best ways to keep fit that is free and open to almost everyone, without the need for lots of specialist equipment.
"If you're just starting out, choose a walk that is within your ability – you may not enjoy it if it's too long or you get lost! Joining a group like your local Ramblers is a great introduction too, with walks led by experienced walkers and good company for encouragement. Make sure you have suitable equipment for your walk, this includes food, water and appropriate clothing and shoes – and a mobile phone with a fully-charged battery."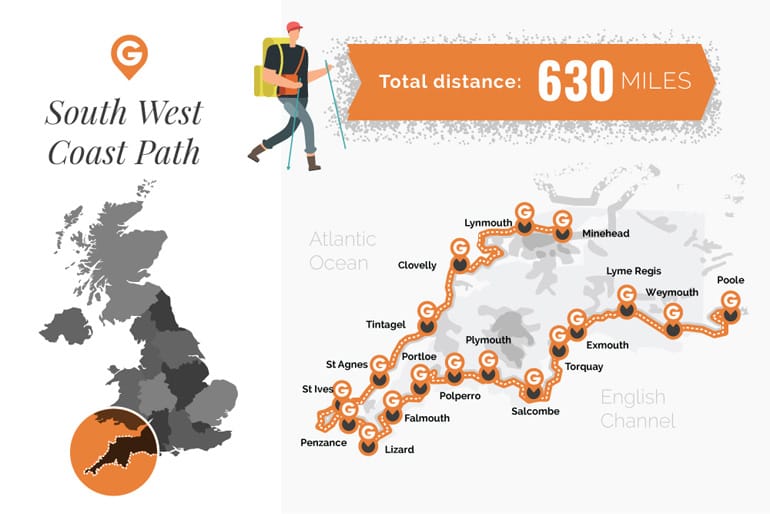 Route highlights: Land's End , Clovelly , Minack Theatre
Hotels nearby: We offer breaks at a selection of hotels in the South West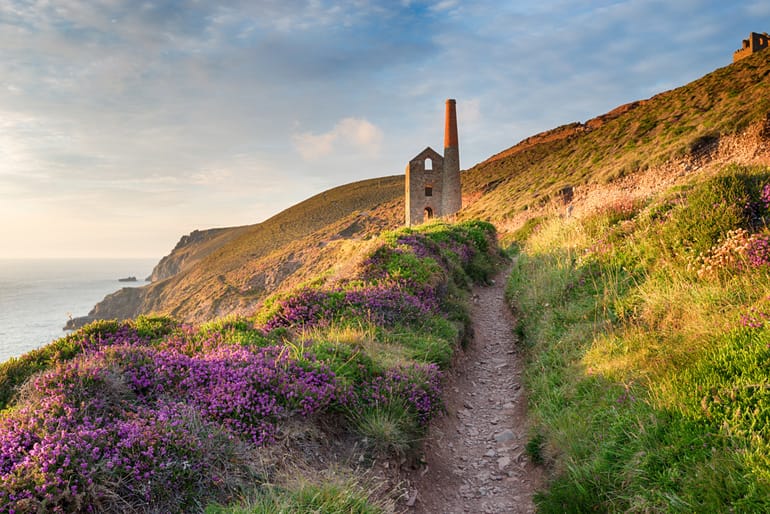 Starting at the seaside town of Minehead in Somerset, and ending at Poole in Dorset, the South West Coast Path is an epic 630-mile route taking in some of the UK's prettiest scenery. From old tin mines in Cornwall that are straight out of Poldark, to the wild and rugged coast around Exmoor National Park, this National Trail offers spectacular walks. A number of hotels are dotted along the route, in North Devon, South and West Cornwall and South Devon, so wherever you choose to stay, you won't be far from the South West Coast Path.
To find out more about this incredible trail, we spoke to Becky Millington, communications officer at South West Coast Path: "No two days on the South West Coast Path are ever the same! The trail is alive, changing with the seasons at every turn. From flora to the amazing wildlife it offers like red deer, seals, choughs and wild ponies."
Boasting an impressive 630 miles, we wanted to find out some little-known facts about this special walking trail: "Walking the entire route is the equivalent of scaling Mount Everest 4 times," said Becky. "You cross 230 bridges, catch 13 ferries, open (and close!) 880 gates, climb over 436 stiles, pass more than 4,000 coast path signs and go up or down over 30,000 steps.
"Approximately 71% of the path is either a national park or an Area of Outstanding Natural Beauty and you'll also pass through 2 World Heritage Sites, a UNESCO Biosphere and a UNESCO Geopark."
With so many walks to choose from in the UK, we wanted to find out why the South West Coast Path should be at the top of peoples' lists. Becky said: "Over 9 million people visit the path every year, and it is gaining international fame, noted as one of the world's best walks in the popular travel guide, Lonely Planet . It's incredible to have such a unique natural landscape on our doorstep and once you start, you will be addicted!"
Finally, the South West Coast Path team picked out some of their favourite highlights: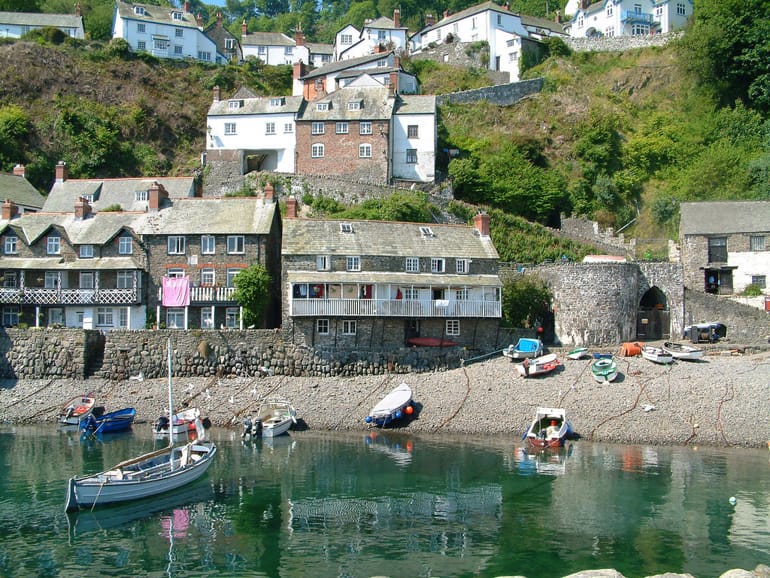 On the South West Coast Path in North Devon, the ancient fishing village of Clovelly is a very worthy stop. To find out more about this enchanting settlement, we spoke to Sue Haworth, marketing manager at The Clovelly Estate: "Clovelly is a picturesque, historic fishing village, steeped in maritime history, and was once owned by the Queen of England. The atmosphere is embodied in a traffic-free, cobbled street with flower-strewn cottages tumbling down the 400ft cliff to its ancient harbour, and 14th century quay bringing glorious views along the way. Just donkeys and sledges move needed supplies to the village.
"Once a bustling fishing port, Clovelly was renowned for its herring and mackerel and today for lobster and crab. Although fishing has declined, it is still very much part of village life. Sustainability is the key watchword.
"We also have many literary and art connections. For example, Charles Kingsley lived here, Charles Dickens wrote about it, having stayed in the village on many visits, and Rex Whistler featured it in much of his work, a frequent visitor to the Hamlyn family at Clovelly Court."
With such a fascinating history, Clovelly is a totally unique stop on your coastal walk. But there's also lots to see and do in the village. We asked Sue to tell us about some of her favourites: "The modest admission charges for visitors to the village, include a must-see film depicting the history of the village, access to craft workshops for silks and pottery, Charles Kingsley and Fisherman's Cottage museums, seeing the famous donkeys (they love being pampered!), two welcoming inns , Clovelly Court Gardens at the top of the village and a contribution to the preservation of this very special private estate.
"There are shops with fine, hand-made soaps , jewellery and even Clovelly's own fudge along with an art gallery, working craft Donkey Shop, old-fashioned sweet shop, and cottage tea rooms. Boat trips along the stunning coastline and a Land Rover to take you back up, all available at very reasonable charges."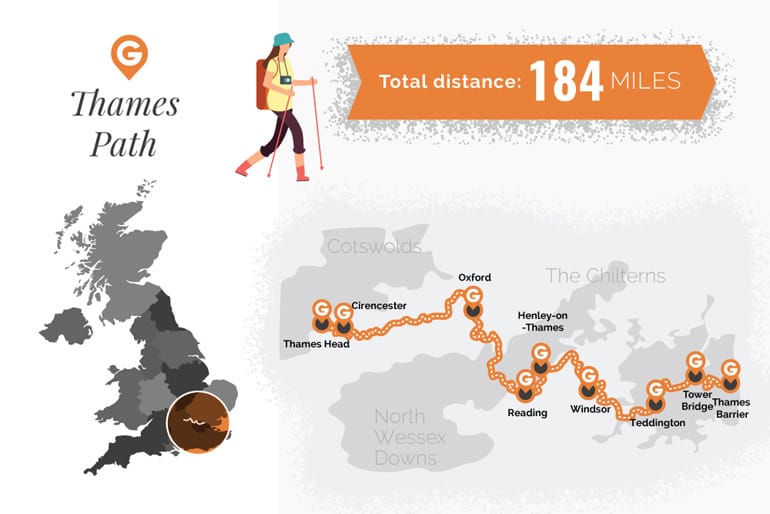 Route highlights: Punting in Oxford , Windsor Castle , Kew Gardens , Hampton Court Palace
Hotels nearby: We offer breaks at a selection of hotels in the Home Counties
"The yellow leaves begin to fade, and flutter from the Temple elms, and at my feet the pale green Thames, lies like a road of rippled jade." – Oscar Wilde, 'Symphony in Yellow'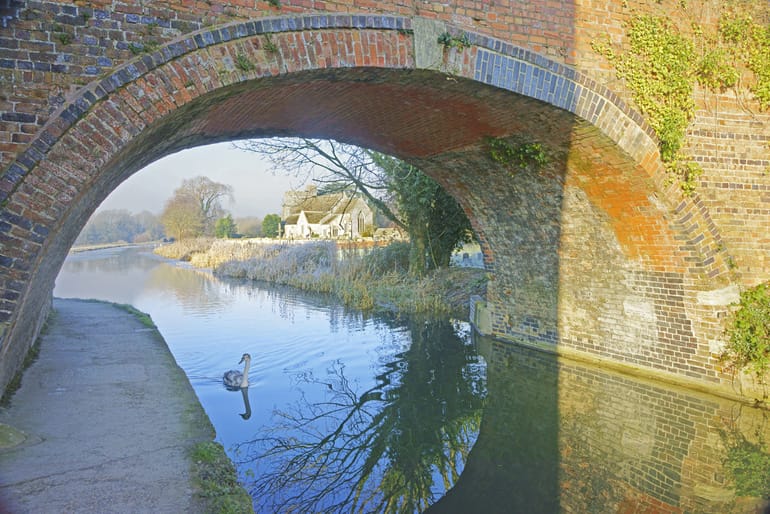 Dubbed the greatest river in England, the River Thames is often only thought of when strolling along the Southbank, gazing over at the Houses of Parliament. However the river actually stretches for an impressive 184 miles from its source in the Cotswold Hills, all the way into central London. Passing through unspoiled rural villages, historical towns and cities, the Thames Path is perfect for short or long-distance walks at every time of year. In the summer, the river provides a haven for wildlife, and plenty of picnic opportunities. While in winter, early morning frost transforms the banks of the River Thames into a white wonderland.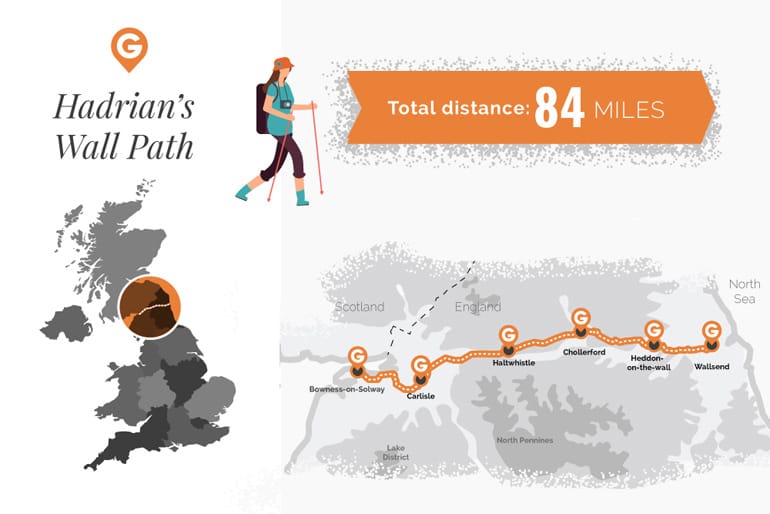 Route highlights: Hadrian's Wall, Sycamore Gap , Heddon-on-the-Wall
Hotels nearby: We offer short breaks at a selection of hotels in the North East , including Derwent Manor in Allensford, situated just 25 minutes from Heddon-on-the-Wall.
Stretching 84 miles from coast to coast, this epic walk follows the UNESCO World Heritage Site of Hadrian's Wall. As you walk through Roman settlements and forts, through valleys and over hills, you will feel as though you've travelled back in time.
Hadrian's Wall Path is completely unique, passing not only one of the UK's most iconic heritage sites, but also quaint pubs, bustling market towns and arguably the best views in the north. If you're considering a last minute break at Derwent Manor in Allensford, the village of Heddon-on-the-Wall is just a 25-minute drive away (18 miles) and is based around Hadrian's Wall. This pretty Northumberland village is an excellent place to join Hadrian's Wall Path.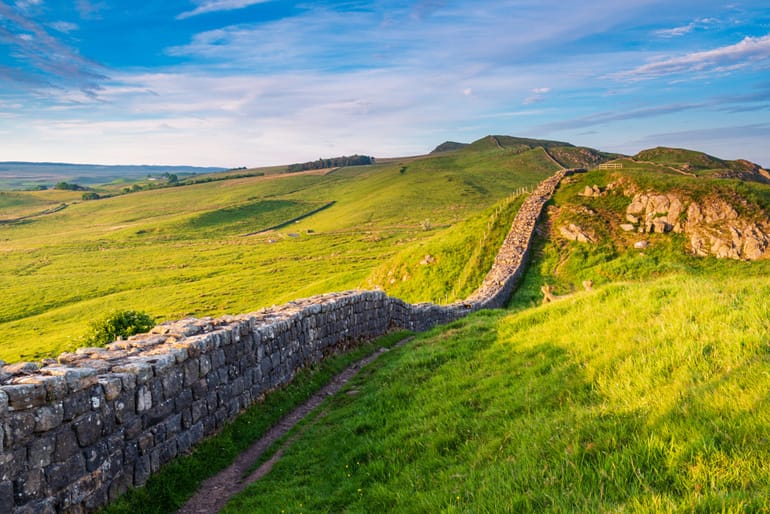 To find out more about the path, we spoke to Hadrian's Wall Country 's Management Plan Coordinator, John Scott: "Hadrian's Wall is one of those sites that everyone's heard of, even if you're not sure what it is and where it is, it's known and features in our language as a reference to boundaries and borders.
"It's been on the World Heritage List since 1987, one of just over 1,000 sites across the globe that are classed as so important that they must be protected."
" Hadrian's Wall Path is one of the most popular long-distance paths in the country and on any given day, you can meet people from all over the world walking along it. It's such a great package that I think it appeals to so many people. Not only is it a coast-to-coast route, but has a continuous theme with the history. It goes through cities and some of the best-known countryside in the country."
"Most people spend a week walking it, so it's a great time scale to have an adventure in and while it appears to be lost in the wilds in places, it's never too far away from a museum, café or pub."
We asked John why people should visit Hadrian's Wall Country on their next holiday: "Hadrian's Wall is a place that is so diverse in its offerings, it really has something for everyone. We have busy cities and the open space of the rural landscape. You can find week-long adventures, weekend breaks in a bustling city or romantic country hotel getaways, great local food and drink, world class heritage and enough selfie opportunities to make everyone back home jealous."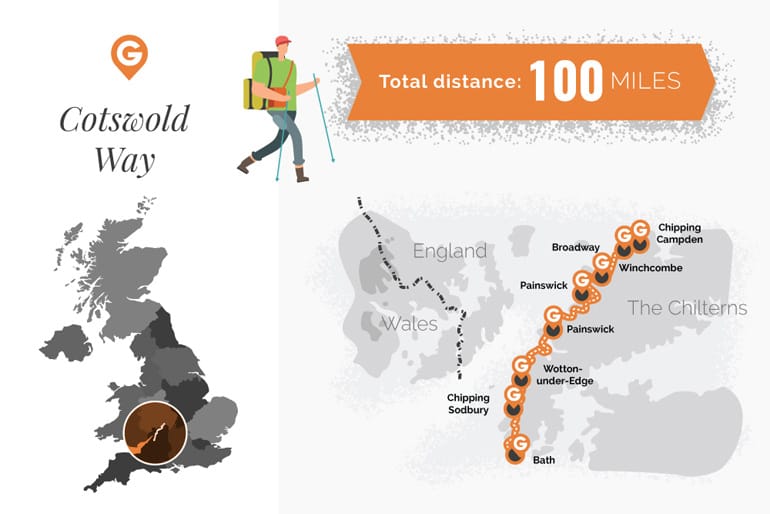 Route highlights: Broadway , UNESCO World Heritage Site Bath ,
Hotels nearby: We offer short breaks at a selection of hotels in the Cotswolds
Starting in the quaint market town of Chipping Campden and ending in the UNESCO World Heritage Site city of Bath, the Cotswold Way is a truly English National Trail. The route offers perfect views over the surrounding countryside, and leads walkers through ancient villages, lined with pretty stone houses. It's not necessary to walk the full 100 miles to enjoy the Cotswold Way, there are plenty of circular walks for a day or even just an afternoon, if you want to get a taste of local life. Combine it with a stop at some of the most traditional pubs in the Cotswolds for the quintessential experience.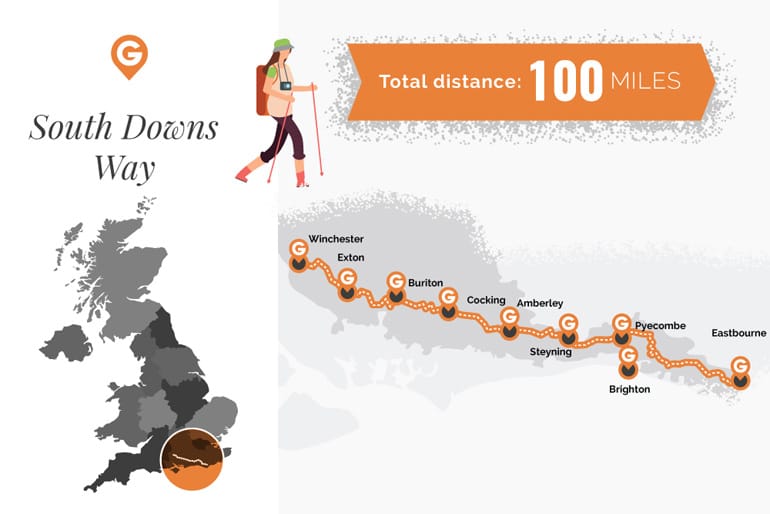 Route highlights: Devil's Dyke , Seven Sisters Country Park
Hotels nearby: We offer short breaks at a selection of hotels on the South Coast , including Brighton seafront and St. Leonards-on-Sea, East Sussex.
"The Downs… too much for one pair of eyes, enough to float a whole population in happiness, if only they would look." – Virginia Woolf, diaries.
The South Downs Way is a rural and coastal path, running between Winchester and Eastbourne. Close to the capital, this route is a prime choice for walkers seeking to get back to nature. This green National Trail spans 100 miles across the South Downs National Park, past chalky cliffs, meadows and deep valleys. Traverse the path to find Bronze Age barrows, grassy ramparts and Iron Age hillforts, walking through history. The South Downs Way lends itself to every season, with autumn mist filling the carved valleys below, and summer bringing an abundance of butterflies to the wildflower meadows.
"No matter how many times I see the cliffs of the Seven Sisters, they take my breath away"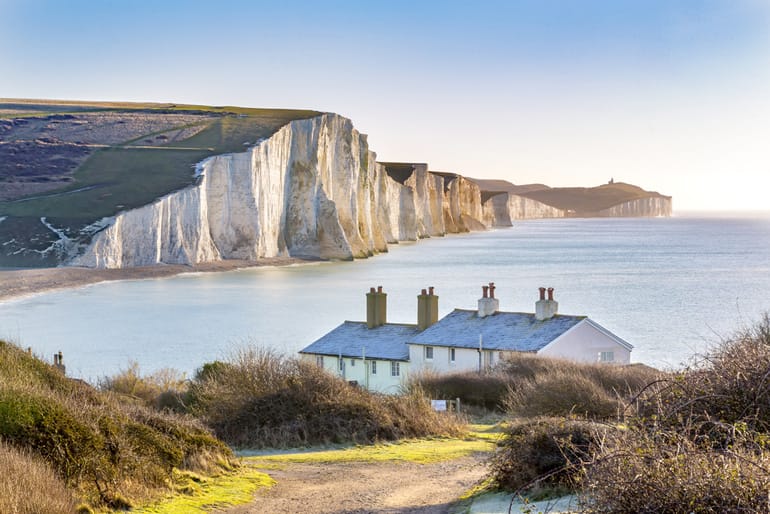 Andy Gattiker, South Downs Way Trail Manager at the South Downs National Park Authority , explained what makes the trail so unique: "The SDW is one of only two national bridleways in the UK, allowing you to ride a mountain bike or ride a horse, as well as walk the full 100 miles, mostly off-road. It also crosses the whole length of the South Downs National Park, enabling walkers and riders to enjoy the varied landscapes of gentle rolling countryside, ancient woodlands, crystal-clear chalk rivers, open flower-rich grasslands, expansive views and the dramatic chalk sea cliffs of the Seven Sisters and Beachy Head."
"If you walk the whole route between Winchester and Eastbourne, you'll have climbed 4,276m or over 14,000ft. If you walk east to west you can take a short detour to St. Cross Hospital and still knock on the porter's door where you'll be given the wayfarers dole of bread and ale. Just off the trail near Kithirst Hill, right on top of the downs, you'll find an old WWII Churchill tank, which broke down and was used for target practice, and remains there to this day."
According to the team at South Downs National Park Authority, it takes a lot of maintenance to keep the trail going. Around 15,000 pairs of boots, 10,000 tyres and 800 hooves travel the length of it every year. Andy added: "If you've enjoyed your experience on the trail, please consider donating to our Mend Our Way campaign to keep it in good condition for future walkers, horse riders and cyclists."
With 100 miles of spectacular landscapes to explore, we asked Andy what the highlights of the trail are: "The biggest highlights are the ever-changing views. Along much of the trail you'll have distant views, sometimes out to sea and across to the Isle of Wight, and in others, across to the wooded weald of Sussex to Ashdown Forest and towards the North Downs.
"The crystal-clear waters of the River Meon need to be seen to be believed. No matter how many times I see the cliffs of the Seven Sisters, they take my breath away. In late spring through summer, there is nothing better than taking a rest next to the trail surrounded by wild flowers and watching chalk hill blue butterflies flying from flower to flower."
Finally, we wanted to get Andy's thoughts on why people should choose to wander the South Downs Way on their next holiday: "Any time spent outdoors is good for your health and wellbeing, but spending time on the South Downs Way will give you stunning views away from the hustle and bustle of modern life. It's a place where you can enjoy real tranquillity without the need for long expeditions to inaccessible wilderness. Much of the South Downs Way is accessible by public transport, making it easy to plan a day trip from London, Brighton or Portsmouth. We also have a fine selection of pubs for lunch where you can enjoy award-winning local produce."
"I think it's the best finale to any of the long-distance footpaths I know."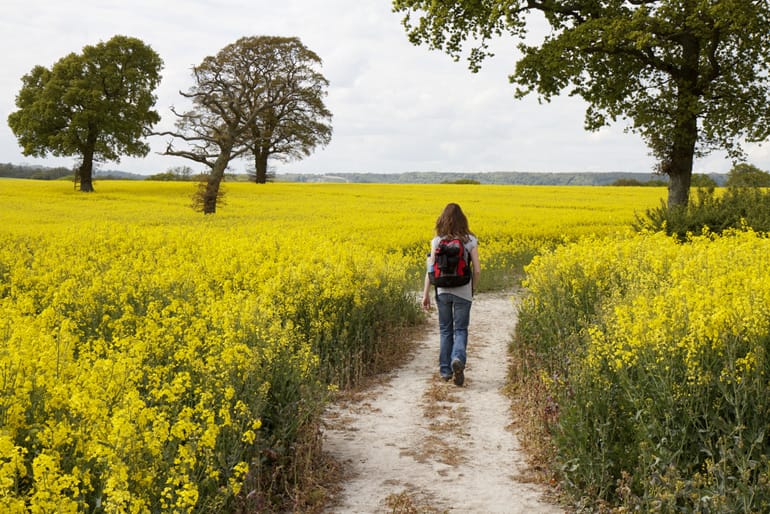 Some keen hikers take on the full 100 miles, in an epic adventure through the South Downs. David Marsden, a professional gardener and avid hiker, documents his experiences on his blog, The Anxious Gardener . He began walking long distance footpaths as a teenager and attempts to complete one or two every year. David has walked the Cleveland Way, Dales Way, Wainwright's Coast to Coast, Cumbria Way, St Oswald's Way, the South Downs Way, most of the Norfolk Coast and Hadrian's Wall paths, but says there are still many more he wants to complete. We caught up with David to find out more about why he decided to walk the South Downs Way :
"I live in the South Downs and the Way runs a couple of miles from my front door," said David. "It was one of the first paths I walked and it still exerts a strong pull on me. I've walked it several times but never in one, continuous attempt. It seemed weirdly important to me that I do that.
"The sense of achievement in walking every step of the one hundred miles from Winchester to Eastbourne is fantastic, drawing slowly nearer to the sea and then with a final, magnificent, rollercoaster over the Seven Sisters and Beachy Head. I think it's the best finale to any of the long distance footpaths I know. I was blessed with great weather too, which always helps."
As an experienced hiker, we asked David if he could provide some advice for beginners hoping to tackle sections of the South Downs Way: "Although the trail is never very far from villages and towns, it passes through surprisingly few, so plan accordingly.
"A detour to a village for food will probably involve leaving the escarpment followed by a steep return climb. There are enough hills on the path without adding more. It isn't as tough as some National Trails, but there are still plenty of stiff climbs and descent, and long stretches without shops, pubs or B&Bs.
"Don't weigh yourself down with an overly heavy rucksack, wear decent comfortable walking boots or shoes, plan a realistic, pleasurable daily mileage, and be prepared for all sorts of weather. On the eastern half especially, there is precious little shelter on the Downs. Wind, rain and sun can all take their toll. Oh, and walk west to east. It's a better walk starting in Winchester than from Eastbourne."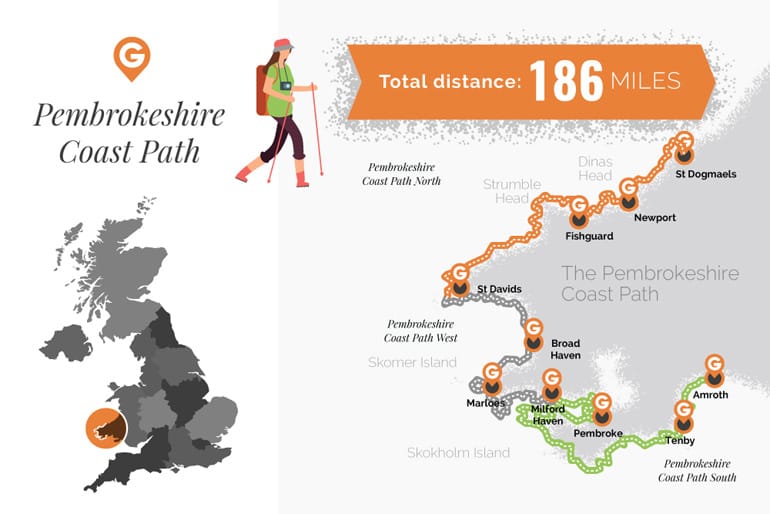 Route highlights: Carew Castle and Tidal Mill , Tenby , Dylan Thomas' boat house
Hotels nearby: We offer short breaks at a selection of hotels in Wales , including Pembrokeshire.
"And some, like myself, just came for one day, for the day, and never left, got off the bus, and forgot to get on again" – Dylan Thomas on Laugharne, Pembrokeshire.
Winding for 186 miles along one of Britain's most stunning coastlines, Pembrokeshire Coast Path is a very picturesque walking route. Easily divided into sections, the path covers all manner of maritime landscapes. To find out what makes this trail so unique, we spoke to the Pembrokeshire Coast National Park Authority : "From St Dogmaels in the north to Amroth in the south, the 186-mile trail covers almost every kind of maritime landscape from rugged clifftops and sheltered coves to wide-open beaches and winding estuaries."
"Lying almost entirely within the Pembrokeshire Coast National Park – Britain's only truly coastal National Park – the trail displays an array of coastal flowers and birdlife, as well as evidence of human activity from Neolithic times to the present. Pembrokeshire's coastline displays a greater variety of rocks and scenery than any equivalent area in Britain, with over 250 miles of exposures."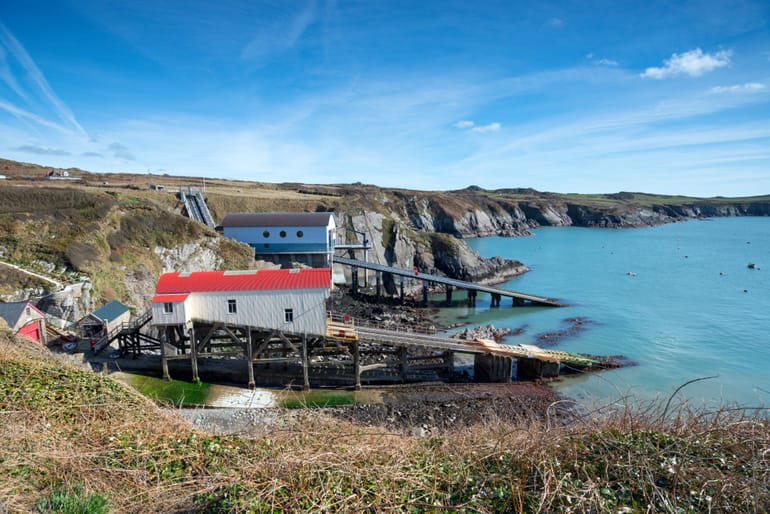 "The total rise and fall of the entire path is 35,000 feet – greater than Everest. 25 years ago, there were more than 500 stiles to cross, now there are only around 30. It is also part of the 870-mile Wales Coast Path. There are over 80 beaches along the Pembrokeshire Coast Path, with over 50 bathing quality beaches, many of them award-winning. You can see stunning wildflowers from April to June, watch sea bird colonies in spring or spot seal pups, under gorgeous September skies."
We asked the team at Pembrokeshire Coast National Park Authority to tell us why people should opt to walk part of this path during their next holiday: "As well as offering a 10-15 day challenge for experienced hikers who wish to walk it from end to end, the Pembrokeshire Coast Path National Trail can also be enjoyed in shorter sections, accessible to people of all ages and abilities, with the small coastal villages strung out along its length offering welcome breaks and added enjoyment."
"Many sections of the coast path link up with the wider network of inland paths to form circular routes. This coast path is served by a network of coastal buses, too, which help you enjoy the National Trail without the need for a car."
Walking the entirety of a long-distance trail is a huge achievement, but it's not for everyone. The team at Great Little Breaks have taken on the challenge of walking 1,000 miles in a year, which could be broken down to just 2.74 miles a day. Walking trails this way can be a great way of achieving your hiking goals, or just getting closer to nature. However many miles you decide to cover on these spectacular National Trails, take in the scenery and just enjoy it!
Image credits: Kerry Garratt