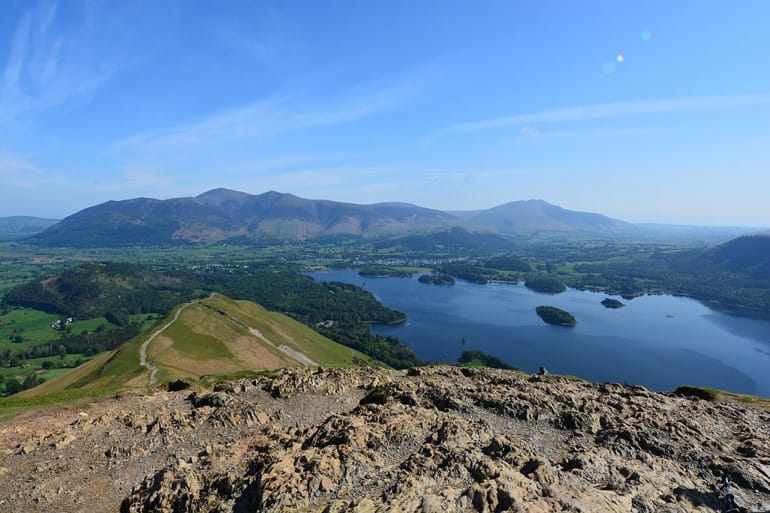 T he Lake District is a wonderful UK holiday destination. It's also easy to see why it's such a popular spot for those looking to book breaks at the last minute considering the many fun and interesting things there are to see and do. Thanks to its beautiful scenery and idyllic setting, and the great variety of attractions, there's perhaps a no better place in the country to unwind for a day or two. From country homes to fascinating museums, from relaxing walks to adrenaline-pumping activities, the Lake District really has it all. To help you plan your visit, we've put together the following guide to 48 hours in the Lake District , letting you know which activities and attractions you can consider in the morning, afternoon, and evening to help create the perfect two-day getaway.
Day 1 - Morning
Holker Hall & Gardens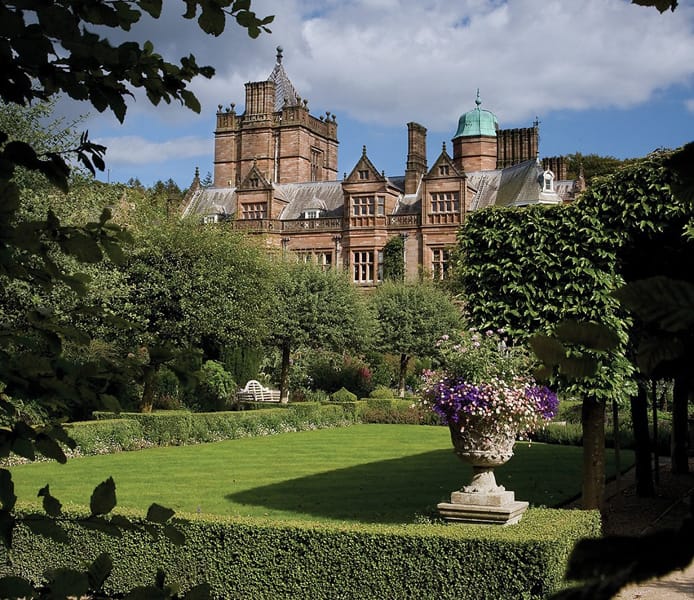 Image credit: Holker Hall & Gardens
A wonderful way to start your time in the Lake District would be to head on down to Holker Hall & Gardens . Home of Lucy Cavendish and her husband Tor McLaren, this magnificent old house (dating back to as early as the 16th century) is situated a short distance from Morecambe Bay and set amongst some spectacular countryside. The New Wing suffered a tragic fire in 1871 but is today open to visitors and has fourteen rooms and areas to see. The team at Holker Hall say, "There are no ropes or barriers and there is a welcoming, lived-in feel to this lovely home."
The gardens are an absolute treat, merging into surrounding parkland and framed perfectly by the Lakeland Hills. The 23 acres of perfectly kept gardens have been featured on BBC Countryfile and will make for an idyllic setting for any Lake District morning.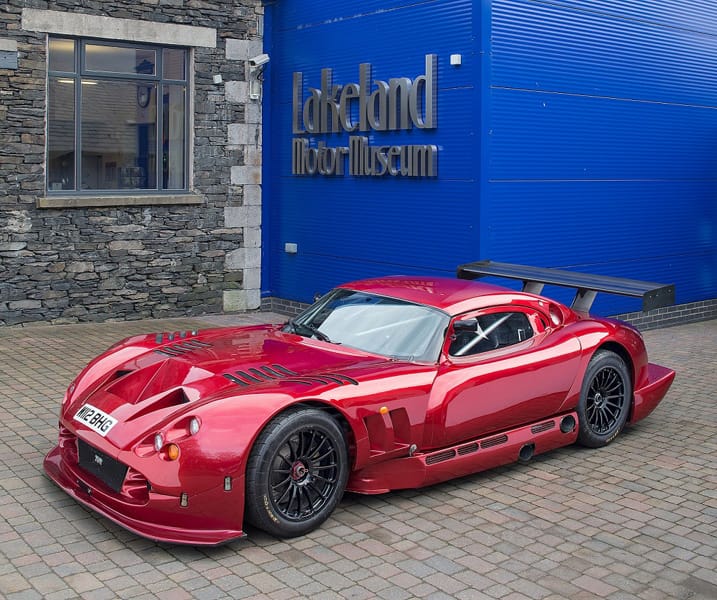 If there are any motor heads in your party, a visit to the Lakeland Motor Museum will be a real pleasure and a tremendous way to spend any Lake District morning. Home to tens of thousands of exhibits tracing the progression of road transport, along with a riverside café, all housed in a converted mill in the heart of the Lake District, the Lakeland Motor Museum really has a lot to offer. Painting the picture of what visitors can expect to enjoy, the team at Lakeland Motor Museum told us:
"The Lakeland Motor Museum, based in a purpose-built facility in the Cumbrian village of Backbarrow, is one of the North of England's best-loved heritage attractions. The museum, which celebrated its Ruby Anniversary earlier this year, has welcomed more than 1.5 million visitors since it opened at its former premises on the Holker Hall estate, near Cartmel.
"Since opening its doors for the first time on April 1st 1978, the museum has grown from a humble collection to an impressive 30,000 individual exhibits, including well over 140 classic cars and motorbikes – the size of which meant the museum relocated to its new, bigger site at Backbarrow in 2010. The museum is for everyone, regardless of age, gender or disability and attracts visitors from all backgrounds. Never one to have anybody left behind, it's also a dog-friendly attraction with four-legged friends made to feel very welcome.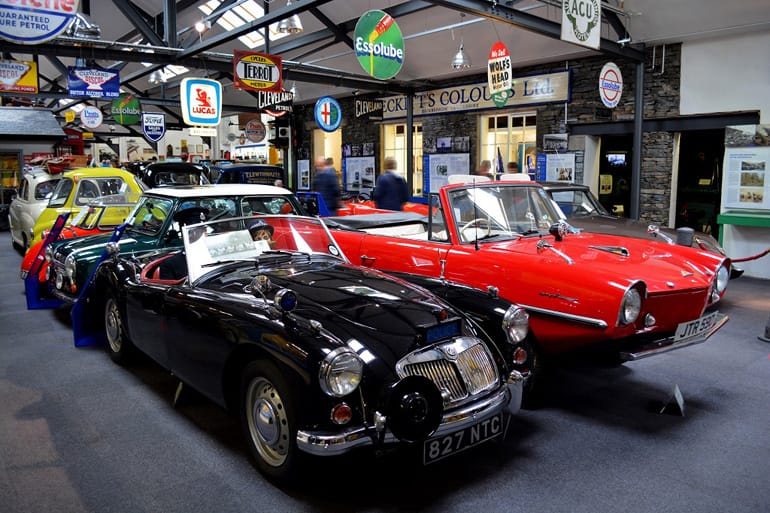 "Upon arrival, visitors can take advantage of the museum's large, free car park before taking a trip down memory lane to feast their eyes on the collection of vehicles and artefacts, all set in the context of a time-specific period. Among those are a 1920s garage and 1950s café scene, flanked by period shop displays and insights into the early days of motoring in the English Lake District.
"From one of the world's most popular and biggest-selling cars – the 110-year-old Ford Model T, to high-performance cars like our TVR, every visitor of every age will enjoy moments of pure nostalgia. The museum is home to a Delorian – the car made famous by the time-travelling Back to the Future trilogy, as well as a throwback to the 1970s and 80s with classics like the Ford Sierra, Cortina, Escort and Capri.
"Nestled in the scenic Leven Valley and open seven days a week, the Museum isn't just about cars though, with a host of rarities to awaken some special memories. Displays include many realistic mannequins, from a Women's Land Army Girl with a 1940s Fordson tractor, Allied Forces with a WW2 Willy's Jeep, a 1920s Gangster evocative of America's prohibition era and historic female fashion."

Day 1 - Afternoon
Dove Cottage and the Wordsworth Museum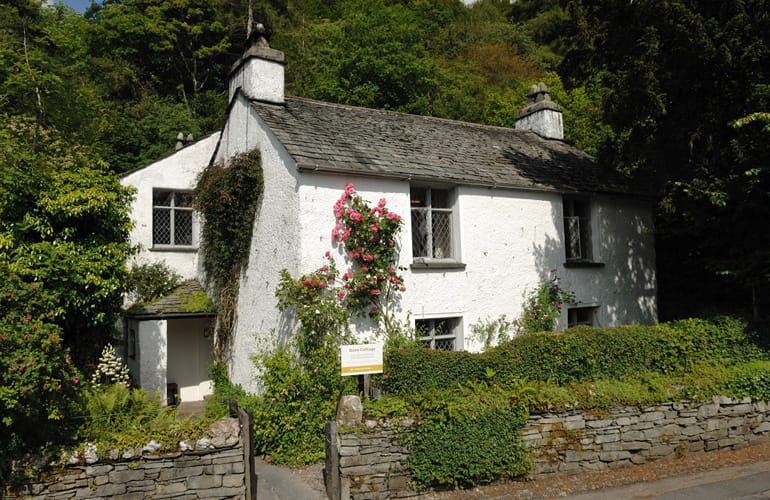 Copyright: the Wordsworth Trust
The former home of William Wordsworth (between 1799-1808), Britain's most famous poet, Dove Cottage is situated in the beautiful village of Grasmere and makes for a lovely afternoon visit thanks to its unique atmosphere and fascinating history. The Museum is also a real treat where you can discover the greatest collection of Wordsworth's letters, poems, and journals. Describing in further detail the wonderful experience that visitors can look forward to, the team at Dove Cottage told us:
"'Dove Cottage and the Wordsworth Museum is at the heart of the Lake District, surrounded by fells, lakes and beautiful landscape, it is also just a short walk away from the centre of Grasmere village. This traditional cottage, which in summer is covered with pink roses, was once home to the poet William Wordsworth and his sister Dorothy. On a guided tour you can find out more about the Wordsworths' lives and soak up the unique atmosphere of this famous literary house. Afterwards, you can explore the garden, which has been left in a half-wild state as the Wordsworths would have planted it. If you climb the stone steps to the top of the garden you are rewarded with a beautiful view across Grasmere Vale, and the wooden shelter on the terrace is the perfect spot for a moment of quiet contemplation. Wordsworth once described this garden as 'the loveliest spot that man hath ever found' - you can see why!
"The Wordsworth Museum is filled with treasures from the Romantic period and the lives of the Wordsworths. You can find intriguing items such as the first complete copy of the thirteen-book Prelude, notebooks which make up Dorothy's Grasmere Journal and even Wordsworth's socks! With the combination of the museum, filled to the brim with brilliant artefacts, and the cottage, where so many great works were written, you can be sure that on a visit here you will not only learn but also be inspired. There is something about this place, whether it is the landscape, the history or something else entirely, that sparks creativity. Why not come along and see for yourself?"
Grasmere Gingerbread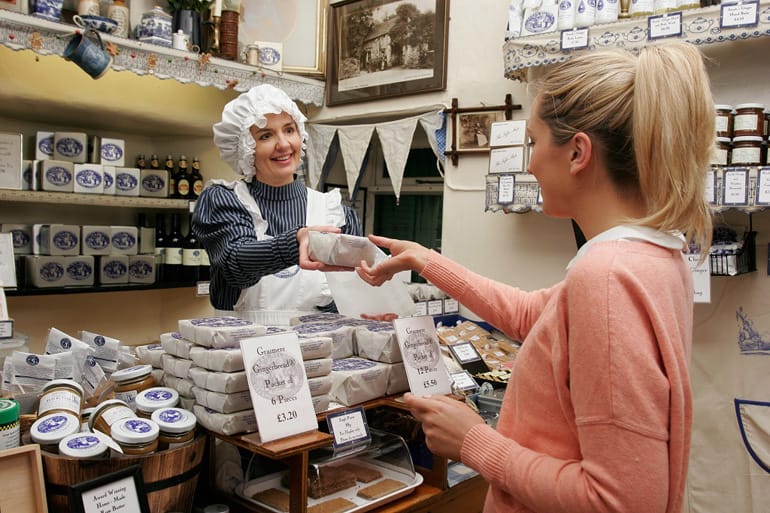 Image credit: Grasmere Gingerbread
For those looking for a rather yummy afternoon excursion in the Lake District, an absolute must is to visit the world-famous Grasmere Gingerbread shop. Created all the way back in 1854 by Victorian cook Sarah Nelson, the sublime gingerbread is still being made today, attracting visitors from all over the world. Grasmere Gingerbread is currently run by third-generation owners, Joanne and Andrew Hunter, and stopping by their store really is essential for those visiting the Lake District. Telling us about why the shop is such a wonderful Lake District stop, Joanne Hunter told us:
"There is nowhere else like it in the world! We have been making Grasmere Gingerbread ® here to a secret recipe every day for the last 164 years and it is the only place in the world where you can buy it (unless via 21st-century worldwide mail order). You will discover this unique little bakery and shop by following your nose – smelling the sweet smell of fresh gingerbread as it wafts through this picturesque village."
Joanne also recommends that you make sure to highlight the store's photogenic nature: "There are great photo opportunities inside and out! The building is a historic attraction in itself being built in 1630 as the village school. It's like a step back in time, quaint and friendly and all the staff wear Victorian outfits. Along with the delicious gingerbread, there is also an array of lovely handmade and homemade local products. A foodie's heaven."
Day 1 - Evening
Four & Twenty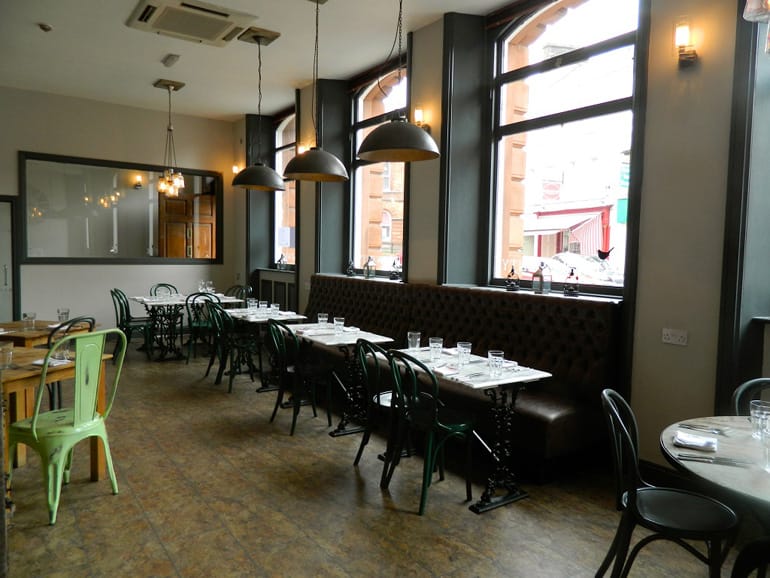 In the evening, you'll, of course, be on the lookout for a fantastic spot to enjoy a nice meal. Four & Twenty is a restaurant that will fit the bill perfectly, offering carefully selected menus for both lunch and dinner that will be sure to tantalise a range of tastes. Four & Twenty spoke to us about the joys of dining with them:
"Four & Twenty is a cosy restaurant in Penrith located on King Street in what used to be an old bank, but which was converted to serve as a restaurant some years ago and has since been an established and respected dining location in the town for over five years. Four & Twenty serves a combination of classic English cuisine and modern Bistro-style dishes, all with the personal twist of the chefs' own culinary style.
"The combination of the rustic-modern decor, the classic rock and pop soundtrack and the always-smiling local staff provide a comforting and cheery ambience, which extends into the personal service provided by waiters and chefs willing to provide for any special dietary needs or particular requests a patron might make. The waiters are always happy to go the extra mile to make their patrons' experiences happier in any way they feasibly can. Often, the chefs create something uniquely delicious on the spot if a customer is unable to indulge in anything on the menu due to their dietary restrictions."
Day 2 - Morning
Blackwell, The Arts & Crafts House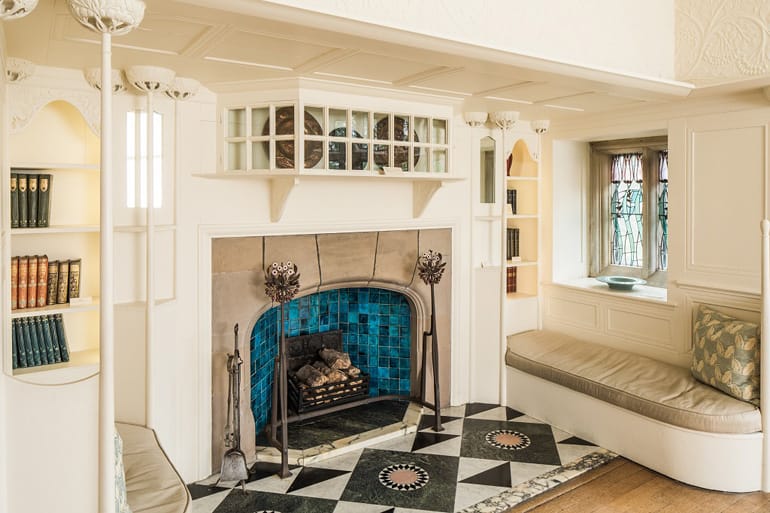 Blackwell, The Arts & Crafts House was built back in the year 1900 and is a perfect fusion between Victorian design and the modern architecture that came along with the 20th-century. Blackwell House is certainly a Lake District attraction to note down for your trip, offering visitors the chance to discover its beautiful features and history, while also engaging in fun activities for all to enjoy. Speaking to us about the joys of visiting and what you can get up to once there, the team at Blackwell told us:
"Perched overlooking Lake Windermere, Blackwell, The Arts & Crafts House is a grade I listed building and a masterpiece of artistic design. Architect MH Baillie Scott designed Blackwell in 1901 as a holiday home for Manchester brewer Sir Edward, Lady Holt and their five children. Today visitors can sit and soak up the atmosphere in Blackwell's fireplace (inglenooks) and inviting window seats while enjoying stunning Lake District views. The house retains many of its original decorative features, including a rare hessian wall-hanging in the Dining Room, leaf-shaped door handles, ornate window catches, spectacular plasterwork, and stained glass and carved wooden panelling.
"Blackwell inspires everyone who visits. Visitors immerse themselves in the beauty and craftsmanship of the original features, enjoy family-friendly activities, and learn about the Edwardian era with interactive augmented realities that bring Blackwell's history to life. There is an inviting tea room that offers quality, freshly prepared lunches and delicious homemade cakes and a shop which has an enviable reputation for presenting work for sale by the best contemporary craft makers in the industry; upholding the ethos of the Arts and Crafts movement. Discover unique pieces selected for their quality and beauty, including fine jewellery, textiles, glass, wood and metalwork. Whenever you visit you can enjoy a lovingly crafted day out at one of the most enchanting historic houses in the Lake District."
The World of Beatrix Potter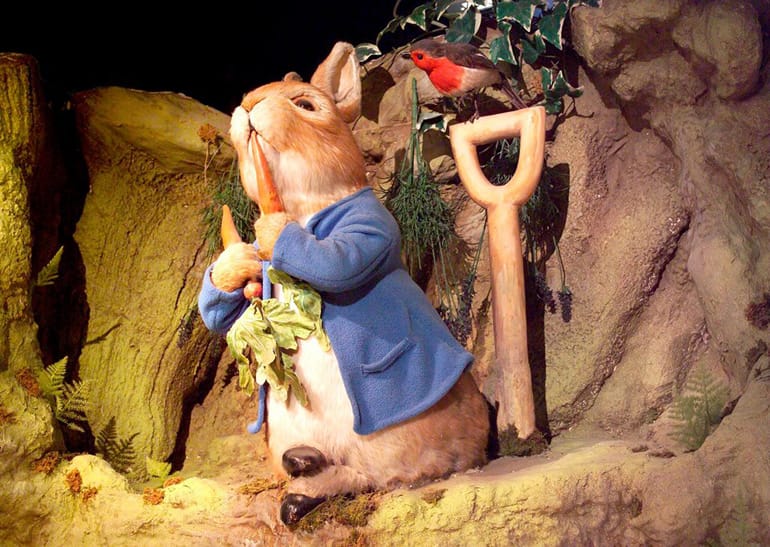 Image credit: The World of Beatrix Potter
Beatrix Potter, one of England's most cherished children's authors, found great inspiration from the Lake District's natural beauty and wildlife. The World of Beatrix Potter is, as a result, a must-visit when in the Lake District, full of interactive exhibits that tell the story of Potter's incredible writings and stories. At The World of Beatrix Potter, visitors can walk through Jemima Puddle-duck's woodland glade, search for carrots in the garden of Peter Rabbit, browse the shop, and even enjoy something yummy in the tea room.
The summer months are an especially good time to visit (26 May – 2 September) as this is when you can enjoy their live theatre show entitled 'Where is Peter Rabbit?' Lasting one hour, tickets can be purchased jointly with the exhibition. For fans of this famous author and for those travelling with kids, The World of Beatrix Potter is not an attraction to miss.
Day 2 - Afternoon
Honister Slate Mine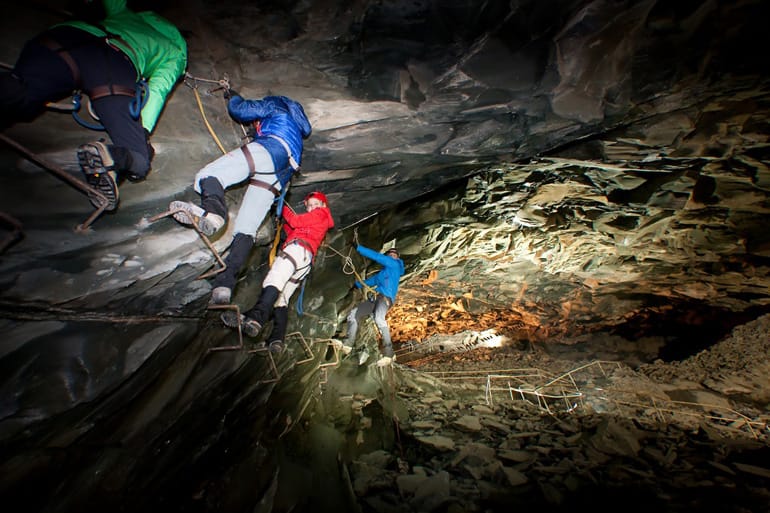 For those looking to be a little more active on a Lake District afternoon, Honister Slate Mine can certainly meet your demands and then some. Situated at Honister Pass, they not only produce the world-famous Westmorland Green Slate (450 million years old), they are also home to an immensely thrilling selection of adventure activities. No matter the weather, there's something exciting to get involved with, including the likes of climbing the original miners' route to the top of the mountain, mine tours, and an adrenaline-filled climb inside the mine itself.
Regarding why they believe Honister Slate Mine is such an essential Lake District attraction, the team behind it told us: "A visit to Honister will leave you energised. Set into the side of the dramatic Fleetwith Pike, England's oldest working slate mine offers an exhilarating mix of adventure activity, history, heritage skills and community suitable for all ages.
"The friendly, knowledgeable team at this family-run attraction, brim with passion for the mine and have fascinating stories to share. The rugged mix of industrial and natural elements combine to make a dramatic setting that offers something special all year round. Whether you are an experienced thrill-seeker looking for your next challenge with a group of friends, a university or school group wanting to learn about the history of the mine and the geology of the area, or a family wanting to enjoy quality time together, Honister has it all."
Go for a fells walk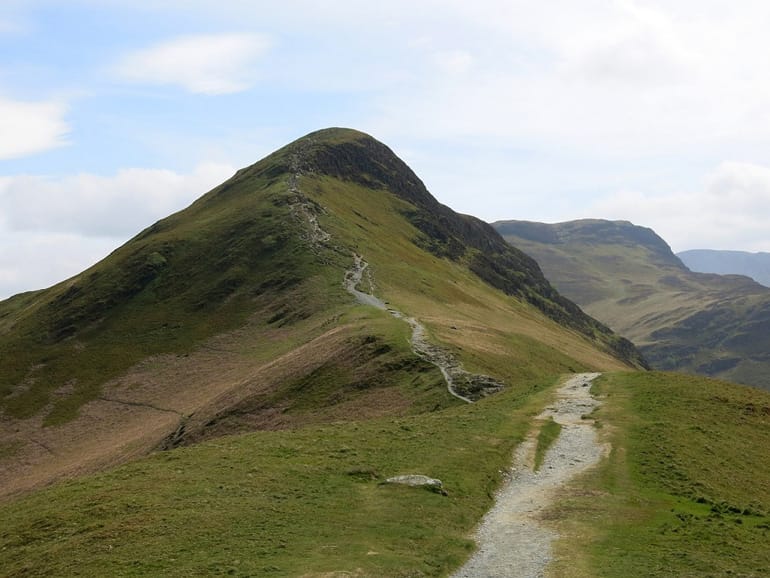 The Lake District is most famous for its natural beauty and specifically for its picturesque fells! As such, people travel from far and wide just to get ensconced in this most relaxing of settings and to go for leisurely (and sometimes vigorous) fell walks. When you come to visit the Lake District for a day or two, you can't forget to enjoy one yourself as there is no question that this is the best way to appreciate this magnificent area of Britain. You don't need to be supremely fit to climb every single fell, there are a number of excellent routes for more casual walkers – such as Orrest Head (located just above Windermere). Orrest Head is relatively short in duration, taking not much more than an hour when walking slowly.
If you are looking for further options, there's plenty available, and a great resource for discovering what's out there is Striding Edge , a photo diary which not only presents magnificent imagery of Lake District walks but also provides useful information such as distance, fell height, time taken to walk, and geographical category. Striding Edge will certainly act as a good starting point to help you decide which walks you would like to enjoy upon arrival.
Day 2 - Evening
Porto Restaurant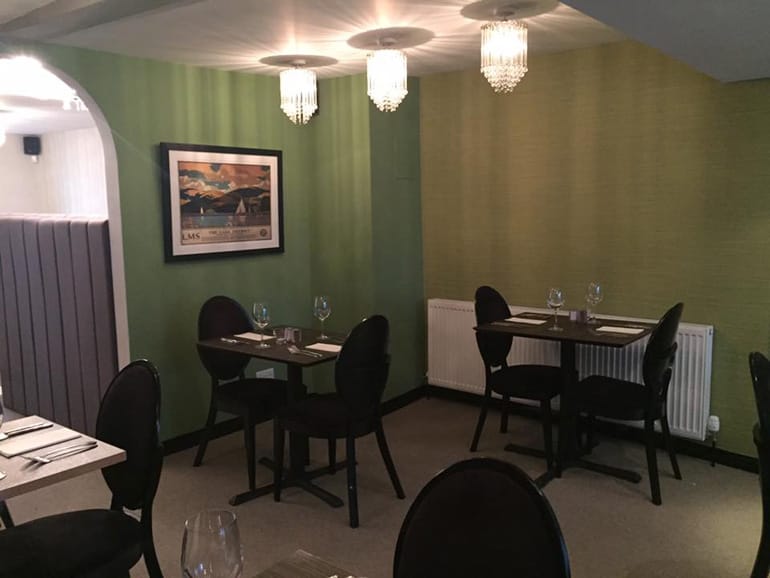 Image credit: Porto Restaurant
When looking for a restaurant to dine at during your last evening in the Lake District, you can't go wrong with securing a table at Porto Restaurant . This award-winning restaurant in Bowness on Windermere is open seven days a week for both lunch and dinner, sporting bistro-style dining and serving up a wonderful menu of freshly prepared food comprised of locally-sourced ingredients. You can certainly pop in for a nice relaxing lunch (including a Sunday roast) but Porto Restaurant really shines when it comes to an evening meal.
Utilising their local larder and infusing the best Cumbrian traditions, their dinner menu includes signature dishes such as 28-day salt aged steak and local lamb, as well as delights like wild mushroom risotto, grilled hake fillet, and Lakeland pheasant supreme. For dessert, diners can look forward to treats such as sticky toffee pudding with butterscotch sauce and dark chocolate orange cheesecake with vanilla shortbread. Also boasting a tremendous wine list and kids menu, there's no question Porto Restaurant will provide a fitting venue for your last evening meal in the Lake District.
Two days well spent in the Lake District
There is truly a plethora of fantastic options to enjoy over a 48-hour period in the Lake District and we hope that our above guide to two days in this magnificent English destination has inspired you before your upcoming trip! You can't go wrong in the Lake District but by considering some of the aforementioned attractions and activities, there's no question you'll be in for a memorable time. If you're wanting to quickly note down the options we've listed, here's an abbreviated list of things to do in the Lake District, helping you to get busy booking your break away :
• Holker Hall & Gardens
• Lakeland Motor Museum
• Dove Cottage and the Wordsworth Museum
• Grasmere Gingerbread
• Four & Twenty
• BlackWell, the Arts & Crafts House
• The World of Beatrix Potter
• Honister Slate Mine
• Go for a fells walk
• Porto Restaurant