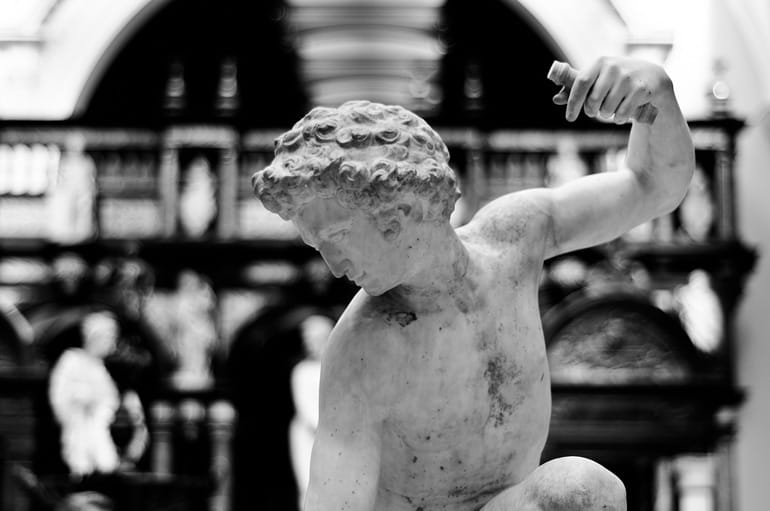 W herever you are in the UK, you can get engrossed in art. Whether you are walking through the colourful street art-lined lanes of Bristol or hopping from gallery to gallery in London. From large museums full of timeless pieces known around the globe in our big cities, to small, unimposing galleries dotted displaying small, private collections, there is always something beautiful to look at in the UK.
For a small nation, we have played a large role in the art world. With artists like William Blake, J.M.W Turner and John Constable creating during the Romantic period, the popularity of the arts increased in the UK. The Victorian period then saw more art being created here than ever before, with new inspirations and diverse styles emerging. Even through the heaves of war, art excelled at a grand rate throughout the 20th century and now the United Kingdom has earnt is place as one of the world's finest cultural hubs.
As well as being the capital of England, London is also one of the art capitals of the world. With its large range of free galleries, it's the perfect place to absorb culture for a low price, and some of the world's best culture at that.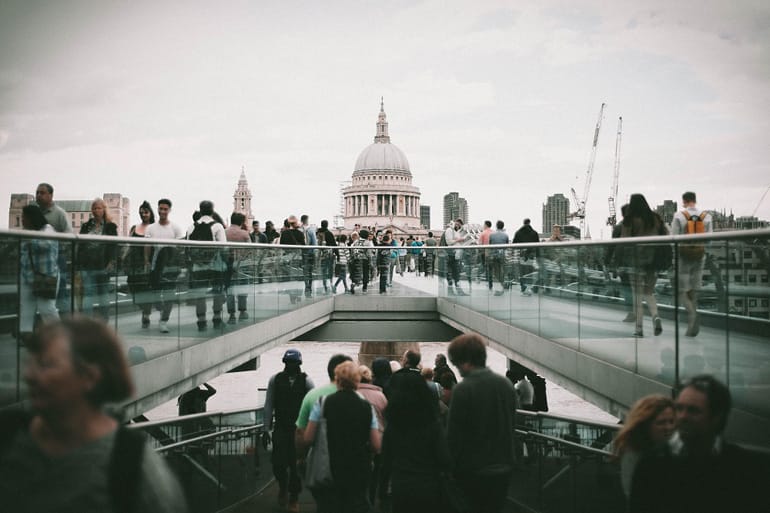 Some of the major galleries are home to some of the world's most famous pieces of art, and you can be lucky enough to see Vincent van Gogh's Sunflowers, John Taylor's portrait of William Shakespeare and Salvador Dali's Metamorphosis of Narcissus all in one city. .
The Tate Modern is the world's 6th most popular art museum, and rightfully so. Before you even step foot inside this gallery you are met with a masterpiece - the building itself. The old Bankside Power Station houses some of the world's most popular modern art and is a defining icon of the Thames riverbank. The large open structure perfectly frames the pieces inside, and the turbine hall is an ever-morphing hub from ground-breaking exhibitions and artworks.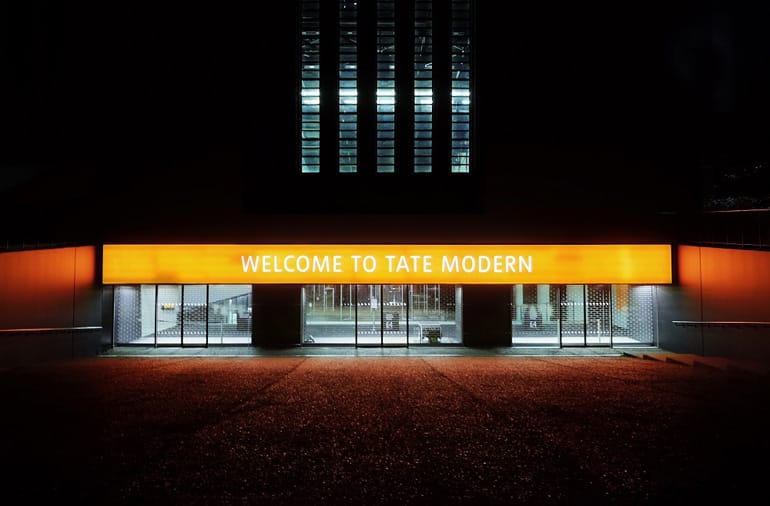 The Tate Modern, despite its name, does not define itself by one style of art. Under its roof you'll be able to see pieces by Rothko, Lichtenstein and Picasso. Instead of specific artists or styles the pieces are arranged in themes, often leaving the displays varied and exciting. Even if you do not class yourself as a lover of contemporary art, the Tate Modern experience is something everyone should try in their lifetime.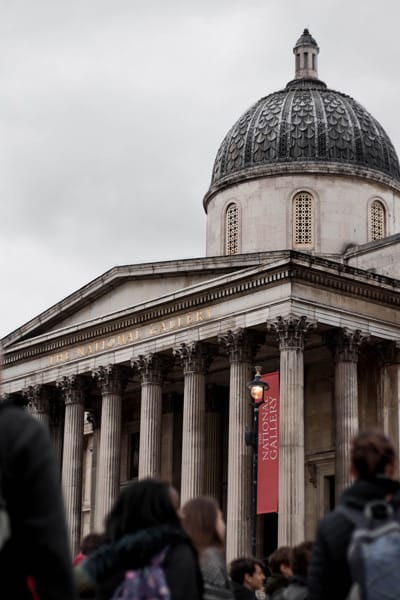 Standing tall over Trafalgar Square is The National Gallery , one of the UK's most popular art galleries. Full of outstanding pieces of artwork from new to old, it's the perfect place for anyone to while away the hours getting lost in culture.
In fact, some incredibly well-known pieces live under this roof, from Georges Seurat's Bathers at Asniéres to Van Gogh's Sunflowers. If you are looking to experience as much art as possible in one museum, this should be your go to destination.
Alongside The National Gallery is its sister gallery, The National Portrait Gallery . Full of portraits dating from 1505 (a portrait of King Henry VII) up until modern day pieces like a portrait of Ed Sheeran, painted by Colin Davidson in 2016.
Just like The National Gallery, visiting The National Portrait Gallery is free and it's a great place to explore brilliant and well-known pieces of artwork.
On the corner of Cromwell and Exhibition road in Kensington, the heart of London's museum district, is the V&A . The Victoria and Albert museum is full of fascinating works from historic artefacts to sculptures and paintings, as well as displays on fashion and much more. You can get lost in the museum for days, and throughout every room you'll be faced with a new collection. It's actually the world's largest museum of decorative arts and design, permanently housing a collection of over 2.3 million objects. Regardless of its large collection, the Victoria and Albert Museum remains free to the public.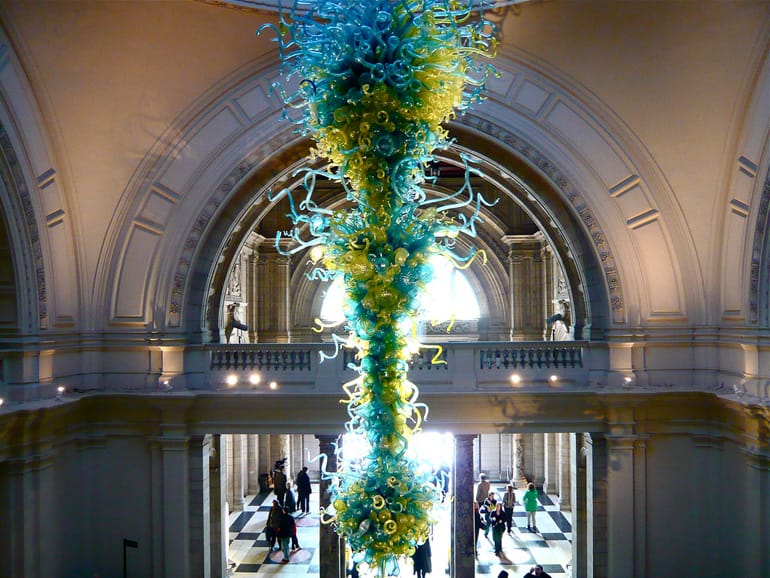 The museum was named after Queen Victoria and Prince Albert, in fact, Queen Victoria's last public appearance was made here in 1899, when the name was declared public. Queen Victoria is quoted as saying : "I trust that it will remain for ages a monument of discerning liberality and a source of refinement and progress."
Manchester is one of the UK's best cultural hubs. This North West city is home to many galleries and museums, big and small, along with a popular and emerging youth culture that engages heavily with the arts. Slowly, people are looking to move away from pricey London and to other areas of the UK and this trend has seen a big boost in Manchester's culture.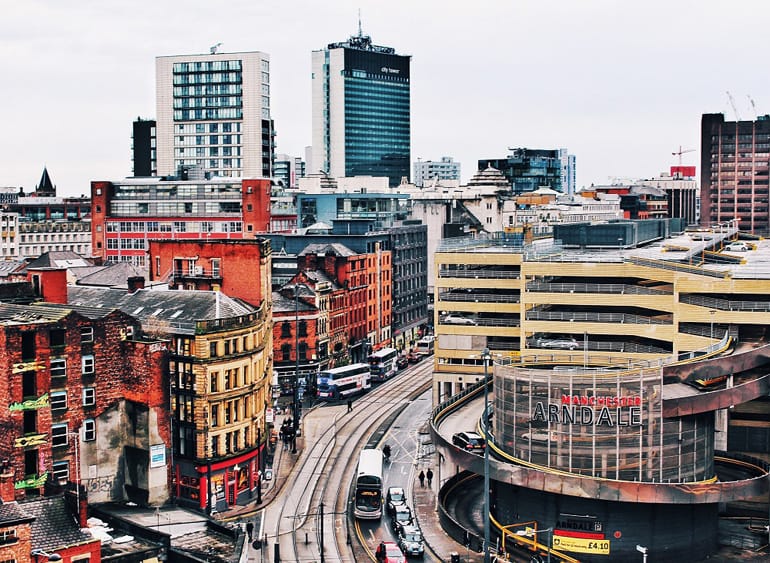 Home to a large exhibition dedicated to Lancashire born painter and its namesake, L S Lowry, The Lowry is not only a great art gallery, but also a great theatre and arts centre. Lowry holds the record for the most rejected British honours, including a knighthood, and was known as a normal man, who enjoyed attending football matches and was a famous supporter of Manchester City.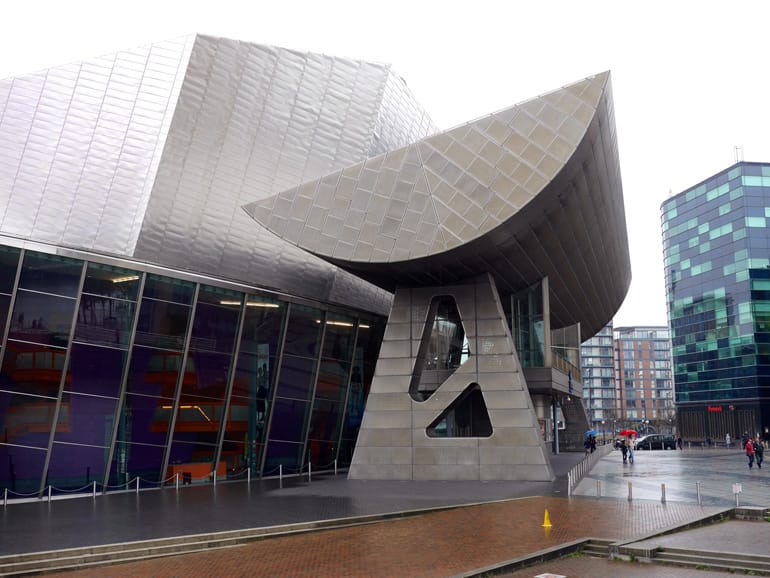 The Lowry was built on Salford Quays and was named after him to embrace the legacy he left. As well as the large collection that is on display in the gallery, there is an even larger collection kept behind the scenes there, preserved for the future.
Not only can you visit the L S Lowry exhibition here, the centre is a hub of the arts, and is a fantastic place to watch shows in their theatre. The gallery embraces the local community and young people who live around it, offering classes and shows by Mancunians, as well as some large headline shows.
HOME is one of the newest additions to Manchester's art scene and is a place for local artists of all disciplines to be able to show their work off. HOME houses five cinemas, two theatres and a large, flexible gallery. Along with places to eat and drink, shop and hang out.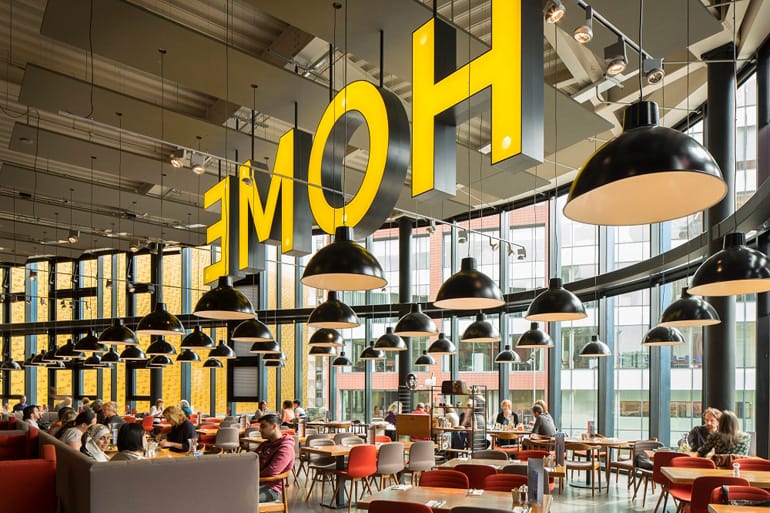 If you are looking to indulge in the arts whilst exploring one of the country's best new spaces, then HOME is for you. You can wander through the gallery looking at the ever-changing exhibitions, catch a film in one of the cinemas or a show in one of the theatres.
We spoke to the team at HOME, who told us some more about it's goals: "HOME, Manchester's center for international contemporary art, theatre, film and books, officially opened its doors in 2015. HOME is a place for curiosity seekers, for lovers of the dramatic, the digital and the deeply engaging; for radicals and reciprocators. HOME's international contemporary visual art programme is dedicated to presenting new commissions by emerging and established artists of regional, national and international significance. Our focus is bold, visual storytelling that probes and provokes."
Although a relatively small town in the South West , St Ives has a large part to play in Britain's artistic history. Many people are aware that during the wars, children were evacuated to smaller towns in the countryside in order to evade bombing. It is lesser known that this was also a popular choice for artists, who travelled in their droves to Cornwall to paint the rugged seaside in safety. The area was already popular for artists, but the introduction of war led to them settling in the South West permanently.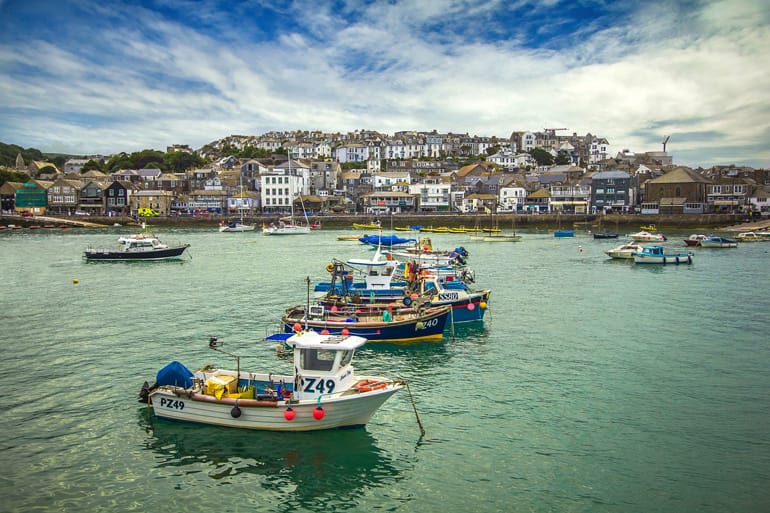 One of these artists was prominent female sculptor, Barbara Hepworth. She, along with her husband, abstract artist Ben Nicholson, settled in St Ives after the outbreak of the Second World War. When the war ended, they stayed, and Hepworth and her husband led a new generation of artists.
Barbara Hepworth Museum and Sculpture Gardens
The Barbara Hepworth Museum and Sculpture Gardens in located in St Ives. She originally purchased Trewyn studios in 1949 and lived and worked there for the remainder of her life. Hepworth died in a fire on these premises in 1975.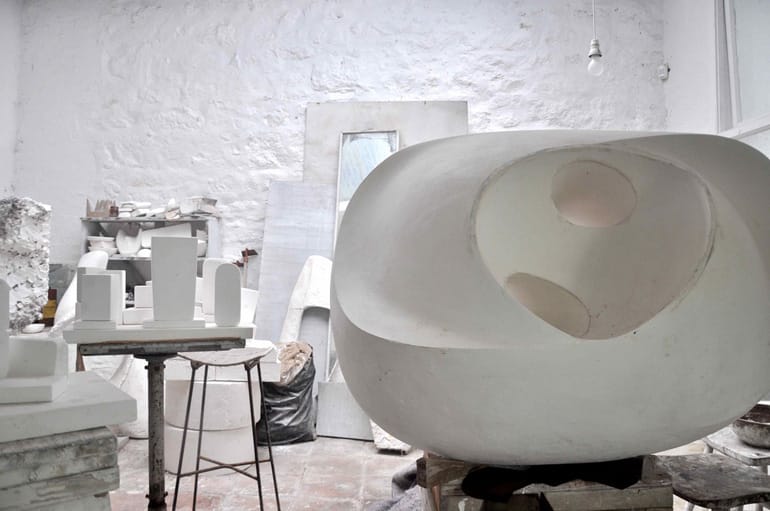 It was her wish that Trewyn would become a museum of her work, which is what you can visit today. The studio museum is still furnished as she left it, and you can see the piles of tools in her workshop, poised to create a masterpiece, as well as walk through her living room.
The Hepworth Museum holds the largest collection of her works on permanent display anywhere in the world, and the secluded garden features some of her own favourite pieces. Only a short walk from the beach, the studio was the perfect location for Hepworth, we often claimed the seaside as one of her main inspirations.
St Ives' rich art history also allowed it to become home to a major art gallery, Tate St Ives . Tate initially took ownership of the Barbara Hepworth Museum and after acknowledged a need to celebrate the town's artistic history by adding a larger gallery. They decided on the iconic white building that overlooked the beach.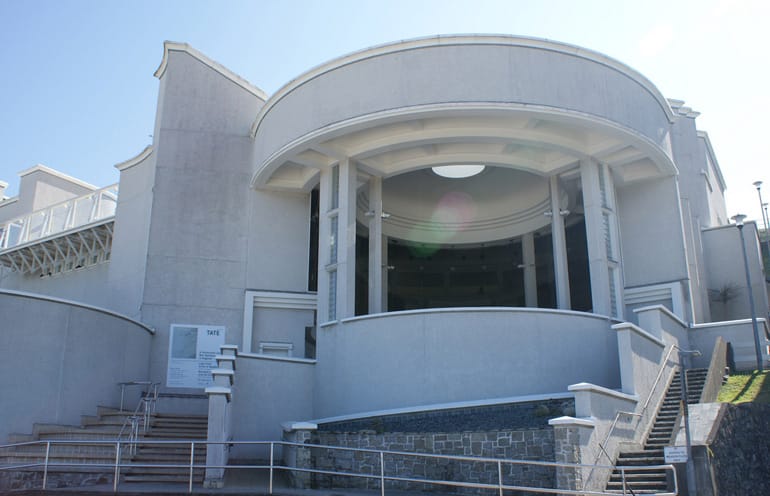 As well as works by some of St Ives most prominent artists including Naum Gabo, a Russian sculpture artist. Gabo moved down to St Ives to be closer to Hepworth and Nicholson for seven years until he relocated to the USA.
Liverpool has more museums and galleries than any other UK city outside of London. But, like London, many of them are free to enter. This is only one of the reasons why Liverpool is a great place to visit for any art lover. Liverpool was also voted the European Capital of Culture in 2008 and since then has only continued to embrace the arts even more.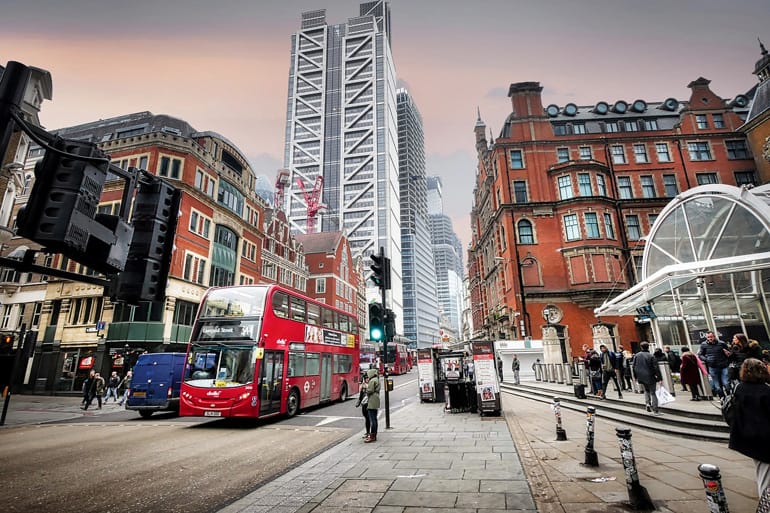 We spoke to Visit Liverpool , who told us about why it's a great destination for art lovers: "Liverpool is a great destination for art lovers and with more national museums and galleries than anywhere else in the country outside of London, there really is something for everyone. Ten years on from being crowned European Capital of Culture , the city's cultural offer is stronger than ever and visitors this year can make the most of Liverpool 2018, a year-round programme incorporating one-off events and exhibitions.
"Along with its many permanent galleries, every two years sees the city welcome Liverpool Biennial - the largest contemporary art festival in the United Kingdom. The festival brings international artists to present new works around the city, in public spaces, disused buildings and even supermarkets as well as across the main galleries.
"Since its launch in 1998, the Biennial has commissioned over 300 new artworks and exhibited work by more than 450 artists from around the world. This year's instalment runs from 14th July – 28th October and is the perfect opportunity to see the best of the city."
We got in touch with the team behind Liverpool Biennial who told us some more about the plans for this year's festival: "Liverpool Biennial 2018 marks 20 years of presenting international art in the city and region. It is also part of Liverpool 2018, a year-long programme which celebrates the city's culture and creativity a decade on from European Capital of Culture.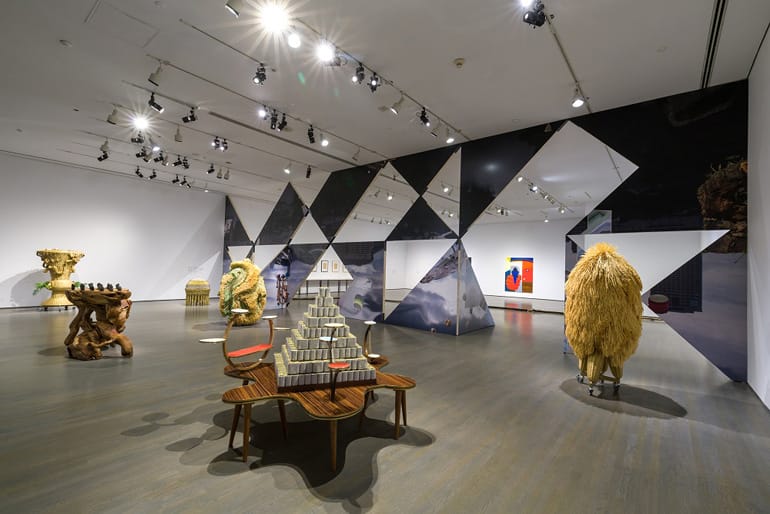 "More than 40 artists from 22 countries will participate in this year's programme which invites artists and audiences to reflect on a world in social, political and economic turmoil. The city of Liverpool provides the setting for the exhibition which takes place in public spaces, galleries, museums and civic buildings, encouraging visitors to explore the city's rich histories."
Tate also holds its name in Liverpool. This northern gallery is located at the Albert Dock. The Tate Liverpool champions British art from 1500 to today and is a great place to visit and esteemed art gallery outside of London.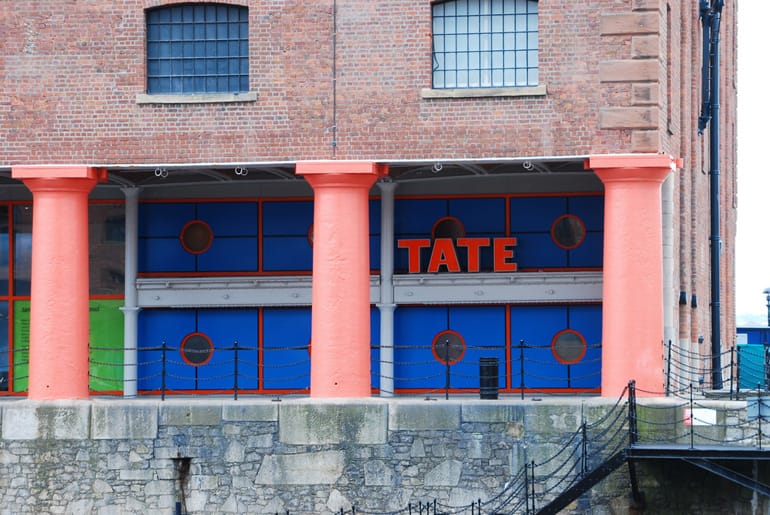 Here, you can see many pieces of bold and powerful artwork including pieces by Andy Warhol and Mondrian. The building itself is a work of art, the Grade 1 listed building is large and industrial, like the Tate Modern in London. These old factories are masterpieces in themselves and give lots of open space for displaying the pieces inside.
The team at Visit Liverpool told us some more about the gallery: "Situated in the historic Albert Dock, Tate Liverpool is the home of modern art in the north. This year it celebrates its 30th birthday with various special exhibitions and events, in addition to its very impressive permanent collection which includes works from Picasso, Jackson Pollock and Man Ray."
The Walker Art Gallery houses one of the largest collections of artwork in England outside of the capital. The traditional gallery wouldn't look out of place in the capital's streets however, with well-known pieces in its collection. The gallery is promoted as 'The National Gallery of the North' because of its extensive catalogue of works and because it is also one of the country's free to enter galleries.
Visit Liverpool gave us their overview of the Walker: "The Walker Art Gallery is home to one of Europe's finest collections of paintings, with many of the gallery's works having been on display in the city for nearly 200 years. Over in Port Sunlight, the historic Lady Lever Art Gallery is an artwork in itself. For something more contemporary, Open Eye Gallery and FACT show the best in photography and digital art respectively."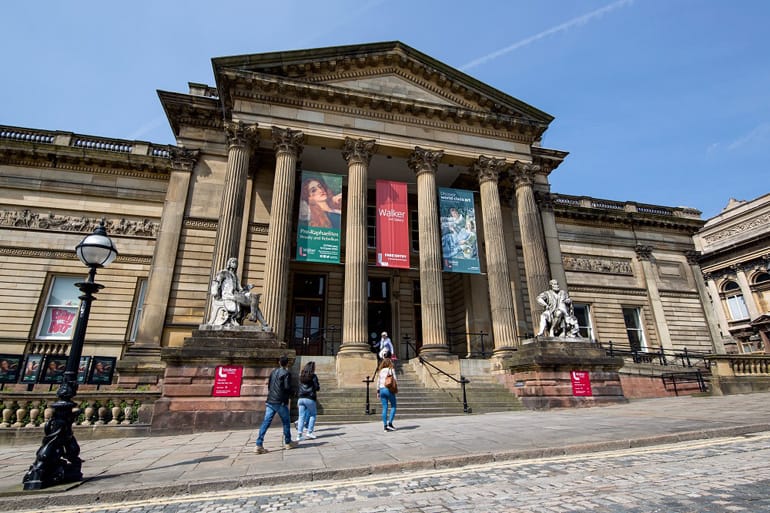 You can find the gallery on William Brown Street, which is worth a visit for any art or history lover. It is actually the only street in the UK that consists of nothing but museums, galleries and libraries. It's known in Liverpool as the Cultural Quarter, and is also home to other public buildings like the World Museum Liverpool and the Liverpool Central Library .
We spoke to the team at the Walker Art Gallery, who told us some more about its history: "The Walker Art Gallery houses an internationally-renowned collection of paintings, sculpture and decorative art. It is one of Europe's finest galleries, with a collection that ranges from outstanding modern and contemporary works to Medieval and Renaissance masterpieces."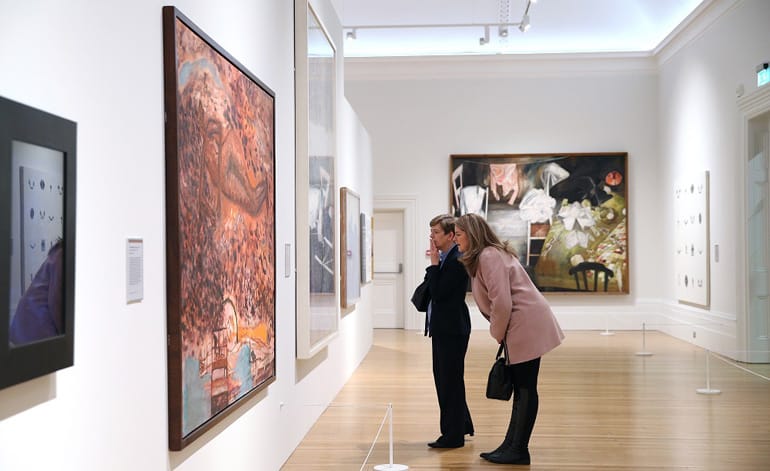 "Some of the greatest British artists of the last century are represented in the contemporary galleries, from Lucian Freud to David Hockney, while the Gallery's Impressionist collection is not to be missed. Visitors can also see paintings by 17th and 18th century masters including Poussin, Rembrandt and Gainsborough, before taking in the Walker's famed Pre-Raphaelite collection."
If you are looking for the romantic weekend breaks for art lovers in the UK, then these are some fantastic places to indulge in some of the best art scenes in the country. Pack your sketchbooks and take off for a weekend of colour and culture.
Image Credit: Scott Wylie , Smabs Sputzer , Craig Morey , Richard Penn , George M. Groutas , Gareth Jones & Dave Jones for The Walker Gallery, Paul Karalius for HOME. Haegue Yang, The Grand Balcony, 2016. Installation view at La Biennale de Montréal. Photo: Guy L'Heureux.