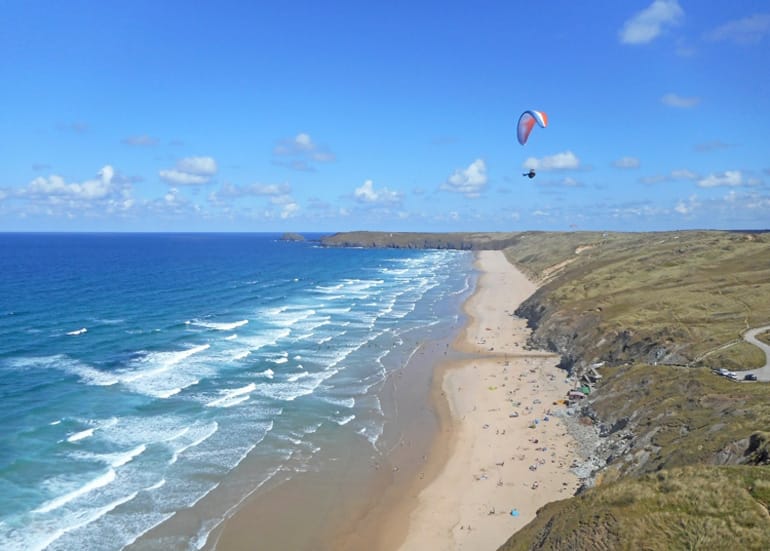 W ith the UK currently basking in glorious sunshine, why not consider booking a last-minute trip to the seaside?
Fortunately we have a selection of the best short breaks in the UK available that are close-by to some of the best stretches of sand the country has to offer. Many iconic beaches are located in the South West, which is home to popular spots like Fistral Beach and other beaches that are unspoilt and secluded beneath cliffs like Hollicombe Beach.
Here we've suggested some of the best beaches that the South West has to offer and some of the top things you can do at the particular beach.
Hotel you can stay at: Hallmark Hotel Bournemouth West Cliff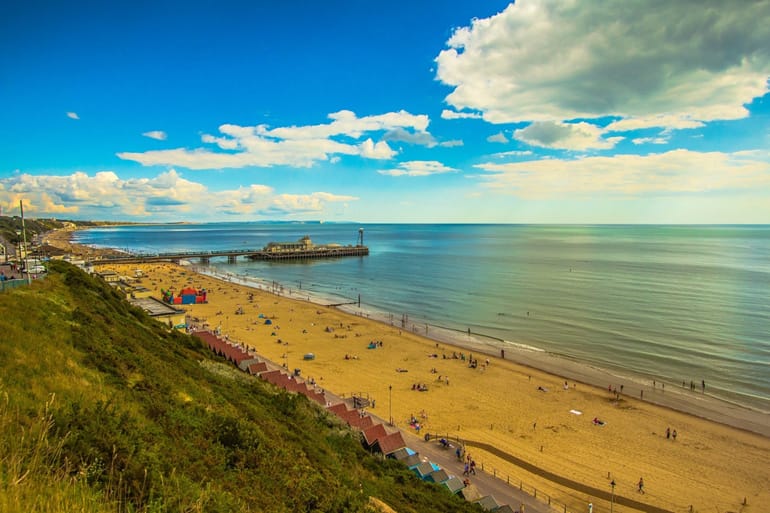 Bournemouth's main beach has been a popular spot for beach-goers since Victorian times and today it's still one of the UK's favourite beaches.
The 7-mile golden sand beach is close to Bournemouth's town centre, meaning there is no shortage of amenities and other attractions on your doorstep.
Top things to do at Bournemouth Beach
Visit Bournemouth Pier
Bournemouth Pier is an iconic landmark perfectly situated between the 7 miles of Bournemouth's golden sandy beaches. At a cost of £21,600 the then new Bournemouth Pier was opened by the Lord Mayor of London in August 1880. In 2006, operation of the pier was taken over by Openwide International who have since gone on to convert the pier theatre into an indoor adventure sports attraction and have now built the world's first & only pier to shore zip wire.
Speaking about why Bournemouth Pier is a must-visit, a spokesperson for the Bournemouth Pier, says, "Bournemouth Pier is a must-visit attraction for any visit to Bournemouth with a great range of adventure activities to suit all ages. RockReef indoor activity attraction boasts 28 individually themed clip 'n climb climbing walls, an aerial obstacle course suspended 20ft above the ground and a pier cave with hidden grottos and ball pits! For the more adventurous, there is a Vertical Slide and a leap of faith jumping challenge which are both sure to get your heart racing!

"Outside is the awesome PierZip, the world's first pier to shore zip wire! Are you a thrill seeker? Then test your nerves by climbing the steps to the top of the 60ft high tower, then launch yourself off the platform and over the sea to land on the beach below.
"On the end of the pier you will find Key West bar & grill with a more relaxed atmosphere and some of the best panoramic views you will find in Bournemouth. The large sun terrace is the perfect place to unwind on hot summer days and inside you will find a large seating area with glass windows that provide the perfect ocean view dining experience. The menu is varied with something to suit everyone's taste."
In the summer the council operate a pier toll and charge a small fee to access the pier. The ticket you purchase will be valid all season so keep hold of it for your next trip!
Burnham-on-Sea Main Beach
Hotel you can stay at: The Mount Somerset Hotel and Spa (only a 30-minute drive)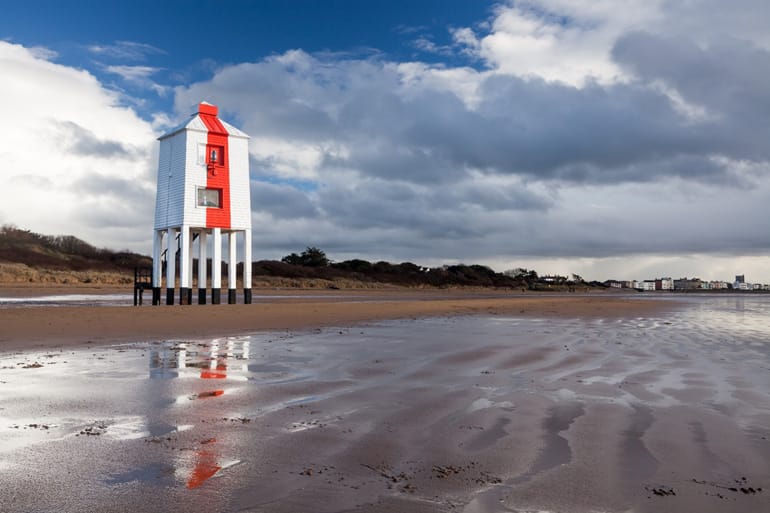 This classic seaside resort in Somerset not only boasts a picturesque stretch of sand, but it is lined with Victorian and Edwardian guest houses.
The award-winning Burnham-on-Sea Main Beach is a safe haven for all as there is a lifeguard service in operation and there are lots of traditional charms that you can enjoy during your visit.
Top things to do at Burnham-on-Sea Main Beach
Drive to the Grand Pier
Just a 20-minute drive away from the beach is the Grand Pier in Weston-Super-Mare, a state-of-the-art Pavilion and a truly iconic destination for a nostalgic day out. With rides, attractions and the latest arcade games, a visit to the Pier is the perfect treat for kids of all ages.
Some of the activities you can enjoy at the Grand Pier include amusements (including giant screen Space Invaders), new rides like the Sidewinder and Robocoaster, a two level 300 meter indoor Go-Kart track, seaside favourites like dodgems and a house of horrors and a number of cafes and restaurants.
A spokesperson from the Grand Pier, adds, "The Grand Pier has something for everyone, young and old alike - from the arcade machines to thrilling rides, or a relaxing afternoon tea in our Edwardian-style tea room Tiffanys, which boasts panoramic sea views."
Eat at Esplanade Fish Bar
Esplanade Fish Bar has been running high-quality fish and chip establishments across the South West for over twenty five years, for the last six years their premises have been renovated on the Burnham-on-Sea promenade, creating the perfect venue for you to eat in or takeaway. They are currently open 7-days-a-week.
Lee Bond from Esplanade Fish Bar recommends trying the classic cod and chips at the restaurant, "Whilst we have a wide range of great tasting food, you can't beat a classic cod and chips. Our cod are ethically sourced and our batter is cooked to perfection. Add to that our own recipe curry sauce and you've got a perfect, seaside classic!"
Esplanade Fish Bar provides a gluten free menu, available every day. If it is a hot summer's day you can also enjoy wine, lager and some local cider to quench your thirst!
Hotel you can stay at: The Lugger Hotel (around a 40-minute drive)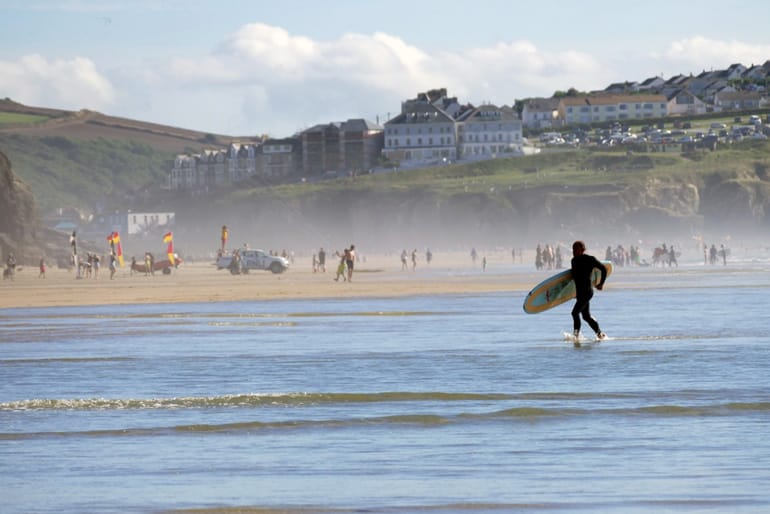 Perranporth Beach is the beach everyone raves about as it is a great destination to go surfing, snorkelling and sailing.
The miles of golden sand, the huge surf and the giant sand dunes mean that the beach is one of the UK's most popular, but despite this popularity you almost feel like you have the place to yourself because the beach is so big.
There is full lifeguard cover through the summer months (May-September) so you can always be safe in the knowledge some of the UK's best have an eye on you.
Top things to do at Perranporth Beach
Go on a kayaking adventure
If you're heading to Perranporth Beach, then why not go on a beginners kayaking adventure along this stunning stretch of coastline.
Koru Kayaking offer 2-hour stunning guided kayak adventures on the North Coast and Helford River enabling you to see two very different sides of Cornwall within half an hour of each other!
The North Coast kayak adventure launches from Trevaunance Cove, St Agnes, which is just 10-minutes from Perranporth Beach. The tour goes along the coastline around St Agnes and Perranporth, a UNESCO World Heritage site, through caves and archways that have been carved out during the Cornish mining era.
Some of the stunning wildlife you might paddle across include grey seals, basking sharks, sunfish and cormorants.
Hetty Wildblood from Koru Kayaking & Helford River Cruises says that you can discover Cornwall from a different angle with their tours.
"Discover Cornwall from a different perspective on the water with Koru Kayak Adventure. We take you to places only accessible by kayak and our experienced guides bring the North Coast or Frenchman's creek to life with their informative commentary.
"Described by many of our customers as the best experience of their holiday (see Trip Advisor) and with many returning customers you can sit back and enjoy the kayaking and scenery in a safe and enjoyable 2 hours on the water with Koru."
No experience is necessary for these tours and all equipment is provided, whilst wetsuits are available to hire.
Visit the UK's only bar on the beach
The Watering Hole is the UK's only bar on the beach and is famed for the live music it offers drinkers and diners all-year round.
Some of the bands that will be playing here in 2018 include Scouting for Girls, James Arthur, The Sugarhill Gang and The Furious Five.
The pub serves a wide range of food and drink throughout the year including beverages from Cornwall's St Austell Brewery.
There are a selection of breakfasts, burgers, salads and burgers available. Other dishes that you can enjoy include fajitas, Moroccan style lamb stew, fish and chips and Cornish crab tagliatelle.
Hotel you can stay at: The Lugger Hotel (around 45-minutes away)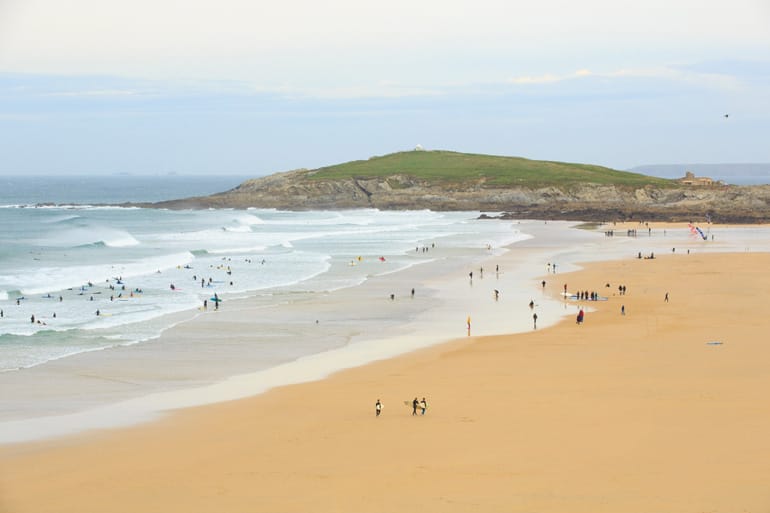 Fistral Beach is regarded as the UK's home of surfing and as a result of the quality of the surf it enjoys on a regular basis top surfers from around the world head to Fistral just so they can surf here.
All the big surf competitions in the UK take place here including Boardmasters, the Quiksilver Skins, the UK Pro Surf Tour and the BUSA Championships. The golden sand beach itself is spectacular as it is backed by high cliffs and sand dunes.
Top things to do at Fistral Beach
Meet some Pirates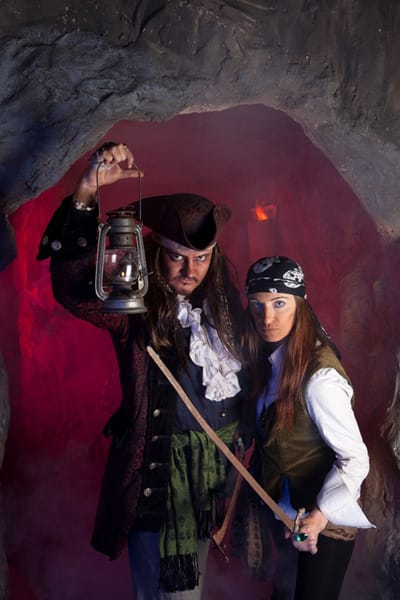 Pirate's Quest is an immersive walk-through experience, combining theatrical actors, special effects, and detailed 360 degree sets, the majority of which you're accompanied by a LIVE pirate performer.
This great experience starts with you being rescued from a sinking ship by one of the pirates before you journey through caves and coves to reach some 18th Century docks. After stopping off at Captain Blackbeard's Tavern, thrill seekers can enter the scare section.
Talking about the experience, Pirate's Quest, says, "Because so much of the experience is led by a live performer, it means that the performance can be pitched to your group, making it suitable for 5 year-olds to 95 year-olds - an adventure at Pirate's Quest offers the rare opportunity for all ages to learn something new about piracy, and experience the REAL life of a seafarer during the 'Golden Age of Pirates'."
Newquay Zoo
If you're staying in Newquay as part of a long weekend, then it is certainly worth heading to Newquay Zoo.
The zoo is located in stunning sub-tropical gardens and you'll be able to explore the savannahs of Africa and the rainforest of South America during your visit.
There are keeper feeds and talks you can attend, activity trails to follow, a dragon's maze to navigate and lots more.
Among the 13 acres of sub-tropical gardens you'll be able to see black wildebeest, nyala antelope, zebras, red pandas and the mischievous meerkats to name just a few.
The zoo opens from 10am-5pm.
https://twitter.com/CapturingRCoast/status/734812498910695425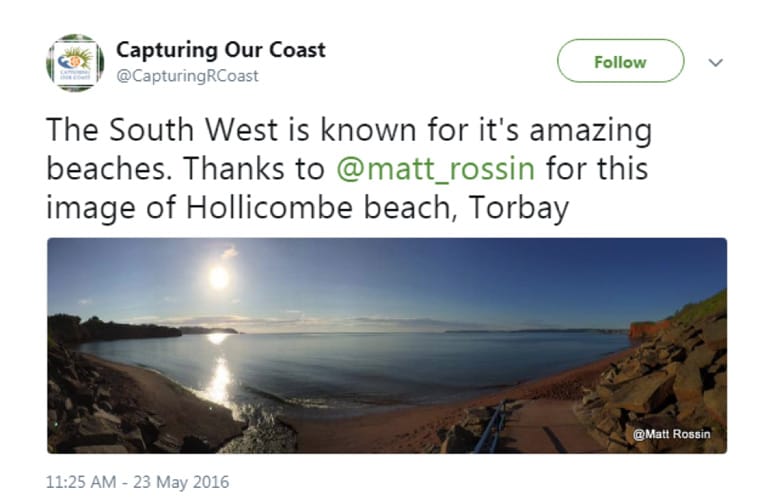 Sat between Torquay and Paignton, the Hollicombe Beach has distinctive red sand and is backed by tall cliffs, which makes it a sun trap and a sunbather's dream.
The slipway also means the beach is easily accessible if you have older people or young children in your group. A bucket and spade is essential as the sand here is known for being great for making sandcastles as is a fishing net to see what you can find in the rock pools that appear at low tide.
Top things to do at Hollicombe Beach
Learn about dinosaurs at Torquay's Dinosaur World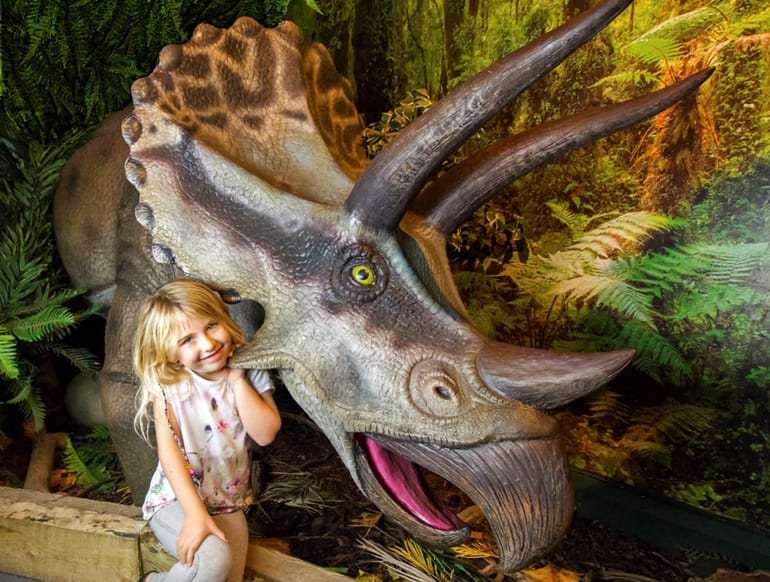 Torquay's Dinosaur World is an interactive indoor exhibition of dinosaurs and fossils that boasts full-size dinosaurs set in realistic scenes each with lots of exciting information.
You can even explore excavation sites and discover fascinating fossils. There is a quiz you can take part in and lots of interactive exhibits.
A customer shared their experience via Trip Advisor, "We had been looking for something to do that wouldn't cost too much. Our 4 year-old son loves dinosaurs and we thought this place would be good. The entry price is well worth it. There is so much to see which has all been cleverly displayed….. The fact you could touch and climb on many of the exhibits was great and so much to keep both adults and children entertained. The staff were so friendly and we would certainly recommend this place to others".
The attraction is open all-year round.
Have a round of mini-golf
Pirates Bay Adventure Golf in Paignton is another great activity to try if you're going to Hollicombe Beach.
The 18-hole course on the seafront offers great fun for all as players will need to dodge cannonballs and escape thieving pirates around the carpeted greens. It really is a great place to roll back the years and become a big kid once again.
It costs £6 per adult for a round, £4 for children, £4.80 for seniors and £2 for under 5's.
Hotel you can stay at: Cedars Inn, Barnstaple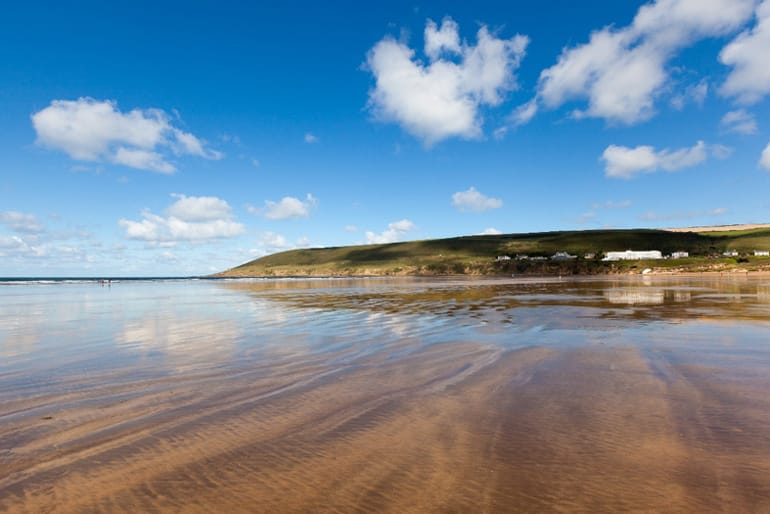 The Saunton Sands Beach is a long straight sandy beach that is next to the Braunton Burrows, which is a UNESCO Biosphere Reserve.
Its long stretch of water make it perfect for swimmers and surfers, hence why it is such a popular place for beginners to surf.
If you are a keen walker you might consider strolling to Crow Point for some incredible views across the coastline.
Top things to do at Saunton Sands Beach
Attend a surf class
As we've mentioned Saunton Sands Beach is perfect for beginners to try their hand at surfing and with Walking on Waves, Sarah Whiteley's Surf School, you can enjoy private or group surf lessons.
First Wave sessions aim to get you off the beach and into the water to have fun as soon as possible. During these lessons you can learn all about different techniques and the expert instructors will get you up and riding in no time.
You could get coached by Sarah Whiteley, who is one of the UK's most successful female surfers after being crowned British and European Champion in the past.
Try some award-winning fish and chips
If you're driving from Barnstaple to Saunton Sands you will drive through Braunton and here is where the famed Squires Fish Restaurant is based.
Head to the other side of the street to visit SQ, their upmarket restaurant with locally sourced food. The award-winning fish and chip restaurant prides itself on doing the classic British dish and in the past the likes of Rick Stein and Damien Hirst have enjoyed their food here.
If you want to eat in the restaurant, especially during the summer months, you will be advised to book a table as word has gotten out about the delicious food that is served here.
If you are looking for a getaway then the south west is the place for you.
Image Credit: Pirate's Quest, Matt Rossin, Torquay's Dinosaur World.