N owadays, everyone's dream is to be independent. We all look for a way to do things ourselves. To cook a gourmet dinner at home, to assemble a 50 piece wardrobe, to sew a beautiful dress, to build a house, you name it. One can learn to do everything online. The one thing we don't want to do alone, is spend a romantic break away. Get the one you love to pack a bag, and head to Bournemouth!
With Valentine's Day on the horizon, and what's more, National Proposal Day (20th March) you might be thinking of treating that someone special to a romantic escape. And if you're not, you should be. But where to go? Well, we find somewhere beside the sea usually sends the heart aflutter. So here's how to spend a romantic afternoon in Bournemouth.
When romance is in full bloom - Yes, we went there. Visit Alum Chine Gardens. Delight in the relaxed atmosphere of the wooded chine and magnificent sea views. If you prefer a quiet moment, the tropical gardens, which have their origins in the 1920s, provide an ideal area for contemplation. Perfect for those couple's looking for a moment of romantic relaxation.

Perhaps you could stroll along the traditional seaside pier with your loved one. Admire miles of breath-taking coastline and capture a romantic moment. If you enjoy your walking, head along beautiful coastal paths; where you can discover spectacular wildlife, and you may even get a glimpse of the stunning near-by Isle Of Wight on a clear day.
We kept hearing through the grape vine that Christchurch has captured the heart of many who have visited, naturally we investigated a little deeper with a little hesitation. We stand corrected. Christchurch looking like a scene straight out of a romantic novel, offers the most beautiful views and is also part of one of the most popular coastal walking routes!

Walking isn't the only way to dazzle your loved one by the coast. Have a seat by the beach and take homage on all of your favourite memories, whether they have been made on a great little break, or simply in the comfort of your own home. There isn't possibly a more romantic way to reminisce than watching the sunset over one of the UKs loveliest beaches. Dare we remind you not to let that sunset before enjoy your favourite ice-cream, a traditional favourite and a must while you're by the sea.

You can step back in time and take a look at romance throughout history at some of the best coastal heritage sites. We're falling in love with our heritage at Hurst Castle which can be accessed with an English Heritage membership. If you and your loved one are partial to a bit of local history then the Dorset coast will have you both in your element.
There are an almost endless list of historic sights and buildings including Kingston Lacy in Wimborne, Old Wardour Castle and Corfe Castle near Swanage. If you want to continue exploring heritage after your stay in Bournemouth, situated just one hour from Bournemouth, Stonehenge is also a popular day trip due to its world-class exhibition and visitor centre.

You're wondering - what if we get a little peckish? We've explored some of the best food in Bournemouth and thought, what would make the best romantic meals in Bournemouth? How about a warm winter picnic on the beach, treat yourselves to a delicious and well known Harry Ramsden's fish and chips while you cosy up on the beach. If you don't fancy that, don't worry there's no shortage of taste bud tingling restaurants both in the town of Bournemouth and on the sea front too!

We're lovers of the picturesque, and creatures of making wonderful memories, but how to make those last? By heading to the charming boutique shops in Bournemouth where you can purchase something special to keep as a memory of your time there. We all want to avoid clutter from our lives, during a time where we find ourselves owning far too much 'stuff'. Buy a unique gift for your loved one, perhaps at Coastal Creatives? Our favourite independent shop in Bournemouth.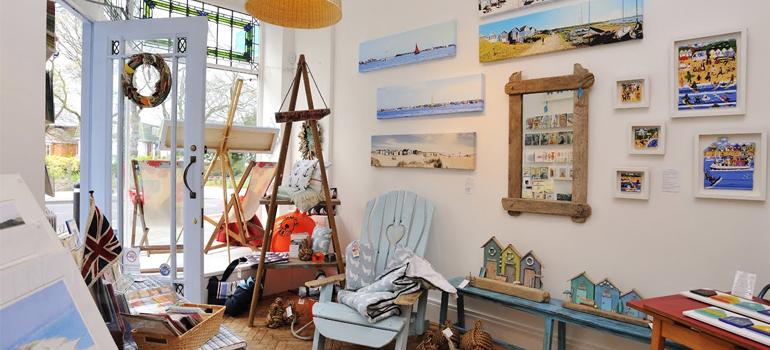 There's no better time to take a romantic break - and create your own perfect afternoon in Bournemouth. Whatever you do, don't forget to #MakeItGreat & share your coastal memories with us over on Facebook and Twitter @Greatlittlebreaks
Here's a little more information on the most popular coastal walking paths.
---
Looking for somewhere to stay?
The Suncliff Hotel, Bournemouth is the perfect great little break
Located on the seafront overlooking Bournemouth Bay, this hotel is based in the prestigious East Cliff neighbourhood and offers the perfect base to explore everything beautiful that Bournemouth has to offer.
With relaxing and versatile interior as well as great leisure facilities including a sauna where you and your loved one can relax and unwind after a day together. Experience this bliss through Great Little Breaks. What do you get? A three course dinner on your first night, coffee and cake on arrival. Two nights accommodation and breakfast on both mornings too.