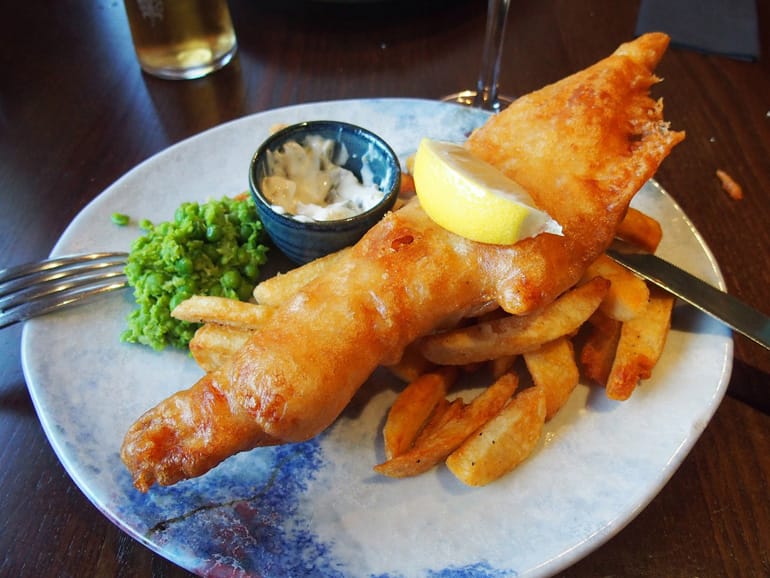 A s well as its long coastlines and perfect holiday destinations, the South West is known for its food. Proudly the home of many regional treats and delicacies, when you travel to the South West, embracing the fresh and local ingredients and sampling some of the finest local favourites is a must.
Sample pasties made traditionally, just as they were for the miners they originally served. Sit and watch the waves roll by with a cream tea, topped with lashings of sweet clotted cream and fresh jam. Indulge in some of the freshest seafood, caught that morning by local fishermen, and prepared ready for your romantic evening meal. The local delicacies of the South West can be found UK-wide, but can only be tried properly at home.
But, much more than just the local delicacies are worth sampling down here. The fresh produce and light air make dining in the South West a treat. You can sit in rural beer gardens with bumble bees buzzing from flower to flower, sit in beach side restaurants and watch the waves lap the shore or dine in large country houses surrounded by swathes of green landscape. If you are looking for one of the best short breaks , the South West really is the ideal location for a foodie.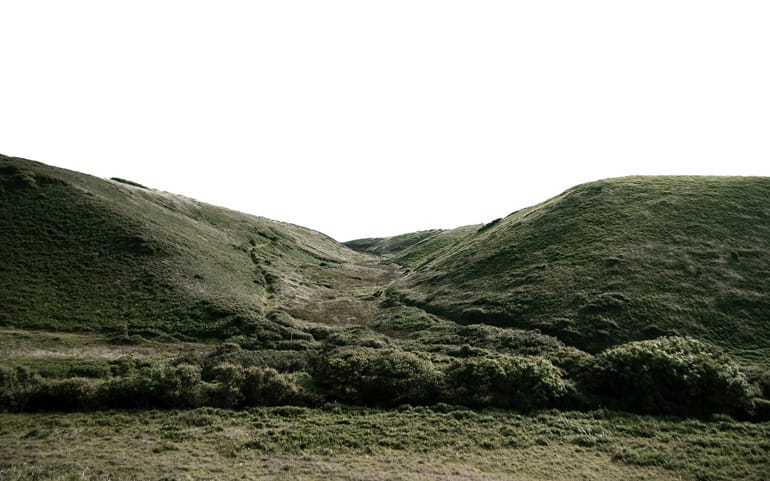 We spoke to South West local, Alice Bayfield, who blogs at Wooden Windowsills , where she blogs about her life in the South West, including her love of food. We asked Alice why she thinks the South West is such a good holiday destination for foodies: "There is so much to offer in the South West in terms of food. We're lucky enough to be close to the coast on most sides, and our fish is delicious! This isn't to mention the Somerset cheese or cider apples, Devon cream teas and Cornish pasties! As a holiday destination it's fantastic, as the restaurant choices around the South West vary from incredible fish and chips on the pier in a Cornish village, to gourmet restaurants in the likes of Bristol, Exeter and Plymouth, as well as some sneaky rural locations as well!"
We then asked Alice if she could recommend some of her favourite places to eat in the area: "Gosh, so many! I've mostly grown up around Devon and Cornwall, so I'm afraid I'm probably a little biased. There are some lovely fancy pubs selling locally sourced food such as The Culm Valley Inn in Culmstock, Devon, The Jack In The Green near Exeter, The Pandora Inn outside Truro.
Then there are the great independent and quirky restaurants like all of those in shipping containers at Wapping Wharf in Bristol, the beautiful places for brunch in Plymouth's Royal William Yard , and so many gorgeous places to eat with sea views around Falmouth."
And finally, we asked Alice for any insider tips on eating in the South West and she weighed in on THAT cream tea debate: "The age-old debate of cream or jam first for me is definitely the Devon way - cream first (then it's like butter!) and a dollop of jam on the top."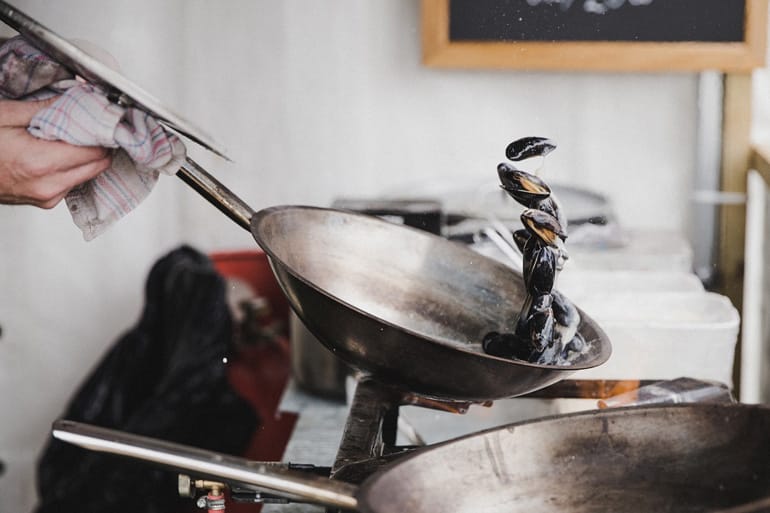 She also mentioned: "If you're in the South West in the winter, definitely try the mussels, which are at their best between October and March. A wonderful experience is a meal at the floating restaurant at Exmouth - The River Exe Cafe , where you can get the ferry across to be served up incredible seafood. Another brilliant shellfish recommendation is the Wheelhouse in Falmouth, which despite only opening on a couple of nights and being booked up 3 months in advance, has some unbelievably fresh and delicious food!
"As there are plentiful beaches, I'd definitely also recommend visiting a restaurant right on the beach, such as The Watering Hole in Perranporth where they also often have great live music."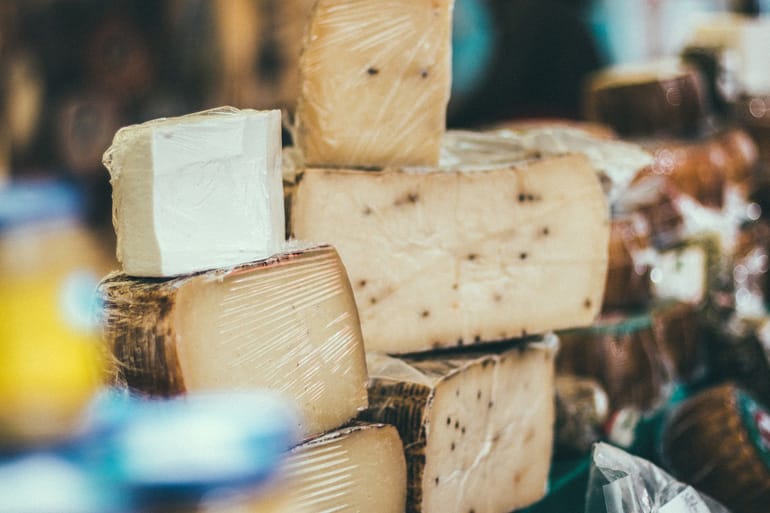 We also spoke to Gaby, whose site West Country Lifestyle talks all about her love of the food found in the West Country, and reviews local restaurants/cafes as well as articles about events and much more. Gaby told us why they think the South West is such a good destination for foodies: "The South West is an ideal holiday location for foodies thanks to the myriad of different cuisines and cooking styles on offer. You've got everything from fine dining hotels to rustic beach shacks and secret supper clubs.
"We're very lucky in the South West to be able to source much of our own ingredients from the land and sea. It's like a natural larder. We produce everything from award-winning cheeses to quality wines and the freshest seafood around. There's also the small fact that our weather is a touch warmer than the rest of the country, meaning we're usually a step ahead in terms of seasonality."
Gaby was happy to offer up some of their favourite recommendations: "If you're a fan of fine dining, you'll be pleased to learn that the South West has over 10 Michelin-Star restaurants (five of which are located in Devon alone). One of our favourites has to be the elegant Gidleigh Park Hotel . In the capable hands of Head Chef Chris Simpson, you'll receive quality service and outstanding food every visit. There's also the humble Masons Arms in North Devon, where you can enjoy an unadulterated fine-dining experience without the frills in the comfort of a friendly, country inn.
"Another great foodie experience to be had in the South West is attending one of the many pop-up events that are fast gaining popularity. Currently, The Devon Food Movement is making its rounds, offering a range of outstanding dishes prepared fresh from a five-mile radius. Likewise, Ottery St Mary's Rusty Pig are always hosting exciting pop-up events featuring top chefs throughout the region.
"If you fancy sharpening your own culinary skills, the South West also offers plenty of cookery schools. Made famous by televisions Hugh Fearnley-Whittingstall, River Cottage HQ provides classic cookery courses that teach the importance of seasonality and ethical produce. There's also the fabulous Fat Hen Wild Cookery School in Cornwall, on hand to show you how to forage your own meals and prepare dinner party worthy dishes."
Finally, we asked Gaby if she has any tips for people visiting the West Country: "In recent years, the South West has been making waves in the world British wines and we're starting to produce fizzy varieties to rival our European counterparts. I recommend taking a tour of a vineyard during your visit and sampling what's on offer. Top wineries include: Furleigh Estate in Dorset, Sharpham Vineyard in Devon, and Camel Valley Vineyard in Cornwall. (Other Devon vineyards include Dalwood Vineyard , Lympstone Manor , Lily Farm , Pebblebed Vineyard and Yearlstone Vineyard ).
"No trip to the South West would be complete without indulging in a traditional cream tea. Anywhere worth its salt in Devon will have a cream tea offering; whether you wish to indulge in a gorgeous country house hotel or enjoy a scone or two in the comfort of a traditional tea room ( Burridge's Cafe Tearooms ) there's something for everyone. Just make sure you remember to apply the cream first when you're in Devon and the jam first in Cornwall!"
It must be said, the cream tea debate still runs strong between locals!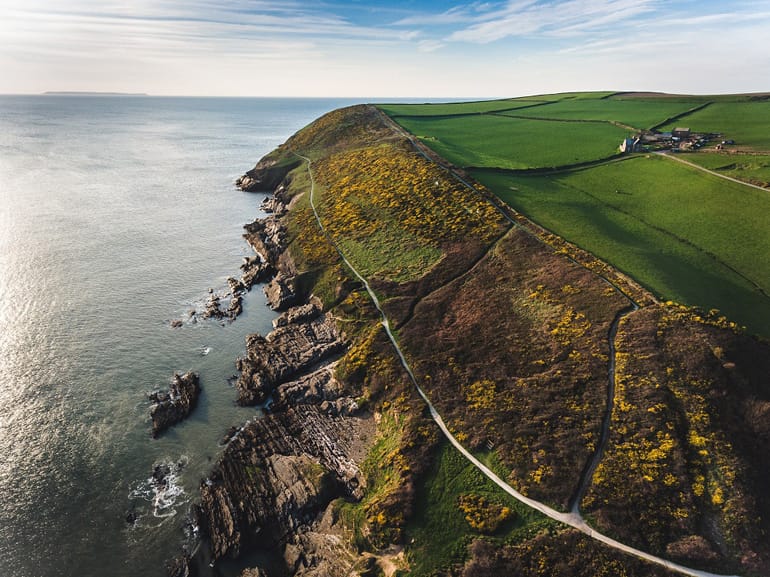 With rolling hills, a rugged coastline and a history as one the country's favourite escapes, a trip to Devon is the perfect getaway. Feel secluded in the countryside and enjoy the laidback locals in the towns. Take cliffside walks and explore the moors, breathing in some of the freshest air around.
Devon is currently perfectly balancing between traditional cuisine and modern flavours, and thus the fusion foods you can find are unbeatable. As you walk through the streets you'll smell dishes that have been baked for hundreds of years and dishes brand new to the county.
A local institution in its own right, and a rite of passage for all people making the move to the North Devon coastline, Hockings ice cream is a secret the locals aren't quite ready to give up. The iconic pastel yellow van can be seen by the seaside, always with a queue of locals just looking to get their ice cream fix.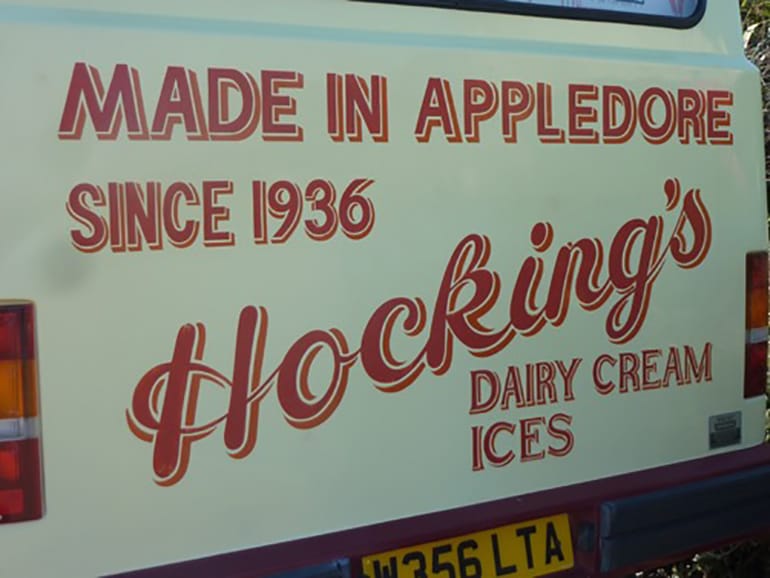 All of the ice cream is locally made from fresh clotted cream, and the simple recipe has been untouched since the 1930s. It's so good you'll want to buy yourself a tub to bring home, as every taste will remind you of the salty sea air and your holiday happiness. If you spot one of these local vans, be sure not to walk past it without picking up a cone.
A firm point of rivalry between Devon and Cornwall, the first recorded recipe for the pasty was from the city of Plymouth in 1510. Plymouth sits between both Cornwall and Devon and thus the true origin of the dish is unknown.
The pasty became popular in the South West as a convenient way for miners to eat a whole meal, including vegetables. The crust of the pasty is intended as a way to hold the food and was traditionally thrown away, meaning that miners were able to eat their lunch without getting coal on it.
When heading to the South West, having a pasty is a must and nobody does it better than the locals. With piping hot contents of local produce, pasties are now even taking on a modern twist with less conventional flavours, although the classic beef and vegetables is the proper way to go for an authentic experience (and, with your clean hands you can also indulge on the crust, thought by many to be the best bit of the meal!)
Devon's love of food isn't something to be taken lightly. The North Devon Food Trail is a new initiative by the North Devon Marketing Bureau aiming to show locals and visitors alike just how diverse and top-tier North Devon's food scene is. Use the app to find everything from the best place for fish and chips to the best local producers.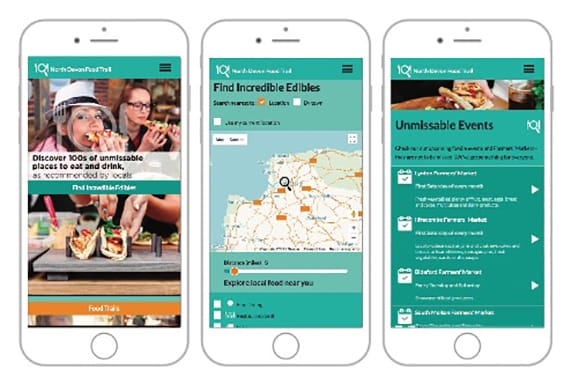 We spoke to Nick White, chairman of the North Devon Marketing Bureau and part of the team behind the North Devon Food Trail, who was more than happy to give us some of his recommendations. We first asked Nick where he would recommend someone went if they wanted to try an authentic, local delicacy in North Devon:
"If you want to try fresh Clovelly Lobster, Appledore oysters, Ilfracombe Crabs, they are all served beachside at The Glorious Oyster street food bars in Instow and Westward Ho!
"Try rare Clovelly Longhorn beef and home-made pizza at the Flame Factory in Appledore.
"In Ilfracombe you can try award winning home-made chocolates from the Chocolate Emporium and the "2017 World's Best" marmalade from The Proper Marmalade .
"If this isn't enough then you have Quince Honey Farm in South Molton, that is one of the largest private producers of honey in the UK producing 50 tons a year.
"Lastly, we have Charlie Fridays coffee shop and cafe in Lynton and Lynmouth that won Best Cafe in the South West last year."
Nick then listed some of the places he thinks are unmissable when visiting North Devon:
• " Thomas Carr's Olive Room and The Masons Arms are our two Michelin star restaurants, however Kentisbury Grange has three AA rosettes and will have a star soon
• Fish and chips has to be from Squires , Braunton
• Cream tea at RHS Rosemoor
• Sunday lunch at The Rock Inn , Georgeham
• Gin at The New Inn , Roborough
• Lobster & crab from the quay Clovelly or Ilfracombe (always subject to weather and times.)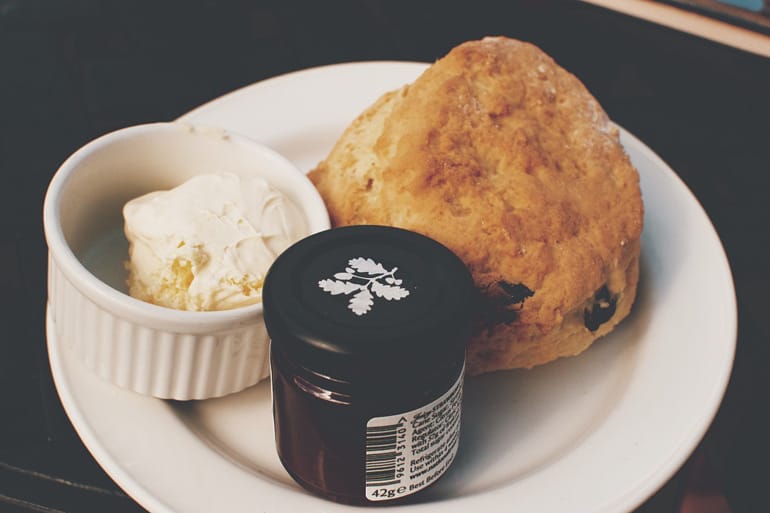 Finally, Nick told us why North Devon is such a good place for food:

• "It's undiscovered - little gems can be found thoughout the region
• North Devon has over 250 small independent food businesses. A little-known fact is that Devon has more Michelin stars than Cornwall
• Ilfracombe has been quoted by Michelin as a town that is taking on Padstow for its food diversity and quality
• We really take our food from the field/quay to the plate - look at Braunton asparagus / Clovelly Lobster / Clovelly Longhorn beef / Hockings dairy ice-cream/ Roly's Fudge/ Wicked Wolf Gin and the proper marmalade company. I could go on but all these and many more producers source, supply, cook and deliver locally
• Being small independent businesses, you get to meet and talk with very passionate people. Their passion drives their businesses and their staff in turn tend to feed off this.
• We have food festivals right across the regions going on from May to November ranging from Seaweed, Herring and Lobster and crab in Clovelly to full week festivals in the form of the Ilfracombe and Exmoor food festivals and culminating in the North Devon FoodFest in Barnstaple."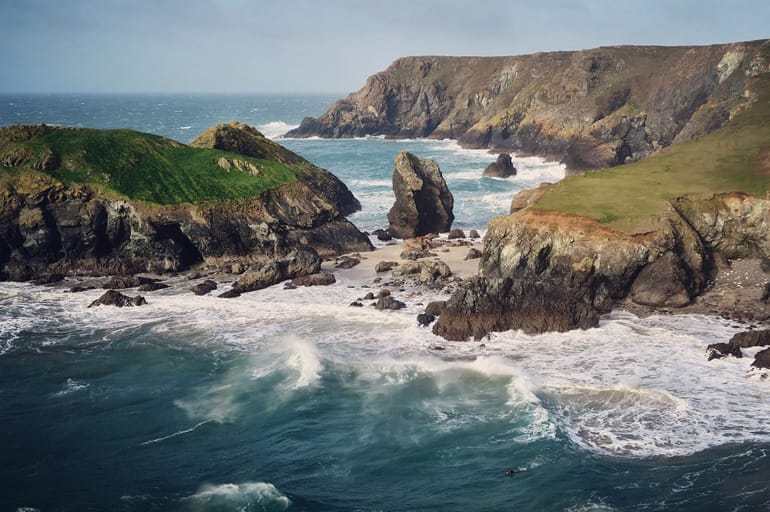 When you head to Cornwall you'll feel like you are journey to the end of the world. The laid-back and slow atmosphere will instantly drift you into your holiday mood and you'll never want to leave. Surrounded by coastline, Cornwall is one of the best places in Britain for fresh, locally-sourced seafood. It's also the (argued) founder of the pasty, as well as home to many more original delicacies.
Whether you are taking a picnic of fresh pasties to the beach or sat in a high-class restaurant the Cornish atmosphere that is brought into their cuisine is remarkable. Perfect for those on any budget, you can find everything you need, and often something that surprises you!
We spoke to the team at Visit Cornwall who told us why Cornwall is such a good foodie destination: "Cornwall is rapidly becoming a foodie's heaven - fresh-from-the harbour seafood, indulgent Cornish cream teas, incredible local produce, homemade ice cream, the mighty Cornish pasty…the list of locally-produced foods is endless.
"With sand between your toes at a beachside café, in a country pub with a roaring fire, or at a top restaurant where the name of a local food hero such as Rick Stein, Nathan Outlaw or Paul Ainsworth hangs above the door, there's something for everyone.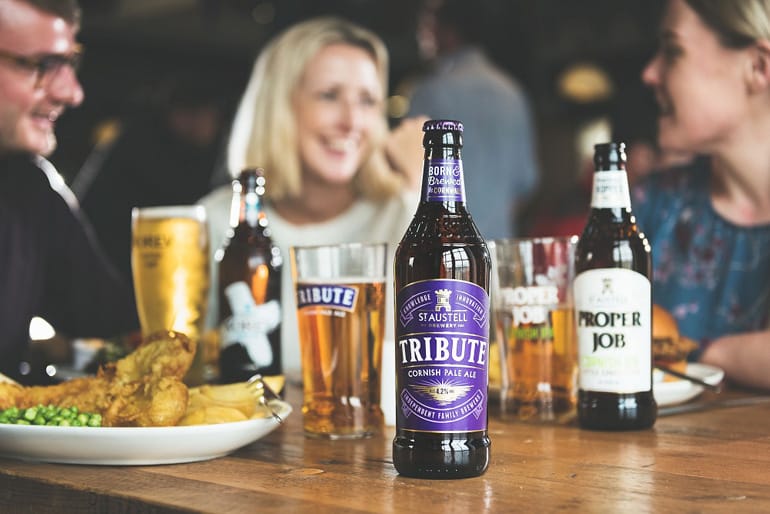 "Thinking of trying somewhere different to eat? Why not visit Cornwall's many food festivals where there is a plethora of stunning cuisine to dine on, such as The Falmouth Oyster Festival or The Porthleven Food Festival.
"Feeling parched after all that amazing food? Why not quench your thirst with a tour of St Austell Brewery where you can see the world-famous ales being produced and sample them at the upstairs bar in the visitor center."
In Cornwall you can get no further than 20 miles from the sea, and with over 400 miles of coastline you can see why a lot of Cornish cuisine is made of fresh seafood. The perfect place to fling your own line and catch and cook on the beach like the locals do, or have it prepared for you whilst watching out over the ocean.
A local Cornish dish is Stargazy Pie, named because of the fish head sticking out of the piecrust, said to be staring at the stars. It's thought the pie was born from desperation, when a long time ago storms were so bad Cornwall found itself cut off from the rest of the country completely. A legendary character from Mousehole, under the name Tom Bawcock, sailed out to a treacherous sea and caught enough fish to save the village, and Stargazy pie was born. You can still go to The Ship Inn in Mousehole on Tom Bawcocks (the date of celebration just before Christmas) to celebrate.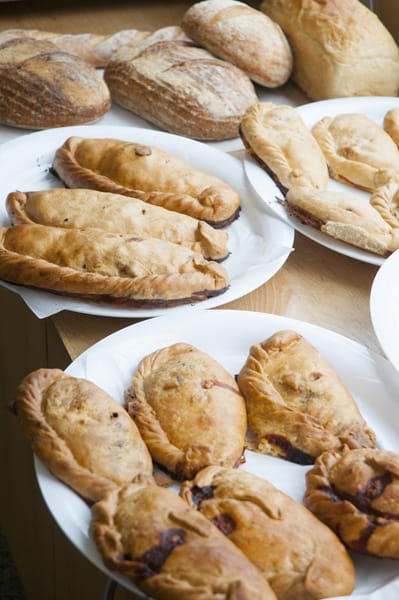 In fact, the recipe for a Cornish pasty has protected status, and includes beef, onion, potato and swede. This means only pasties that fit this criterion can be called truly Cornish. Although, nothing can exceed having a traditional Cornish pasty from one of Cornwall's famous bakers.
The oldest pasty maker and bakery in Cornwall is Warrens , which is now a South West institution in its own right. The chain started making pasties in 1860 and still does to this day, although on a much larger scale. The recipes have been handed down from generation to generation and the pasties you'll try today from the bakery are just as good as they've always been. Although there are stores up and down the country, the surroundings make the experience what it's supposed to be.
Another fantastic thing about Cornwall is the mix of cultures you can find. Although many people imagine it to be quite closed off to the outside world, many people will relocate their lives to this beautiful place and bring their own influences and passions with them.
One great example of this is Chorley's in Truro. A traditional South African restaurant in the middle of Cornwall's only city. The restaurant wasn't the first of Chorley's ventures though, in 2007 they started selling their own table sauces inspired by family recipes from South Africa.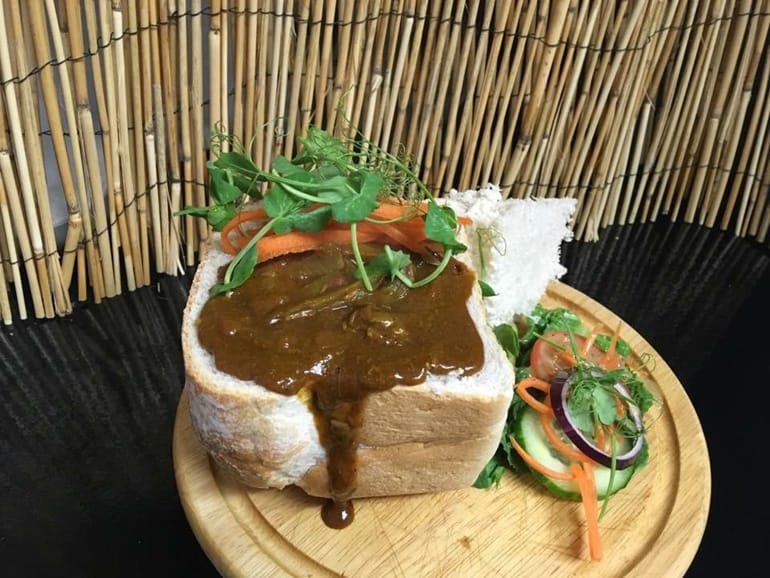 We spoke to Shane, the owner of Chorley's, who told us about how it first started: "Chorley's opened its doors December 2016. Built on the success of an African-inspired retail sauce range that's been available to buy in Cornwall since 2007, Chorley's has taken the bold step to fuse their flavour along with some of Southern Africa's favourite foods. Functioning in a similar way to Nando's, Chorley's customers get to choose what sauce they want with their meal and its proving extremely popular with the local diners and tourists alike."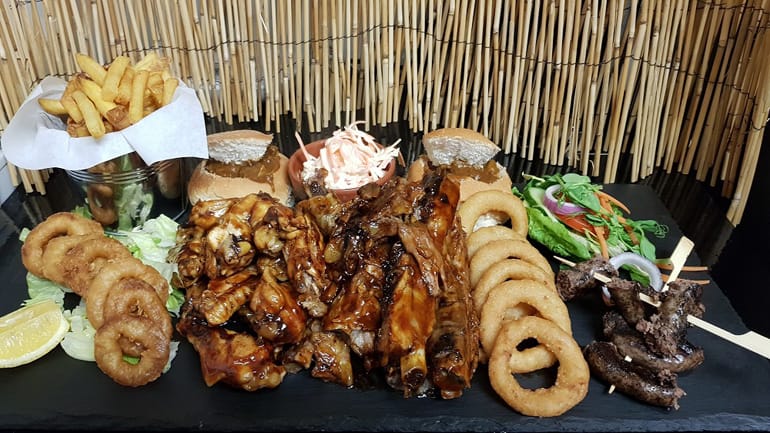 We asked Shane what he would recommend for a first timer at Chorley's: "The South African sharing platter is a must for anyone visiting for the first time as it gives the diner an opportunity to try a large selection of elements from the menu, particularly the traditional bunny chow and Boerewors. However, Chorley's was recently ranked in the top 5 burger venues in the county (during their first year of trading) with a range of unique burgers to suit anyone."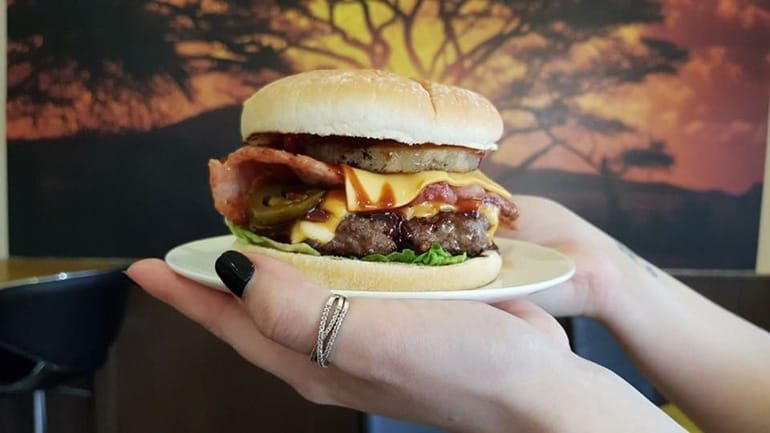 Finally, Shane told us why he believes the South West is a great place for a foodie holiday: "The South West is an incredibly beautiful part of the country and attracts many visitors year on year. Restaurant owners are having to work hard to stand out in the crowd if they want to attract the holiday makers through the door. Menus are becoming very diverse, in some cases quirky, so it's giving the consumer a fantastic range of options and experiences during their visit."
Dorset, Somerset & Wiltshire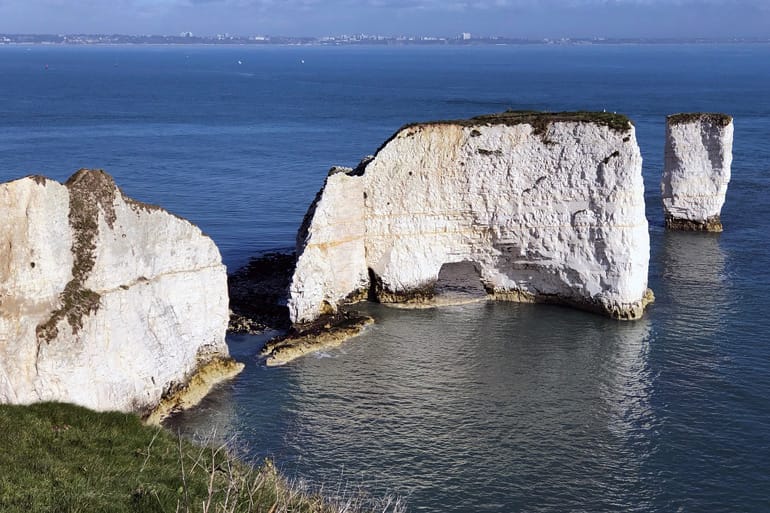 Dorset, Somerset and Wiltshire are the gateways to the South West. They embody the best of both sides, with lively cities contrasting with historical areas and beautiful untouched countryside. A lovely place to drive and take in the surroundings, get engulfed in a new city or sit on the beach, these counties will give you a great opportunity to relax.
If you are a cider lover, the South West is the place for you. Apples are abundant, and they are used in everything from Dorset's famous apple cake to some traditional scrumpy - you can't go wrong. With large orchards the apples you'll find at a market here are some of the best in the world.
As well as fantastic apples, these counties also have fantastic cows, and thus have some famed dairy products. Somerset brie is famous for its soft texture and creamy flavour, and this is all down to the cows. You'll find everything from fresh milk to clotted creams are irresistible here.
Visit Wiltshire recently created the '2018: It's Time for Wiltshire Food and Drink Map' which features over 80 of the regions finest producers, eateries, watering holes and cookery schools. The aim is to show off the vast range and quality of Wiltshire's food and drinks scene and allow both locals and visitors to further explore it.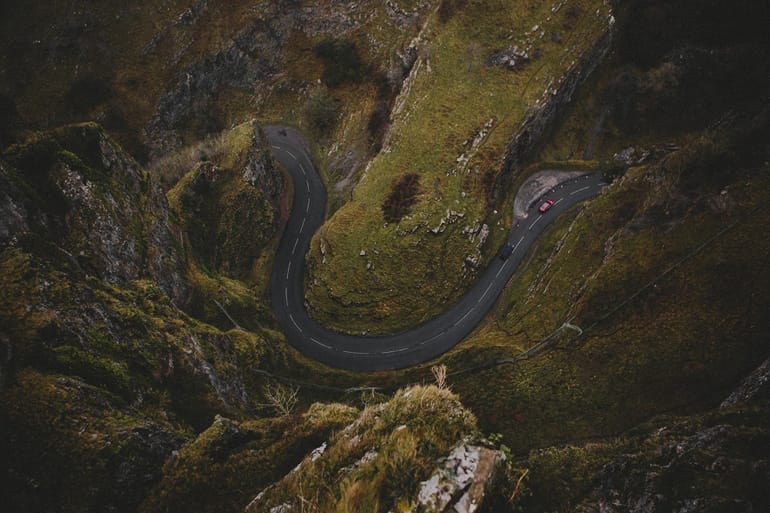 Known equally for its incredible Gorge and Caves , and its namesake cheese, Cheddar is a fantastic trip to take whilst down in the South West. Spend a day exploring England's largest gorge, filled with beautiful caves and even Cheddar Man, the oldest complete skeleton ever found in Britain, thought to have lived around 9,000 years ago.
Then, hit the town and sample some local food and of course, pick up some cheddar cheese. Go to The Cheddar Gorge Cheese Company and try everything from authentic cheddar (the only cheddar made in Cheddar!), indulgent cheese straws, and much more. A cheese lovers' heaven and the best way to create that dream cheese plate for your next diner party when you get home.
With the inside scoop on how to eat like a local in the South West , you're now ready to take on everything from traditional pasties to Stargazy pie. Take a look at our South West hotels and plan your perfect, food-filled weekend break today!
Image Credit: Chorley's, Adele Prince , Matt Jessop, North Devon Food Trail.