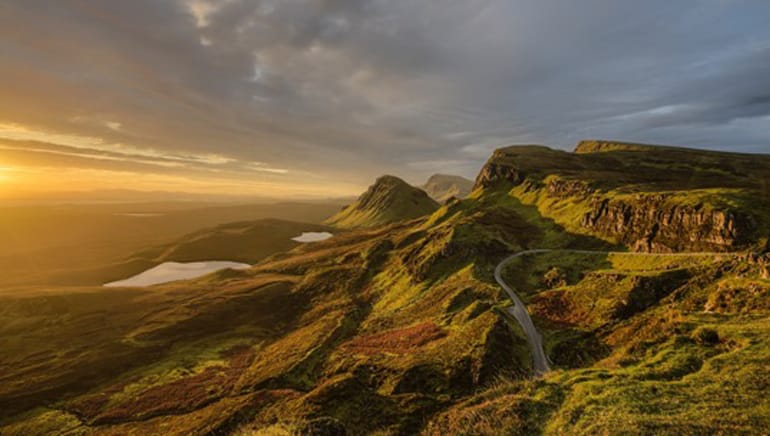 S cotland is the perfect place for a staycation. From the undulating hills, spectacular skyscapes and the brilliant charm of the locals, you'll feel right at home as you explore the many towns and villages across the country. Whether you're interested in exploring the mountainous wilderness or perhaps soaking up the vibrant culture found in cities such as Glasgow and Edinburgh, the opportunity will more than likely present itself to sample some traditional Scottish cuisine, and there is a plethora of different things for you to try.
"I think Scottish food still has a reputation as being unhealthy with deep-fried everything on the menu", shares Susanne from Adventures Around Scotland , a travel blog with a mixture of fun, practical and inspiring ideas for your trip to Scotland. "While there is an element of truth in this, things have come a long way in the Scottish foodie scene over recent years. We now have countless world-class restaurants specialising in the bountiful produce from our local larder. Farm shops, delis and whole food shops are widespread while numerous local food producers are creating innovative, healthy and award-winning products that showcase the best of Scotland's local ingredients."
So, whether you're interested in nibbling on something small or diving into a dish full of Scottish goodness, we've composed a list of some of the most well-known dishes that you're likely to come across on your next cheap break to Scotland .

Synonymous with Scotland, haggis is their national dish and is readily available across the length and breadth of the country. A type of savoury pudding, it is typically served as one of the main dishes on Burns Night in connection with his 1786 poem, 'Address to a Haggis', accompanied by neeps and tatties (mashed potato and turnip) for a hearty, yet delicious, meal.
Haggis is created from the offal, parts of a sheep which spoil the quickest. The heart, liver, pluck (intestines) and lungs are mixed with oatmeal, onions, salt and spices before being placed into the stomach of a sheep for cooking. This is boiled for over an hour and is a fantastic way to ensure that every part of the sheep was being used.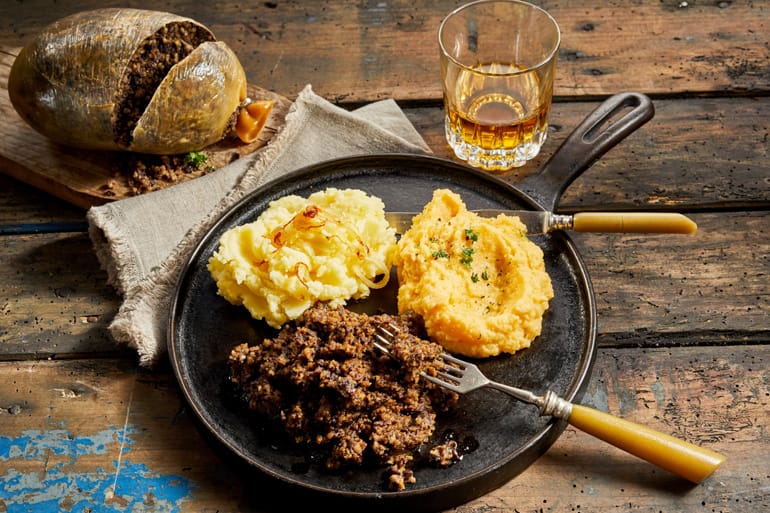 The texture of haggis has been compared to that of a crumbly sausage, and the full-bodied flavour creates a wonderful dish. Served across Scotland, it comes in myriad varieties, from the high-end restaurant take on the dish to the deep fried version in fish and chip shops. However, all agree that it is a dish best served with their national drink, whisky. Susanne from Adventures Around Scotland recommends sampling haggis on your next trip: "You can eat it in its traditional form with neeps (turnips) and potatoes with a bit of whisky sauce or try some alternative recipes like haggis pakora or haggis bonbons."
For Ben from Wilderness Scotland , a company who specialises in offering an inspiring range of guided and customised adventure trips in Scotland, "it goes without saying that haggis is probably our most well-known dish and when its ingredients are prepared in perfect proportion, it is tasty too. I recommend giving it a try. All the better if you're in Scotland on the 25th Jan and able to join a Burn's Supper to enjoy the ceremonial address to the pudding. Accompanied by a fiery whisky, you can't get more Scottish than that."

As the most northern of the countries in the UK, Scotland experiences cold, long winters with harsh winds and frequent snowfall so, as a result, the warmth from a glass of Scotch is a fantastic remedy. Distilling the spirit dates back to 1494, although the potent liquid had the possibility to be harmful due to there being no scientific support for the process.
Over the centuries, the Scottish have fine-tuned their distilling process to create the perfect glass. In the years following, the parliament passed an Excise Act fixing a duty of 13p per pint, however, this caused confusion between distillers and meant that no two manufacturers were getting charged the same.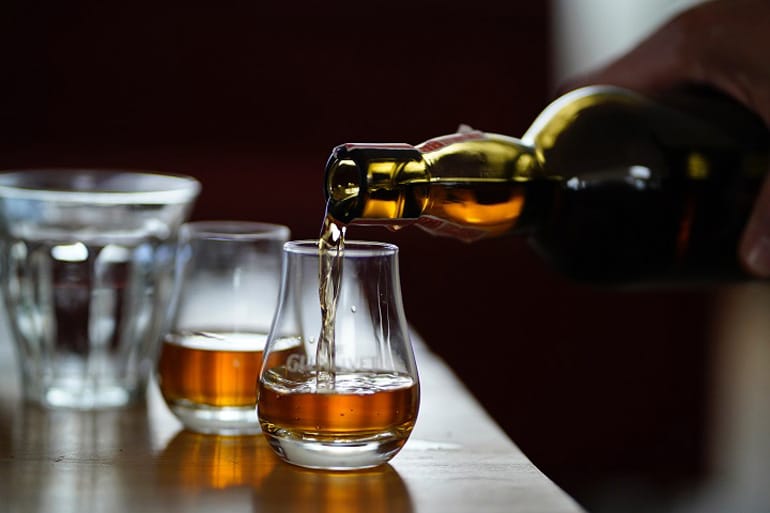 Scotch is created using water from protected wells. There is no limestone in the water which makes it incredibly soft and unique to other distilleries.

"For me, the number one thing is the provenance," shares Ben. "It might sound obvious when talking about something close to home so let me explain why. Scotland has a broad and varied climate, on the west coast, it's influenced by the warm currents of the Gulf Stream which bring rich nutrients to feed our crystal-clear waters. This makes our seafood the envy of Europe and there is nothing better than hand-dived king scallops seared in butter, sat alongside black pudding from the Outer Hebrides, a little pea puree and foraged shoreline leaves. I choose a favourite dish but I'm certainly at home with a seafood menu in front of me."
"If you're looking for the most informal of dining but the freshest of seafood then give one of these two seafood shacks a try. Buth Bheag on the pier in Kyle of Lochalsh just before you take the bridge over to the Isle of Skye and The Creel seafood bar at Fionnphort where the ferry takes you from Mull to Iona. Both are a stone's throw from the water and you'll get a good story about who, how and when your food made it to your plate."
Susanne also agrees: "I love Scottish seafood. From freshly caught shellfish to whisky smoked salmon, we have such a diverse range of seafood available in Scotland. There is even a Seafood Trail that includes some of the best coastal scenery and waterfront restaurants where you can enjoy the catch of the day."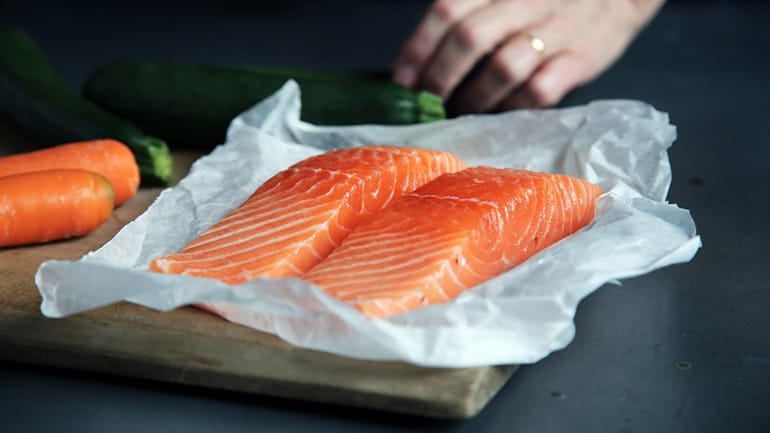 The fresh waters of Scotland are the perfect conditions for seafood. "You can't beat fresh seafood - scallops from the shack on Oban pier, langoustines from the Whitehouse restaurant in Lochaline, Westray crab...", Craig from Love of Scotland divulges. "Orkney is a haven for gourmands - whitefish, shellfish, beef, cheese, North Ronaldsay lamb, craft beer, malt whisky, organic eggs... I've spent many happy self-catering holidays on Orkney cooking nothing but local produce and feeling like I've had the best fed week of the year."
"My favourite element about Scottish cuisine is definitely how local it can be", says Neil from the Scottish travel blog, Travels with a Kilt . "Our waters are frequented by some of the tastiest and most diverse seafood groups on the planet, our farms are home to the highest quality beef and lamb and we have the world's best whisky, gin and craft beers on offer too. None of this stuff has to travel far. I'm continually astonished that Scotland is not seen as more of a food haven for travellers and locals alike!
"For me, it's seafood all the way. Never mind all that painfully stereotyped deep-fried rubbish and focus on freshly caught langoustines, scallops and crab to name just a few! Even if on a budget though, head to one of our local towns or villages on the coast and have a poke around to find the best fish suppers around. Healthier, fresher, better."