S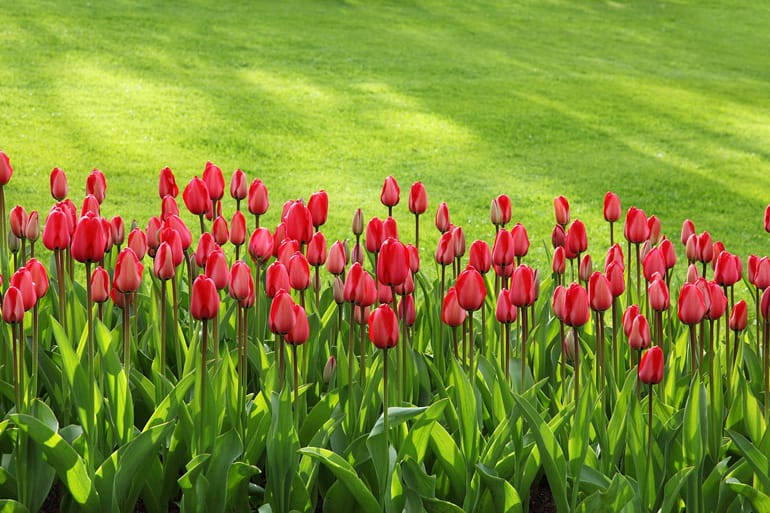 T
he Home Counties are home to some of the most beautiful sights in all the country and as such, prove to be incredibly attractive destinations for those seeking cheap UK breaks . The Home Counties also happen to house a true plethora of beautiful gardens that the public is able to visit. There's nothing quite like the peace and tranquillity of strolling through an immaculately kept garden or through the grounds of a stunning country manor. If you're planning a stay somewhere in the Home Counties soon, visiting one of these gardens is certainly recommended. To help you decide just where to go, we've put together this introductory guide to beautiful Home Counties gardens, letting you know what to expect if you decide to visit.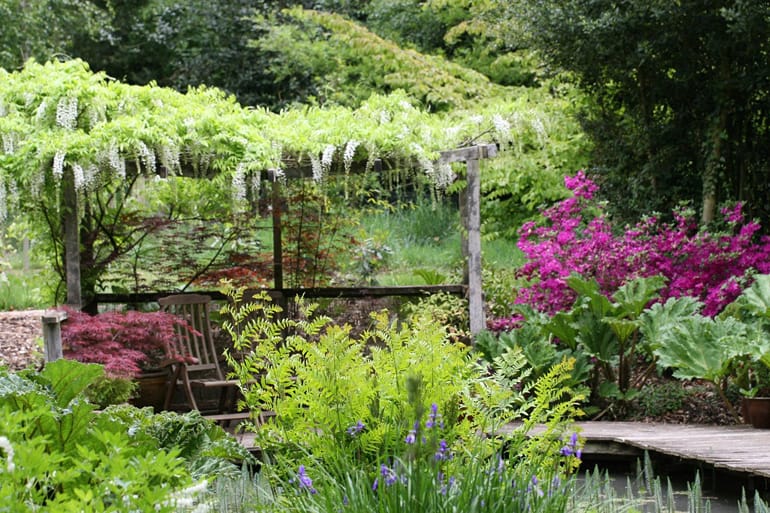 Situated near Colchester in Essex, the Green Island Gardens are certainly one of the very best gardens available for public visitation in Essex and, indeed, the Home Counties. This series of structured gardens contains within it a large and diverse range of unusual trees, bulbs, and shrubs, as well as offering visitors special events and a tea room to enjoy. To tell us more about what's on offer, we were delighted to hear from the team at Green Island Gardens:
"Green Island Gardens have been created over a 20 year period by Fiona Edmond who was struck down with the seriously debilitating illness ME in 1996. Over the last 20 years, creating the gardens has been her 'therapy' during the painstakingly slow process of recovery. Being a qualified garden designer, as well as knowledgeable plants-woman, has resulted in 20 acres of gardens created to look beautiful all-year-round. Whenever you visit there are sure to be many plants you have not seen before.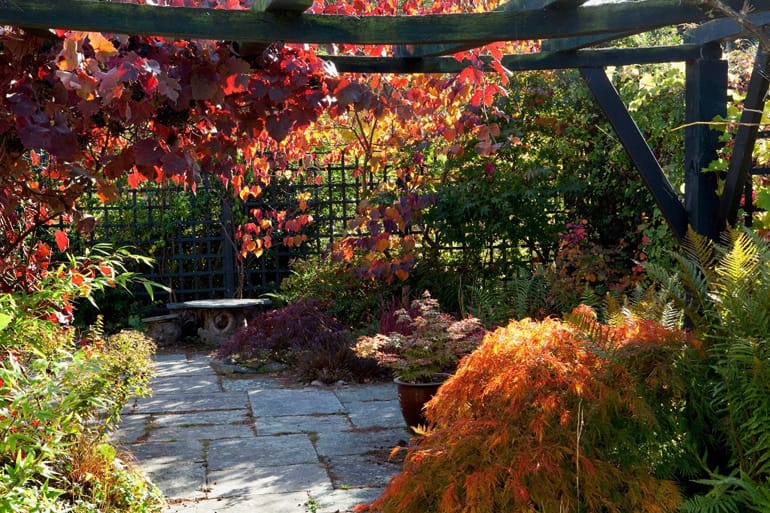 "In addition, the 'island' benefits from its own special microclimate where winters are colder so snow lingers longer, and summers are hotter by up to five degrees than the surrounding countryside. This means that there are a lot of plants of borderline hardiness that can be seen thriving here. There are many different garden areas to see, a terrace garden, huge island beds, water gardens, seaside cottage garden, gravel gardens and extensive woodland gardens. Together they blend to create a whole which is most commonly described as "peaceful and relaxing" in the visitor's book.
"Green Island is run by Fiona and her small team of staff so you will receive a very personal welcome from her and the resident animals. The tearoom serves homemade lunches, cakes and cream teas. The fact that it is still little known certainly adds to the appeal."
Chenies Manor House and Garden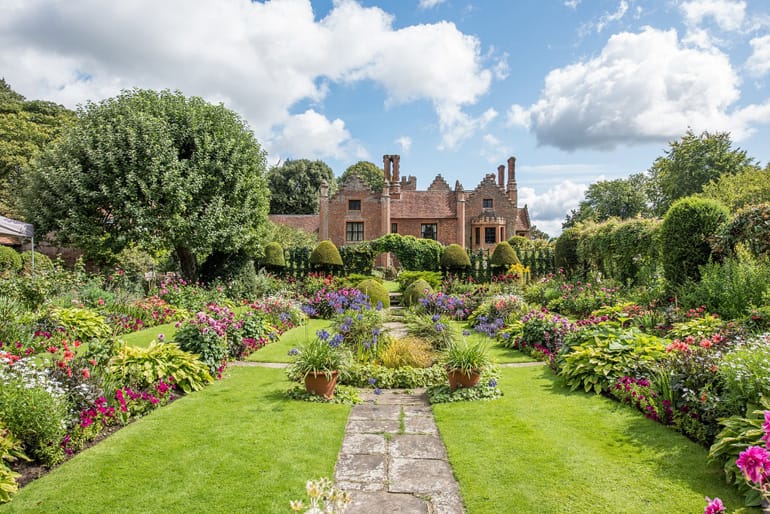 Chenies Manor House and Garden , situated in Hertfordshire, is a historic home that often received royal visitors like Henry VIII and Elizabeth I. The property boasts award-winning gardens with original 13th century features such as a Medieval well, dungeon, and priest hole (a hiding place for Catholic priests during times of persecution). There's a great deal to enjoy at this history-rich landmark and Boo Macleod Matthews of Chenies Manor House and Garden told us a little more about it:
"The award-winning gardens feature tulip and dahlia festivals showing hundreds of varieties. We have a physic garden with a well house, kitchen garden and yew maze. The house is also of interest, built in 1460 it was the seat of the Dukes of Bedford until they left for Woburn in 1627. Today it is the family home of the Macleod Matthews. We offer guided tours of the house on Wednesday and Thursday afternoons. We have a shop full of local crafts and a tea room serving afternoon tea and cakes.
"The house and garden are open from 2pm to 5pm on Wednesday and Thursdays and Bank Holiday Mondays. Groups of over 20 by appointment."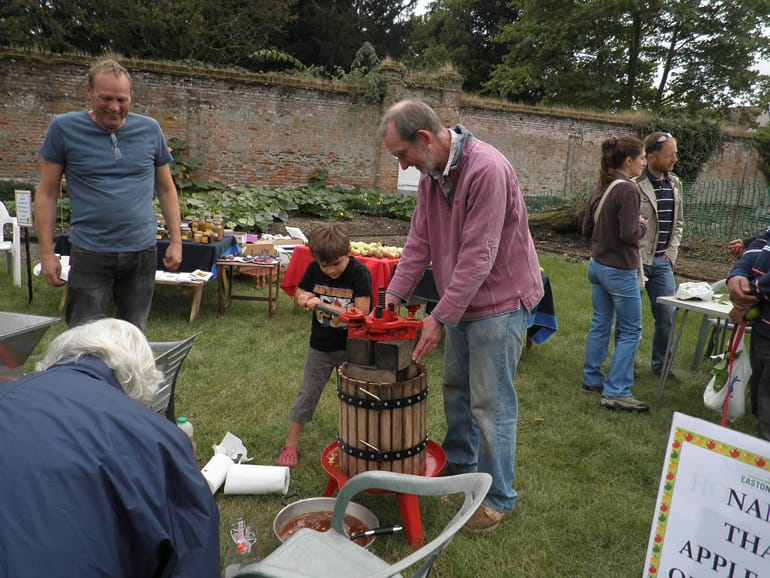 If you're on the search for an idyllic spot to visit during your time in Essex, The Gardens of Easton Lodge are a perfect choice. The gardens have a long and illustrious history and the property is in fact Grade II listed by Historic England. The Gardens of Easton Lodge are truly a joy to visit no matter the time of year and are the only example from Edwardian garden designer Harold Peto in East Anglia. Helping us paint a vivid picture of what visitors can look forward to at Gardens of Easton Lodge, the property's preservation trust told us:
"Regarding what makes The Gardens of Easton Lodge such a wonderful garden to visit, our open days are not only an opportunity to explore the gardens, but their history also provides a fascinating insight into the high points and low points of the aristocracy in Victorian and Edwardian England. The trust's volunteers run open days at the gardens one Sunday a month through the season April to October and twice in February for the snowdrop season – the garden is renowned for its snowdrops! The remaining 2018 dates are on our website and the 2019 dates will go live in the autumn.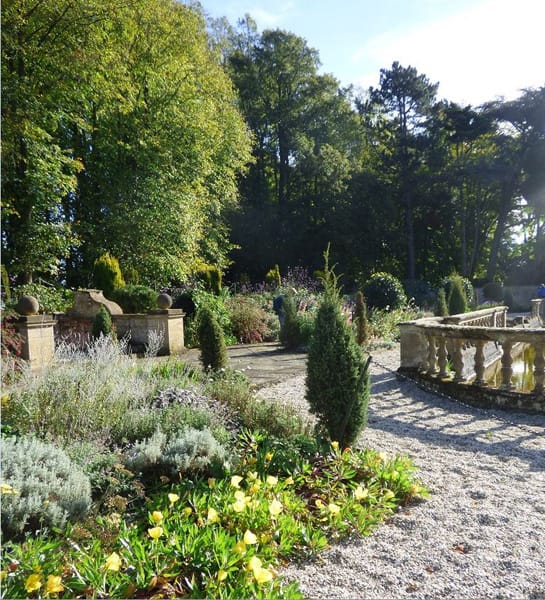 "The Gardens look fabulous in all seasons – although the summer drought this year has been challenging. The trees provide an ever-changing backdrop, with a lovely range of spring colours, blossom, summer shade and autumn leaves. The borders and beds in the Harold Peto Italian Garden and the gardens around Warwick House – which are open to visitors by kind permission of their owners – give a feel for the style of the mansion and gardens in their heyday. Children love visiting the treehouse, reconstructed to Harold Peto's design; the space for running around; and the trails and craft activities put on for them.
"The history of the gardens dates back to Tudor times, but the self-guided tour and the guided tour give details from the Nineteenth and Twentieth Centuries, which help provide a picture of aristocratic hedonism alongside philanthropy; the rise of socialist ideas and politics; and the war effort in World War I and II. This history literally runs through the Gardens and their structure and planting.
"People can also expect to enjoy the informality and community atmosphere when they visit the Gardens. The gardens are maintained and run by volunteers and we always provide a warm welcome. Local people provide live music on many of the open days and the rolls with bacon (sourced from a local farm) and the homemade cakes and soup are legendary (and may include fruit and vegetables from the walled kitchen garden). Open days are themed and in September we celebrate our apples and honey and other produce and in October our pumpkins get pride of place in our Halloween Open Day."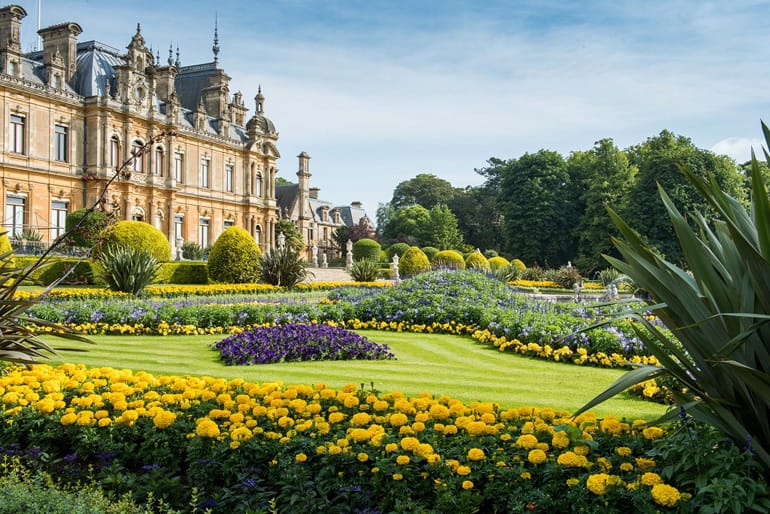 Image credit: Derek Pelling (c) National Trust Waddesdon Manor.
Waddesdon Manor Gardens in beautiful Buckinghamshire is certainly one of the most opulent and attractive properties one could dream of visiting. Created by Baron Ferdinand de Rothschild in the 1880s, the gardens at Waddesdon Manor are truly exquisite, featuring seasonal displays, vibrant shrubbery, sculptures, fountains, and over 600 roses. The house on its own is a must-visit, dating back to 1877, and when you combine the grandeur of both manor and garden, this is one Buckinghamshire attraction that can't be missed. Speaking to us about the gardens' history and why they believe visiting is such a tantalising prospect, the team at Waddesdon Manor Gardens told us:
"In 1898, David Lindsay, the Earl of Crawford, wrote in his diary that 'it is in the gardens and shrubberies of Waddesdon that he [Baron Ferdinand] is happy', and this love for Waddesdon's gardens is evident in every aspect of the grounds today. Designed by Parisian landscape architect, Elie Laine, the beautifully landscaped grounds were created for the amusement of guests to Baron Ferdinand's famous weekend parties, in which visitors would spend a whole morning touring the extensive grounds. As a result, the gardens at Waddesdon were one of the most impressive of its time, and the team of gardeners today work tirelessly to ensure the high Victorian standards are maintained.
"Following a short bus journey that meanders from the car park through Waddesdon's scenic grounds, visitors will quickly arrive at the North Fountain. It is here that guests are treated to their first view of the impressive façade, framed beautifully by the newly planted oak trees along the North Avenue.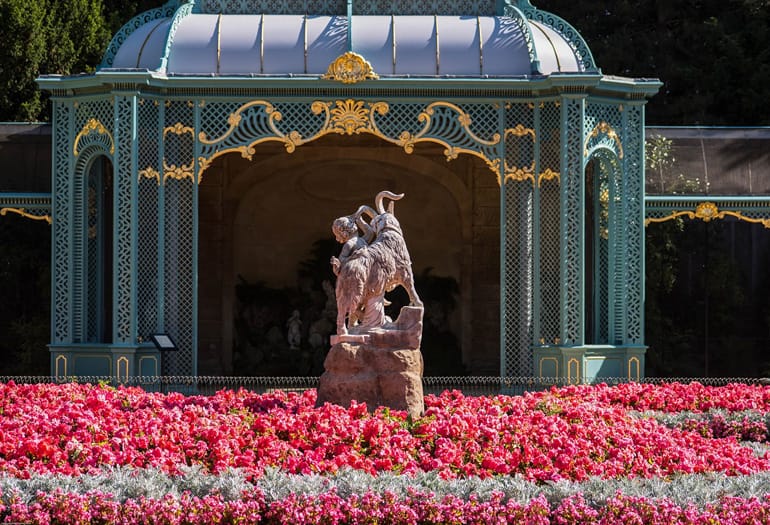 Image credit: (c) National Trust, Waddesdon Manor Kathy Chantler
"Aviary Garden: Restored in 2004 to its Victorian appearance with raised ribbon bedding, the Aviary Gardens are awash with colour. The original sculptures, one of which was made for the gardens of Versailles, have been reinstated, and the original Victorian Aviary is home to a selection of colourful and exotic birds.
"Rose Garden: The Rose Garden was planted in 2000 in memory of Miss Alice de Rothschild's incredible gardening achievements. The 'Miss Alice' rose was created by David Austen Roses, especially for the occasion.
"The Parterre: Planted with a new design twice a year, with around 110,000 plants, the parterre is the highlight of the formal garden. Visitors can expect to see an abundance of colour, traditional Victorian bedding designs, and this year's incredible carpet bedding designed by the artist in residence Michael Eden.
"The Stables: Situated just a short distance from the house, visitors can wander down to the ornate stable block to experience yet another example of Victorian architecture at its finest. Until 21 October, the Coach House Gallery is housing a unique exhibition, 'Michael Eden: Form & Transform'. Featuring incredibly intricate works of art inspired by the Waddesdon collection, each piece is made using state of the art technologies, such as 3D print and digital scanning."
RHS Garden Hyde Hall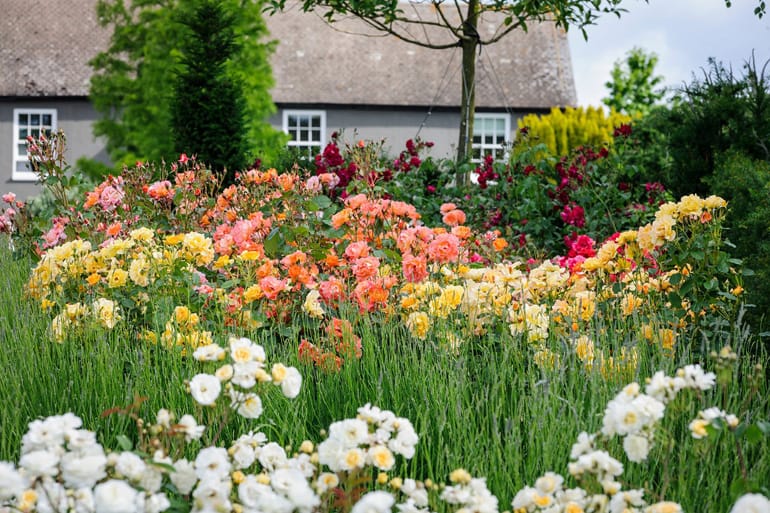 Situated on a windswept Hill in Essex where there was once no garden and only six trees, the location has since been entirely transformed into the garden paradise that visitors enjoy today. RHS Garden Hyde Hall offers brilliant panoramic views that impress even local visitors, historic hedgerows, woodland, excellent biodiversity, all set within a 360-acre estate that is constantly evolving. Explaining why they believe RHS Garden Hyde Hall is a must-visit Home Counties garden, the team behind Hyde Hall told us:
"RHS Garden Hyde Hall is an oasis of calm and serenity and a visit to the 360-acre estate is unforgettable in any season. The developed area of the garden demonstrates an eclectic range of inspirational horticultural styles, from the formality of clipped hedges on the Hilltop to the naturalistic swathes of planting on Clover Hill. Must-see areas of the garden include the Mediterranean Dry Garden which showcases drought tolerant plants and the superb Global Growth Vegetable Garden displaying fruit and vegetables from around the world. You'll also find a café, restaurant, shop, plant centre and children's play area to help you make the most of a day out with family and friends."
Knebworth House and Gardens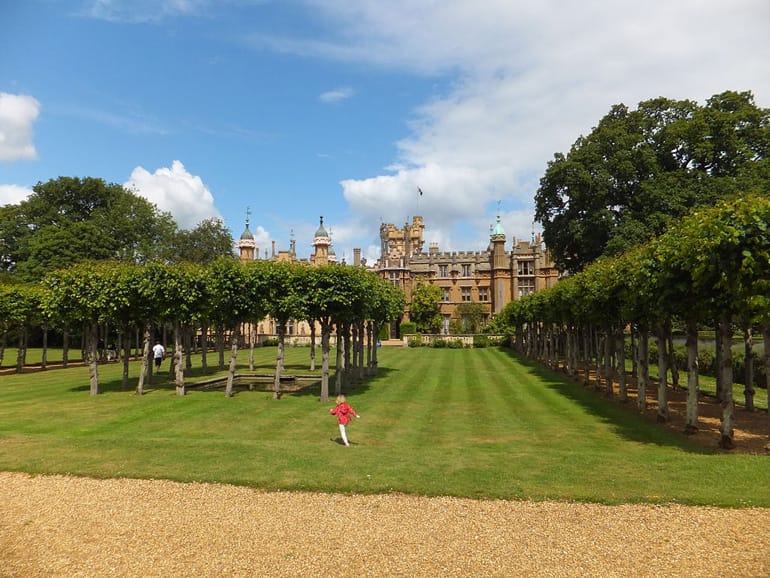 Located in the county of Hertfordshire, Knebworth House and Gardens is certainly one of the most attractive destinations anywhere in the county. Knebworth House and Gardens is truly historic, dating back to the 17th century and once the home of famed novelist and politician Sir Edward Bulwer Lytton. Set over 28 acres, there is so much for visitors to see, including a maze, a wilderness area, a dinosaur trail for the kids, and colourful borders. Populated with garden sculptures, the gardens are a true delight and when combining with 250 acres of historic deer park where families can enjoy picnics and walks, as well as fascinating tours of the house itself, there's no question that this is one garden visit not to miss out on. For full information on the gardens, including opening dates and times, make sure to visit their website.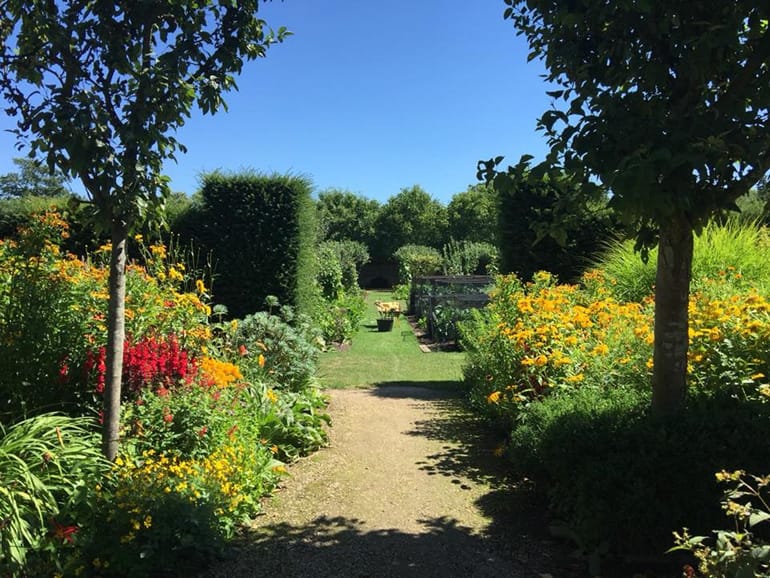 Image credit: Loseley Park
Thought of by those in the know as one of the hidden secrets of South East England, Loseley Park in Surrey is a vibrant and eclectic collection of gardens based on a design by Gertrude Jekyll, a respected British horticulturist and garden designer. There's little doubting the beauty and splendour awaiting visitors to Loseley Park, as well as the great variety at hand in terms of plant life and style. Divided in five parts, visitors to Losely Park can look forward to exploring The Walled Garden with its 2.5 acres and unique planting scheme, the Rose Garden that contains over one thousand bushes, the Flower Garden which contains a maze to explore, the White Garden's serene and tranquil nature and stark colour contrasts, and finally, there's the practicality of the Organic Vegetable Garden with its lovely patches and traditional planting methods.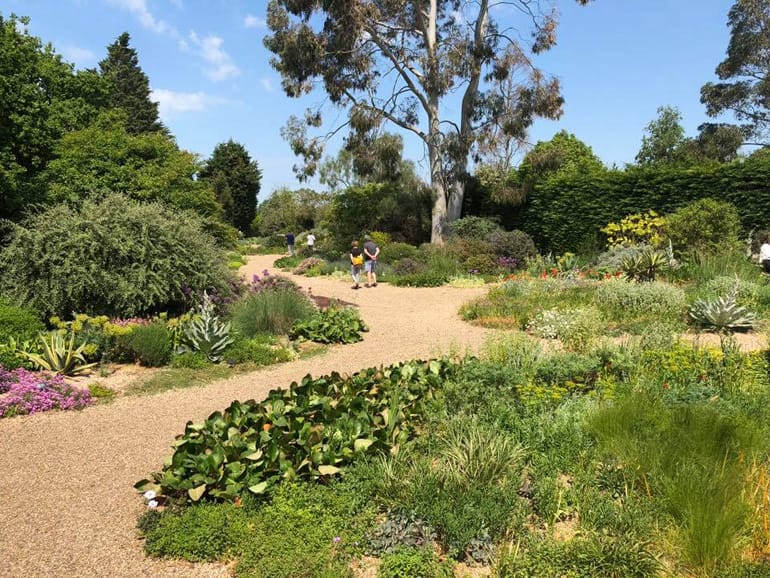 Image credit: The Beth Chatto Gardens
Beth Chatto OBE – who was an award-winning plants-woman – started work at these Essex set gardens back in 1960, where she was able to transform what was once an overgrown thicket of brambles, gravel, and boggy ditches into a thriving haven of horticultural inspiration. Over the years the Beth Chatto Gardens has developed into one of the most exceptional gardens in the Home Counties, with Beth overseeing everything right into her 90s. Today, the gardens remain a family-run operation, with Beth's granddaughter Julia Boulton now managing things. Visitors can discover a number of different gardens upon visiting, including the Water Garden that features a series of ponds and moisture-loving plants, as well as the Woodland Garden with its dense canopy of formidable oak trees and shade-loving bulbs. The Beth Chatto Gardens also treats visitors to a tearoom serving lunches, cakes, and light refreshments.
Gilbert White's House and Gardens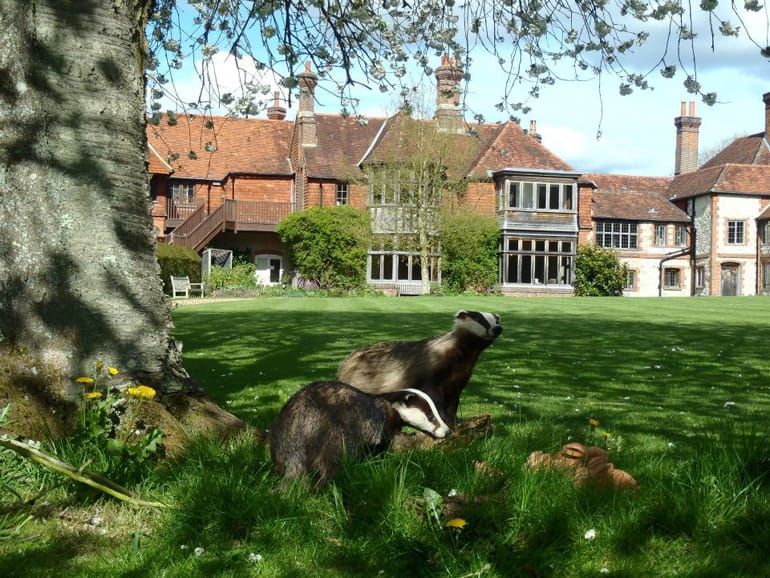 Image credit: Gilbert White's House and Gardens
Once home to the famous naturalist Gilbert White, Gilbert White's House and Gardens in Hampshire is, as a result, a celebration of his story and his wonderfully unique 18th century garden. The house itself is a marvel, replete with historically fascinating items, furniture and family portraits, but the garden is hardly without its own wow factor. This hidden Hampshire oasis is home to a plethora of quirky features, fun and creative planting, as well as truly beautiful sights and sounds. The garden is certainly experimental and was created based on the study of White's journals, diary, and correspondence in order to create the garden that White designed but had been lost to time since his death. With features that include a wine-pipe seat, a statue of Hercules, herb garden, and kitchen garden, there is plenty to discover and enjoy upon visiting, making for a truly tremendous Hampshire day out.
Beautiful gardens to visit in the Home Counties
As you can surely see by the above examples, the Home Counties are home to myriad delightful and beautiful gardens to visit, all with their unique style, quirks, and horticultural approaches. If you're planning a break in this glorious area of England, visiting the above locations is certainly recommended. If you wanted to note down the gardens featured in this article for future reference, here's a simple list of beautiful gardens to visit in the Home Counties:
• Green Island Gardens
• Chenies Manor House and Garden
• Gardens of Easton Lodge
• Waddesdon Manor Gardens
• RHS Garden Hyde Hall
• Knebworth House and Gardens
• Loseley Park
• The Beth Chatto Gardens
• Gilbert White's House and Gardens
Image Credit: foshie