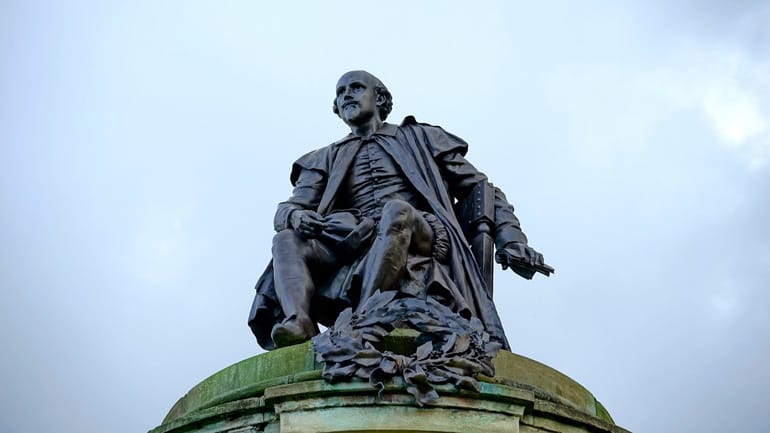 L iterary lovers rejoice as this week, our blog is for you. In this article we will look at some of the best places to visit if you want to indulge in some of the UK's top literary locations. From the birthplace of William Shakespeare, to the filming locations of Harry Potter, you'll be sure to find somewhere you will want to drag your book bags to.
As the capital of the country, and a cultural hub of the world, it comes as no surprise that London is a fantastic location for literary lovers. The city, filled with stories, is home to large bookshops, coffee shops designed to be written in and the inspiration to a lot of the world's most famed novels.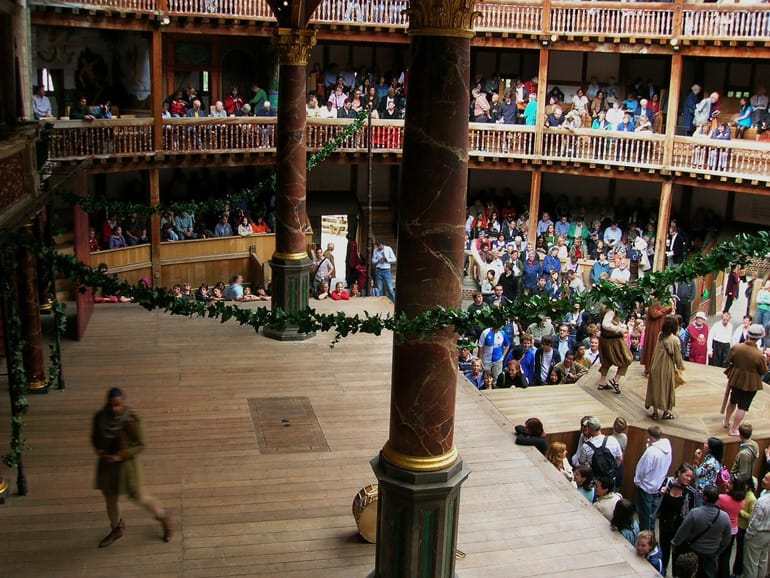 Whether you wish to browse bookshops to fill your shelves, write your next best-selling novel or learn more about your most beloved characters you will be able to do it in the city. We take a look at some of the best ways you can explore literary brilliance in London:
If you are looking to lose yourself in books you should look no further than the British Library . With over 3 million new items added every year, and an estimated 150 million currently in their collection, in most known languages, you'll be sure to find something you like. As well as books, the library is home to over 8 million stamps and other philatelic items, manuscripts, maps, magazines, drawings, music scores and more.
Amongst its collection are such things as the Magna Carta, Leonardo da Vinci's notebook, Beatles manuscripts and the first ever edition of The Times, from 18th March 1788. Journey down and spend a day in The Reading Rooms and immerse yourself in Britain's literary lover's paradise.
If you want to see words come to life, just as they were intended to, a trip to The Globe Theatre is an amazing thing to cross off of your bucket list. Feel as though you are stepping back in time as you visit and watch some of Shakespeare's masterpieces take to the stage.
The original theatre built in 1599 by Shakespeare's playing company was destroyed by fire in 1613 and a second Globe Theatre was built back up on the same site by June 1614. In 1642 the Globe was shut down (as were all theatres) and the modern reconstruction we have today was erected in 1997 to mirror the original building.
We spoke to Sima, The Curious Pixie , whose love for Shakespeare has taken her to The Globe many times. We asked what first drew her there: "The thought of watching the Shakespearian works I'd read at school come alive in its near original surroundings is incredible."
"If you want to be transported back to Shakespearian times there is no better place to watch a performance of the Bard's work. The productions still honour the traditions of four hundred years ago with music and sound effects being performed live. Whether rain or shine the show goes on in the open-air venue. Where else can you say you watched an amazing theatre performance in beautiful surroundings for a mere £5 in London. In this case the cheapest tickets are the best!"
Poets Corner, Westminster Abbey
If poetry is more your speed, then a trip to Westminster Abbey can be fascinating for more than the architecture. The Abbey is home to Poets Corner , a section of the South Transept of Westminster Abbey that is the place of rest for many famous poets, playwrights and writers. The first poet buried here was Geoffrey Chaucer, the author of The Canterbury Tales, in 1400.
In fact, over 100 poets and writer are buried, or have memorials here. Charles Dickens was buried here in 1870, in a secret early-morning ceremony as he dictated in his will there should be no grand funeral. Next to him is writer of The Jungle Book, Rudyard Kipling, and author Thomas Hardy, known most famously for penning Tess of the d'Urbervilles. With so many literary greats being honoured in one place, the spot is a must for any literary lover.
Harry Potter - Platform 9 3/4s and London Zoo
Harry Potter fans can rejoice, as you can visit many of the filming locations right here in London. Journey to Kings Cross Station to find the entrance to Platform 9 ¾'s , complete with luggage trolley and sign. Recreate one of the most iconic moments from the series and snap a photo whilst you are at it. You can even go one better and visit the Harry Potter shop at Platform 9 ¾'s next door to pick up your scarf of choice to honour your favourite house.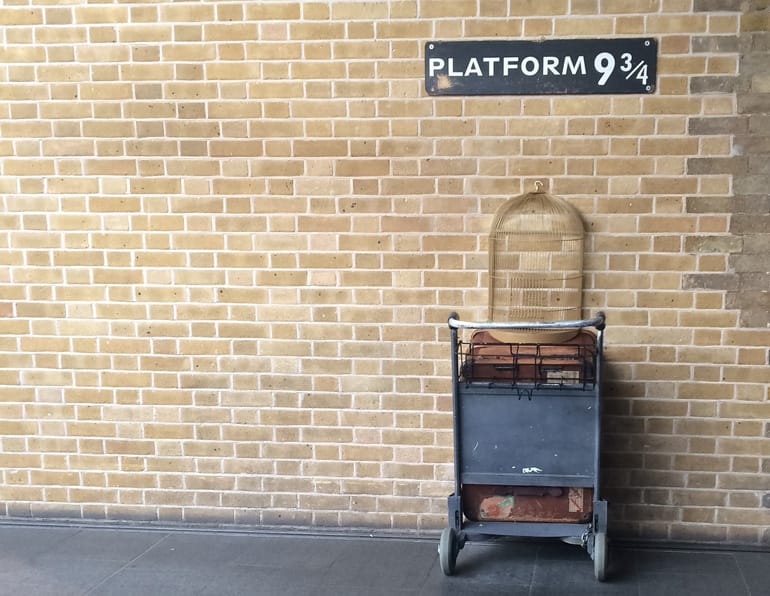 Another iconic moment from the first book is when Harry realises he has a gift for talking to snakes. If you want to recreate this moment all you need to do is journey to London Zoo in Regents Park, where you can find the exact place the scene was filmed, complete with snake. Try your hand at snake whispering, although we cannot recommend making the glass disappear due to health and safety concerns!
If you are a fan of Sir Arthur Conan Doyle's famed character Sherlock Holmes, then you cannot visit London without journeying to that famous address. 221b Baker Street is home to the Sherlock Holmes Museum , and the home of Sherlock Holmes and Dr Watson between 1881 and 1904.
Journey through the rooms that are recreated to mirror those in the stories, some even feature statues in the form of pinnacle moments from the books. It's worth queuing just to get a picture with that famous door!
Which book you should pack for a trip to London? Pack The Adventures of Sherlock Holmes by Sir Arthur Conan Doyle, or don't pack anything at all and instead opt to find yourself a new read in a bookshop or in the British Library.
As a small quaint market town, Stratford-upon-Avon would have likely missed out on the tourist buzz it now receives, if it wasn't for one of its most notable locals. Stratford-upon-Avon is home to none other than William Shakespeare, and for this many people pilgrimage here every year to visit the home of a literary master.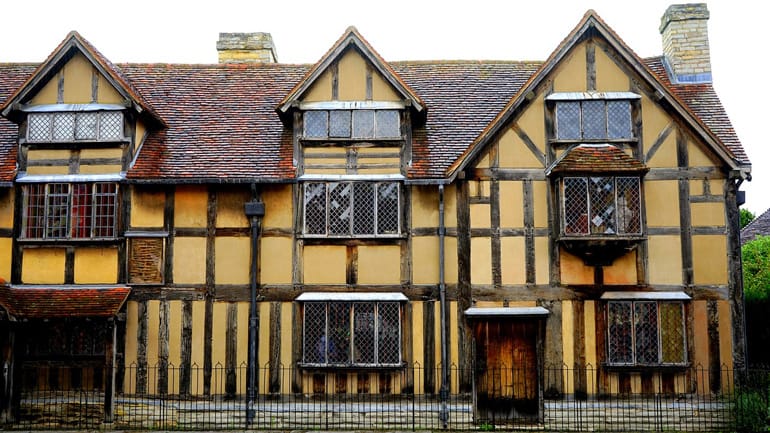 Journey around this quaint town and imagine what life would have been like for Shakespeare as you visit places he once too visited and enjoyed. The town itself though is just as rewarding as its place in literary history, as it if filled with delightful cottages and winding streets.
We spoke to Kate Hackworthy, blogger at Veggie Desserts , magazine columnist and cookbook author, who recently blogged about her time in Stratford-upon-Avon. She told us what inspired her to visit the town: "I had wanted to visit Stratford-upon-Avon for ages, so when we found that the oldest house in the town was a holiday cottage, dating from the 15th century, we couldn't resist paying a visit. The town really is steeped in history, with beautiful Tudor buildings, swans gliding down the river and tours of Shakespeare's houses and school room and birthplace."
Kate opened up about what it meant to visit there as a literary lover: "Getting to stand in the house Shakespeare grew up in, touch the fireplace where he would have warmed himself as a child and look out the window he would have daydreamed out of was magical. Outside, costumed actors performed his plays and really set the scene for a fun family Shakespearean holiday."
We also spoke to Satu, one half of the team at Fangirl Quest who spend their time travelling the world in order to seek out film locations. Satu told us what drew the pair to Stratford-upon-Avon: "We're both Shakespeare fans and especially for me it had been a dream to visit his birth place ever since I was a teenager. We'd been to Stratford-upon-Avon before to see Richard II at the Royal Shakespeare Company (with the brilliant David Tennant!) but didn't have time to properly explore the city, so we wanted to fix that."
Satu spoke to us about when their love affair with Shakespeare began: "I was sixteen or seventeen when I first saw Baz Luhrmann's movie version Romeo + Juliet and it was definitely the beginning of lifelong love affair. It was the first time I'd ever really heard Shakespeare's text in the original language and I was completely mesmerized. Tiia loved the movie too but really got into Shakespeare a bit later. A big turning point for both of us was when we started traveling to the UK and first got the chance to see his plays live in English by classically trained actors. After that, there was no turning back."
Finally, Satu told us why Shakespeare lovers should make the pilgrimage to Stratford-upon-Avon: "I can't think of a more iconic writer than Shakespeare, he had such a massive impact on the English language. To see where it all began and to literally walk in his footsteps is just awe-inspiring. The Royal Shakespeare Company is also one of the greatest places ever to experience one of his plays on the stage, so Stratford-upon-Avon offers a great well-rounded experience for fans."
If you are looking to get into the mind of a great, then there is no better place to start than with Shakespeare's childhood home. This 16th century half-timber house looks unimposing, but it holds the fantastic story of the origins of a master.
The home creates a perfect picture of family life at the time of Shakespeare and will give you a real look into his childhood. Known as 'a Mecca for literary lovers' many great minds have visited here for inspiration, including Sir Walter Scott and Charles Dickens. When they visited they autographed the walls, windows and a guest book. Although the walls have now been painted over, you can still see the autographs on the windows.
Royal Shakespeare Theatre
If you want to watch theatre in the home of the world's most famous playwright, then you're in luck. Owned by the Royal Shakespeare Company , the Royal Shakespeare Theatre is dedicated to the man himself and is the perfect place to catch a show.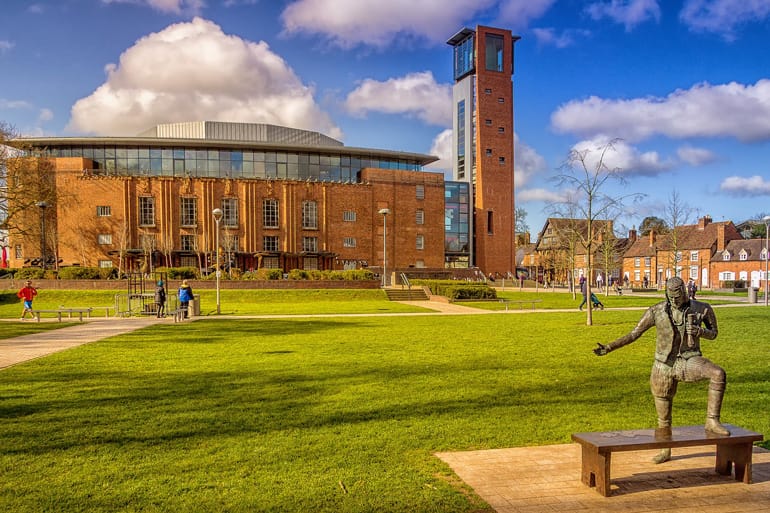 As well as Shakespeare originals, the theatre also hosts many other plays, both from famous playwrights of the past to new up and coming names. It's one of the best places in the country to experience theatre and feel the magic of Stratford-upon-Avon as you watch.
Magic Alley & The Creaky Cauldron
Harry Potter lovers rejoice, because Stratford-upon-Avon is also home to the Magic Alley . Although Magic Alley has been around long before Harry Potter, it could have been lifted straight from the pages of the books. Filled with fanciful items, books and more, and even their own original butter beer, it's the perfect place for a wizard in training.
The idea behind the Alley actually sprouts from Shakespeare himself. Between 1585 and 1592 no one knows exactly what Shakespeare got up to, and this period is often referred to as his 'lost years'. The folks at the Magic Alley believe the only excuse for his mastery is the he was a 'time travelling wizard'. And thus, Magic Alley was born.
Which book should you pack for a trip to Stratford-upon-Avon? Anything by Shakespeare.
Bath is one of the country's most beautiful locations and is also an iconic part of Jane Austen's life. In 1800 her father, George Austen, decided to retire from the ministry and relocate the family to Bath. Before this Jane had worked on some of her best pieces, and her relocation to Bath was seen as a large hindrance to her creativity.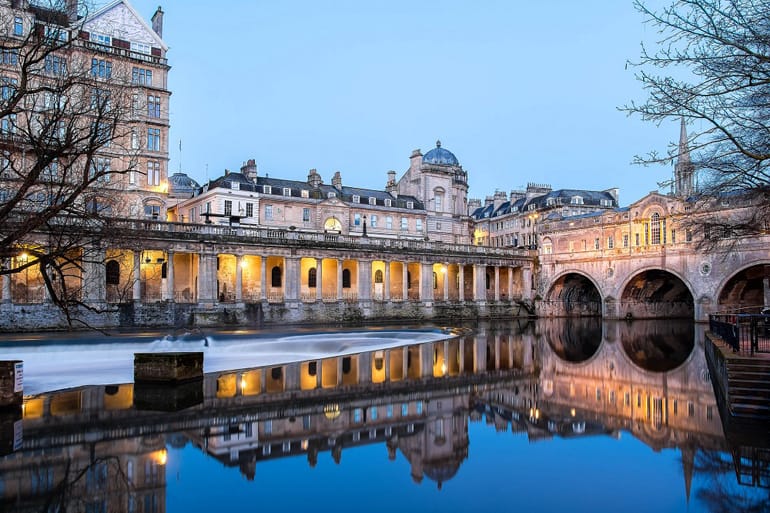 It's known the Austen's feeling towards Bath weren't all of love, but the city did excite her. In her novel Persuasion, the main character - Anne Elliot – doesn't arrive in Bath until around halfway through the book, and reluctantly so at that. This takes a very different tone to Northanger Abbey, which was alive with references of the high-society nightlife in Bath.
The best place to learn more about the women herself is at the Jane Austen Centre . The permanent exhibition explores Jane's time in Bath, and the influence it had on her books.
As well as the exhibition, you can also visit the Regency Tea Room , and sample a traditional afternoon tea in a period atmosphere. The perfect place to sit and read, or to talk about everything you have learnt downstairs.
We spoke to Victoria, visitor experience manager at The Jane Austen Centre, who told us why the centre was first opened: "David Baldock, the director of the company, is a former head teacher and decided to open the centre in 1999 as there was nothing in Bath celebrating Jane Austen's time here."
Victoria spoke to us about what people can expect when they visit the centre: "People can learn about Jane Austen and the city of Bath of fun and interactive ways starting with an introductory talk from a costumed guide. The exhibition features portraits of Jane, an exclusive short film starring Adrian Lukis, costumes to try on, quill and ink writing to try and our famous waxwork of Jane Austen and much more. Our guides are always on hand to answer any questions and be a part of each visitor's experience.
"Every visitor receives a free guide book and a 10% discount in the gift shop and Regency Tea Rooms. The Tea Rooms can be accessed without a ticket purchase and serves delicious cream teas and loose-leaf teas including the popular Jane Austen Blend."
We asked Victoria why the centre is an unmissable experience for a literary lover: "Because not only is the centre focused on one of Britain's greatest writers but we are located in a historical building and city which really makes you feel as though you've stepped back in time into Jane's world and her novels creating a unique and memorable experience, different from a museum and much more immersive. Giving each visitor long lasting memories of Bath and the inspiration to go back and read Pride and Prejudice again.
"Bath was also very important to Jane's writing and a visit to the centre really helps you to understand the influences and inspiration she took from living here as both Northanger Abbey and Persuasion feature Bath."
The Pump Room Restaurant and Roman Baths
It goes without saying that anyone who visits Bath should visit the city's namesake Roman Baths . The historical building is a must see for anyone who want to learn more about the country, and world history. Experience the water that inspired the Romans and some of the UK's best-preserved ancient architecture.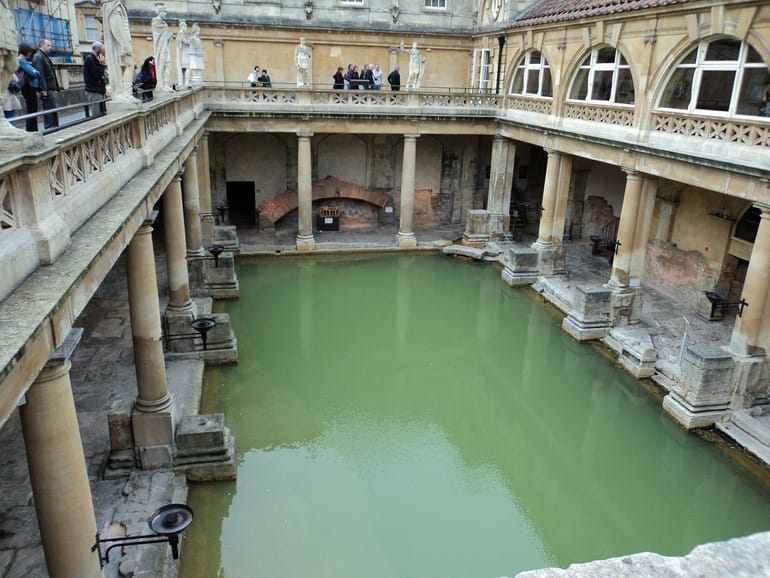 The Pump Room Restaurant next door should also be on the list for any Jane Austen fan. It's a delightful place for breakfast, lunch or afternoon tea. You will even be able to try the water from the baths here from the spa water fountain. The Pump Room was prominently mentioned in Northanger Abbey, and you can see why thanks to the elegant interior and delightful atmosphere.
The Royal Crescent is an iconic piece of British architecture, and the sweeping houses have been seen in many a time on screen. The 30 buildings created from Bath's iconic limestone were constructed in 1774 and since then have been home to many great minds. Some of the most notable occupants include English politician William Wilberforce and author Shelia McCullagh MBE.

If you are a lover of the screen adaptation of Jane Austen's Persuasion, then The Royal Crescent will be no stranger to you. These iconic buildings were the backdrop to many scenes in the TV series and then home of the Eliot family. Pack a picnic, sit on the lawn and wonder what life would have been like to live in one of these mansions.
Which book should you pack for a trip to Bath? You should pack Northanger Abbeyfor a look into Bath's past high-society.
It's fair to say, when most people think of Birmingham they are more likely to imagine the Peaky Blinders than hobbits. But, Birmingham actually played a large role in the creation of the Lord of the Rings series.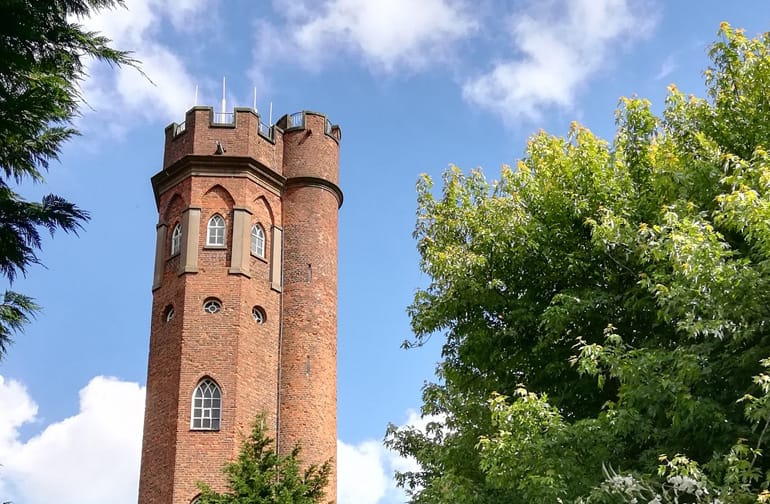 J. R. R Tolkien himself was born in South Africa in 1892 but relocated to Birmingham after only a few years there. He proceeded to spend his childhood in the city and it is thought to have influences his works enormously.
When people think of 'The Shire' many people think of the rolling New Zealand landscape that shaped the LOTR's and Hobbit movies, but people should be looking a lot closer to home. A young J.R.R Tolkien spent a lot of time in the countryside and forests surrounding Birmingham and it is thought they mirror and are the main inspiration for many locations in the books.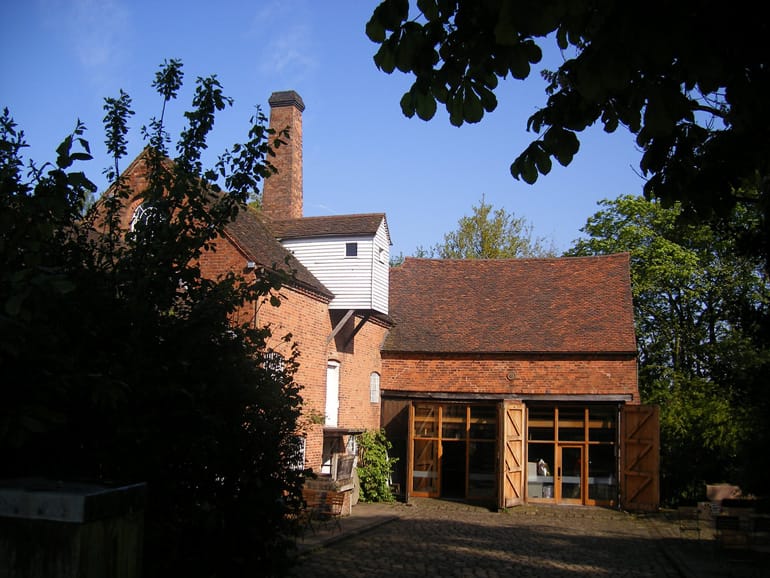 Journey to Moseley Bog , in the South East of the city, to find one of the main places it is thought J.R.R Tolkien has taken inspiration from for the forests in Lord of the Rings. Not too far away is Sarehole Mill Museum , the mill thought to be the inspiration for The Old Mill in Hobbinton, and the location of a Tolkien exhibition.
Perrotts Folly, a tower in Birmingham, is said to have been the inspiration behind the Orthanc Tower in The Two Towers. This large tower once stood tall over a young Tolkien and is worth a quick stop on your tour.
Only minutes away is the Waterworks tower, and Edgbaston Waterworks. This is thought to be the inspiration for another of the book's towers, and with such close proximity you can see why. This, and Perrotts Folly stand tall and look over Tolkien's old homeland menacingly.
Which book should you pack for a trip to Birmingham? The Lord of the Rings series of course!
This is only scratching the surface of some of the best breaks in the UK for literary lovers. So, pack your book bag and you'll soon be off on a literary adventure.
Image Credit: Donald Judge , Elliott Brown , Stewart Black .