Need a weekend away? You don't need to travel far to experience that holiday feeling. While holidays far and wide have their appeal, there's something charming about discovering a new part of the UK. The diversity of Britain makes it an ideal place for a staycation, ranging from glorious countryside, dramatic coastline to cities packed with history.
There truly is something for everyone when exploring your own region. A staycation is the perfect opportunity to relax and get away from it all, whilst only being a short trip away from wherever you call home.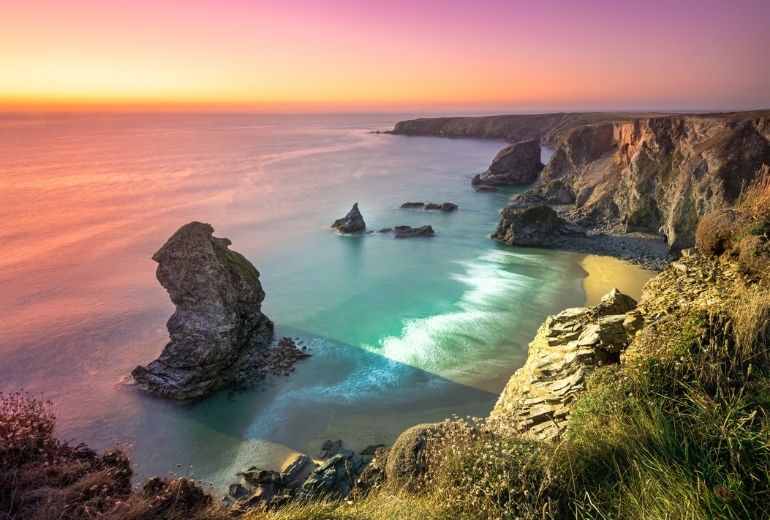 Sunset at Bedruthan Steps, Cornwall
So, what is a staycation?
Put simply, a staycation is a stay at home vacation. Instead of jetting off all over the world, you stay in your home country for a holiday. Take the opportunity to see the UK in a new light and become a tourist in your own city, town or village; discovering hidden gems that you never knew were just around the corner. It's time to travel to that place you've always wanted to go to in Britain, but never took the time. Many tourists from all over the world choose to holiday here and we haven't even fully discovered it for ourselves.
What are the benefits of a staycation?
There are a lot of benefits to a UK staycation. We've put together a list of our top seven.
1) Diversity of the UK
With an extensive amount of culture, historic landmarks, art, attractions and cuisine, the UK is filled with everything you need for an action-packed holiday. There are so many amazing places to discover in Britain; from breath-taking scenery at the top of Snowdon, to sightseeing London's iconic landmarks. Uncover centuries of history at Stonehenge, Warwick Castle, the Natural History Museum, Roman Baths, Hadrian's Wall… the list goes on.
There's glorious scenery in the Lake District and dramatic views off the Cornish Coast, cities filled with culture and heritage or quaint villages nestled in The Cotswolds. So, pack your bags for a staycation to experience a true taste of Britain and the diversity that it holds.
Check out some of our Staycation deals here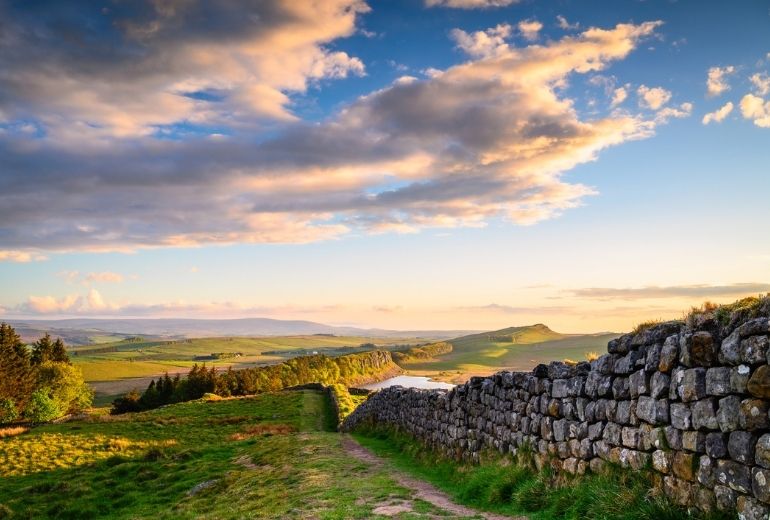 Hadrian's Wall, UNESCO World Heritage Site, Northumberland National Park
2) To get away from it all
A staycation is perfect for a short trip to give you the break that we know you deserve. Get away from your day to day life and experience a few days of feeling calm and refreshed. Have a midweek romantic getaway, where you and your loved one can enjoy a picnic overlooking picturesque views or discover a new part of the country for the first time. You can visit a museum, delving into fascinating history or dine in restaurants and sample new cuisine. Either way, you don't have to travel thousands of miles for adventure; a short break can be just as exciting.
3) You can bring your pets
No need for your four-legged friends to miss out on all the fun. If you fancy taking your dog/s with you on holiday, then a staycation is a great option - just remember to book pet-friendly accommodation. Your dog will appreciate a holiday too.
Picture them walking by your side along miles of golden sands or sat by you relaxing in a café. It also means that you won't have to worry about kennels or them missing you whilst you're away.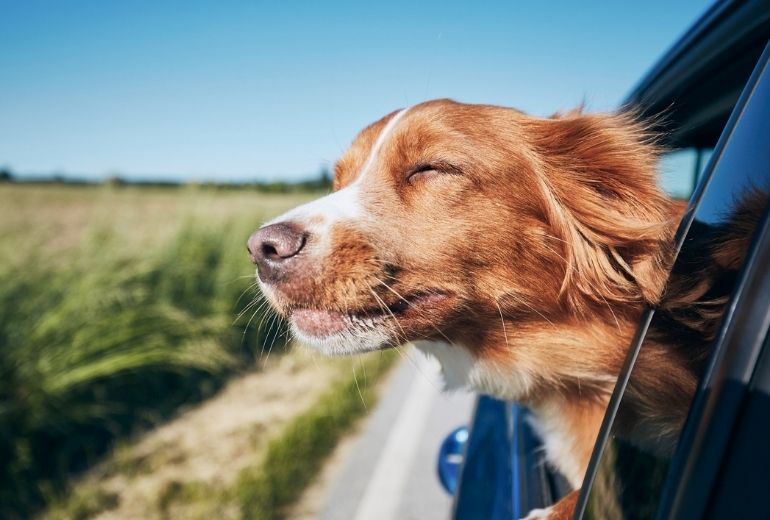 4) Cut down on travel time
Come back feeling refreshed and well-rested from your staycation as your travel time was much less than those having to deal with flights and lengthy airport customs. This means on a UK staycation you'll have more time to spend relaxing with your loved ones and appreciating our country, along with all the treasures it holds. Hop in a car (or take the train) and let your holiday begin; could it get any easier?
5) Flexibility
Taking a staycation gives you so much more flexibility to work around you. Fancy a weekend away or a longer stay? Either can be easily achieved. You have the freedom of a last-minute break, without any stress, and if you're travelling in your own vehicle, you can stop off to stretch your legs whenever and wherever you like.
6) You're never too far away from home
There's comfort knowing that home is only a stone's throw away when on a staycation. If for some reason you had to get home, all you have to do is pack up and head back. There are no flights to catch or boats to miss, you can simply go back home at your leisure, feeling refreshed and rejuvenated after your time away.
7) Affordable
With a staycation, you cut out the cost of flights, airport parking, transfers and more, making a holiday abroad pretty pricey. All you need is a tank of fuel (if you're driving) to experience that holiday feeling, meaning you're able to spend your well-earned cash on enjoying yourself in your chosen destination, rather than transport costs.
Some other benefits of staycations include:
• There's always something for the whole family
• You're supporting the UK economy
• They are more eco-friendly
• You're able to be a tourist in your own country
Overall, 2020 has been a testing year, so we all deserve a break. There's no better time to take a staycation than now.
Check out our Best UK Staycation Deals here .